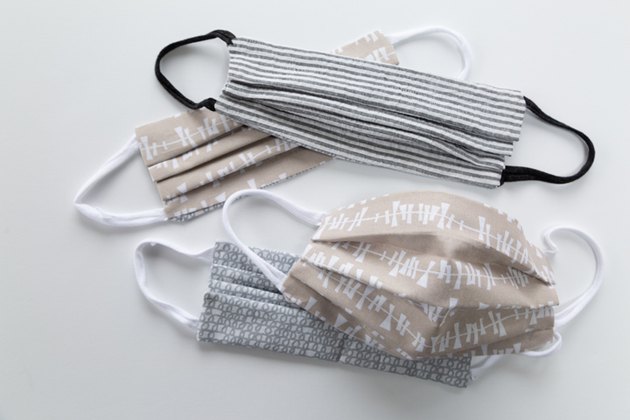 If you don't have a sewing machine to make a fabric mask, no worries. We have put together a no-sew tutorial using iron-on tape instead of a sewing machine. You just need woven cotton fabric, fusible hemming tape, and an old cotton T-shirt to use as a substitute for elastic. You could use a dishtowel or even an old woven shirt for fabric.
Fusible tape is used often when hemming pants and curtains. But it is also used as the magic ingredient in no-sew projects, like this one.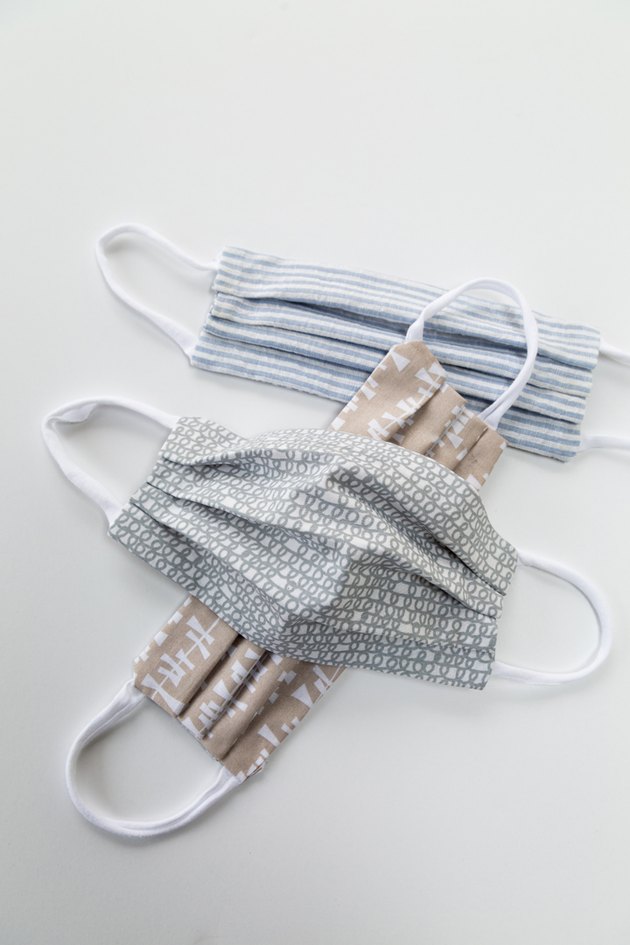 Tip
This no-sew face mask is simple to make and will last you a while. We recommend hand washing and hanging it dry.
Things You'll Need
100% woven cotton fabric

Old cotton T-shirt (to use as "elastic")

Fusible Hemming Tape, (3/8 inch)

Scissors

Iron

Ironing Board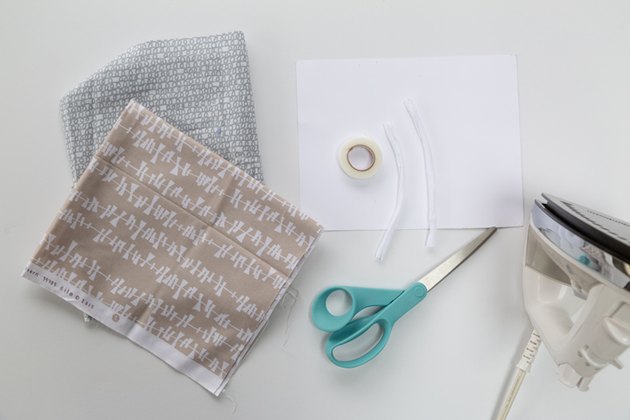 Step 1
Cut two pieces of different pattered fabric into 9-inch-by-7-inch pieces. Use an old T-shirt to mimic elastic. Cut 1/4-inch strips of T-shirts into 6-inch pieces. You will need two strips of 6-inch pieces.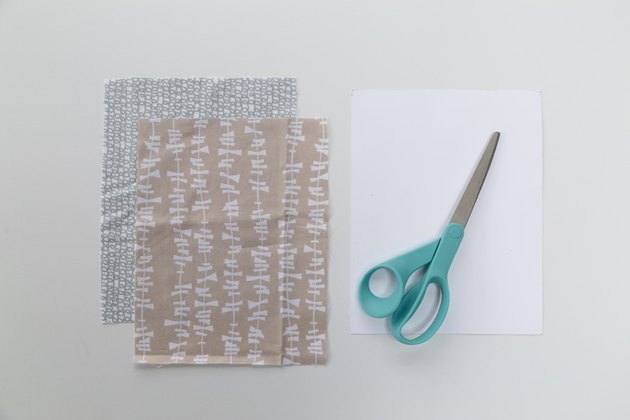 Step 2
With the patterned side of fabric facing up, adhere the ends of the T-shirt "elastic" onto the sides of fabric. Cut four pieces of fusible tape, each 1/4-inch long. Lay the ends of the T-shirt "elastic" strip onto of the small piece of tape and iron (per the instructions on your fusible tape packaging). Allow to cool.
Repeat on the other side. This creates the loops for the mask to stay on your face and attach around your ears.
Tip
Be sure to look at the directions on the fusible tape packaging regarding how long you should heat-set the tape onto the fabric, and at which iron setting.
Step 3
Cut two 6 1/2-inch pieces of fusible tape. Lay on top of the T-shirt "elastic" strips at the edge of fabric. Then place the top piece of fabric on top of that with the pattered side facing down. Iron the pieces together. Allow to cool.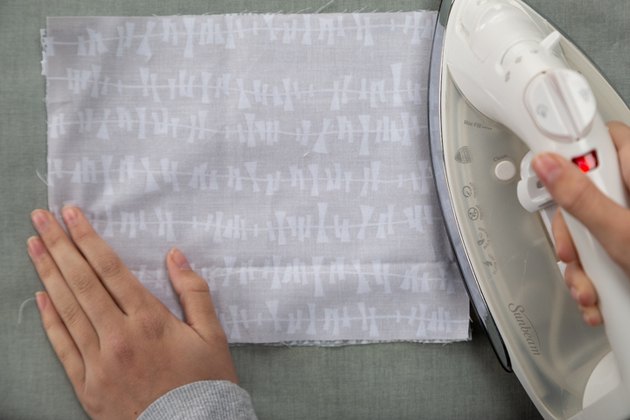 Step 4
Cut a 9-inch piece of fusible tape and lay in between the layers of fabric, on the top seam. Iron and then allow to cool.
Step 5
Pull the inside fabrics to the outside — now the patterned side of fabric will be visible. Press and flatten.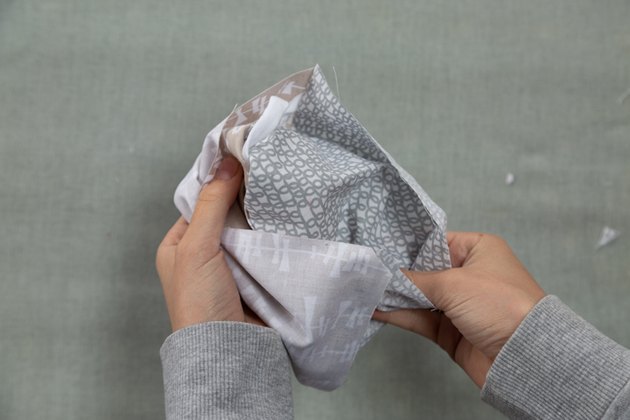 Step 6
Cut an 8 3/4-inch piece of fusible tape and lay in-between the top seam. You will need to first roll in the fabric to get a nice seam. Iron and then allow to cool.
Step 7
Cut 12 pieces of 1/4-inch fusible tape. Now it is time to pleat. Pleating allows for the mask to expand over your nose and mouth. Fold down the top of mask 3/4 inch and add a piece of tape. Hold the iron down to fuse. You will need to add a weight of sorts to hold down the pleats while they set. We used a heavy book. Wait a few minutes and then fold down another pleat, and then do the same as above. You will make three pleats in total. Add fusible tape to the back side of the mask as well, under each pleat.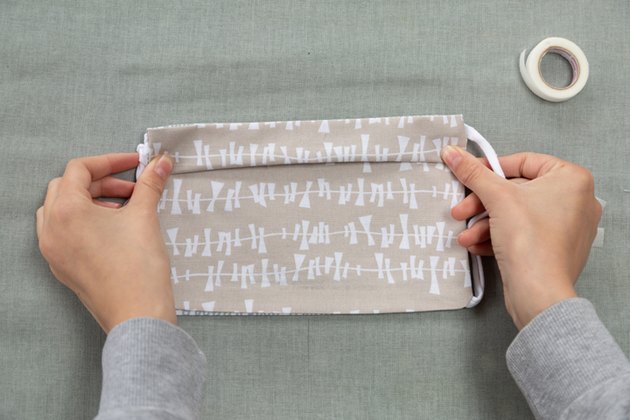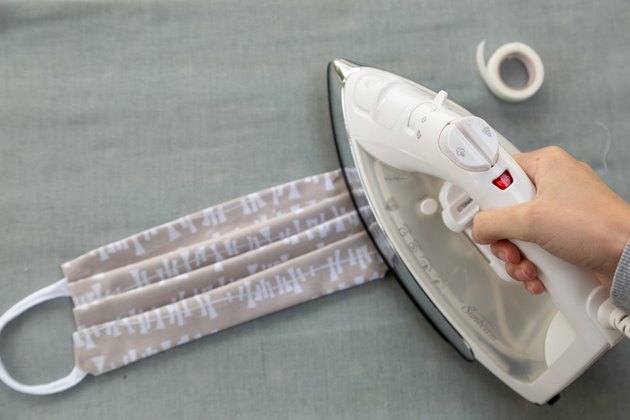 Your mask is now ready to go!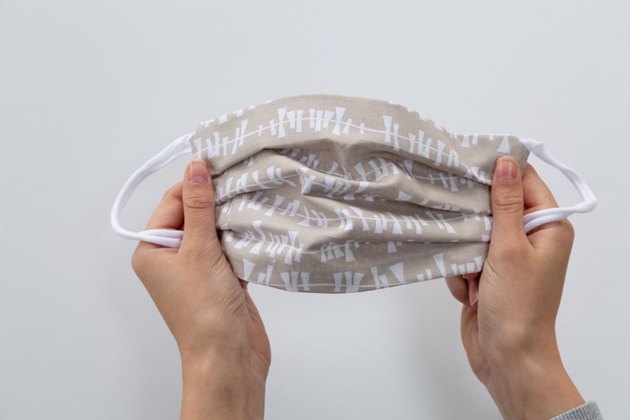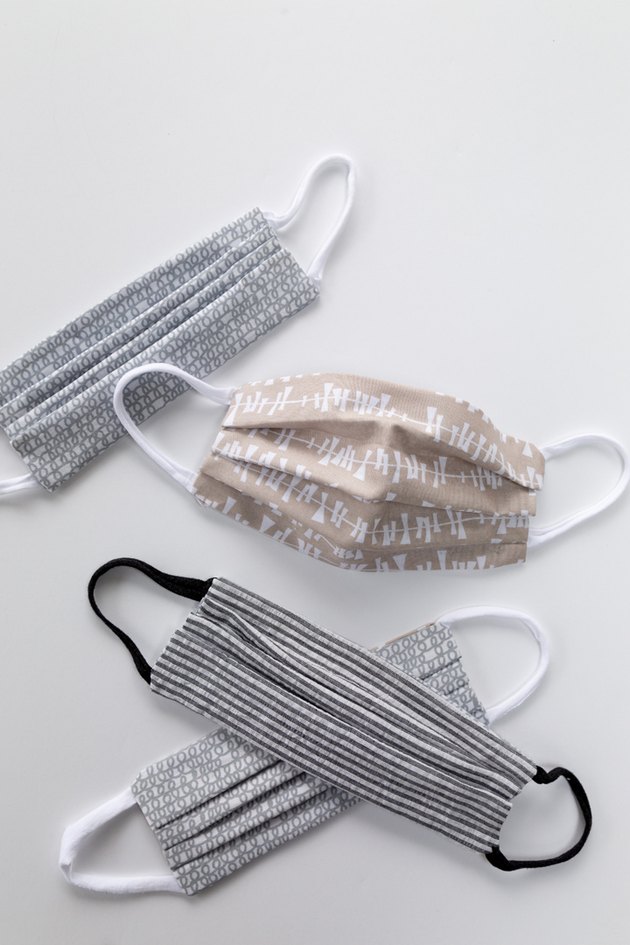 ---
Alice & Lois is a DIY and lifestyle blog where twin sisters Sara and Melissa share their inspiration, projects, connection and celebrate the good in life. They create inspiring posts centered around home, family, style and creativity, specializing in simple, yet sophisticated DIY projects. Sara and Melissa live in two very different places – Sara is in the heart of the midwest, Indianapolis and Melissa in the majestic ski town of Crested Butte, Colorado. Alice & Lois was named one of the Top 10 DIY and Decorating Blogs by the editors of Better Homes and Gardens in 2015 and 2016 and recently named one of the Top 30 DIY Blogs to Follow by Domino.
View Work