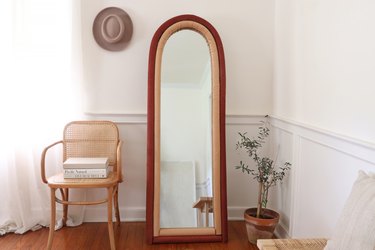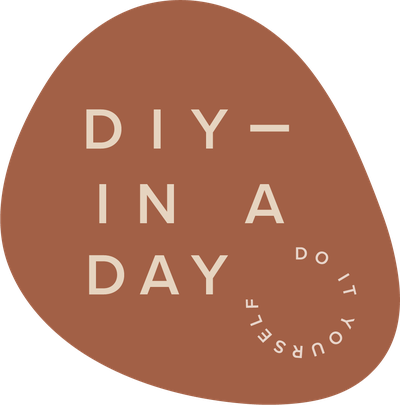 DIY in a Day brings you step-by-step instructions for easy projects that will spruce up your space — within 24 hours (or less!).
A floor mirror is not only an attractive accessory for your home, but also a practical one too. We really like the shape of this simple arched mirror, but we absolutely ​adored​ the upholstered edges of this high-end one on 1stdibs — so much so that we were inspired to put our DIY know-how to good use and get the look for less. By wrapping super inexpensive foam pipe insulation tubes with fabric and attaching them around the edge, we were able to get pretty darn close to the original. You can rest assured that whenever you check your outfits or snap your selfies, you'll be doing so in style.
Things You'll Need
Tip
You could use pool noodles for this project, but pipe insulation is cheaper and available year-round. Plus, the 1/2-inch diameter is smaller than a standard pool noodle.
Step 1
Tape two foam pipe insulation tubes together with duct tape.
Step 2
Arrange both of the tubes on top of the mirror and mark where you need to cut off any excess length.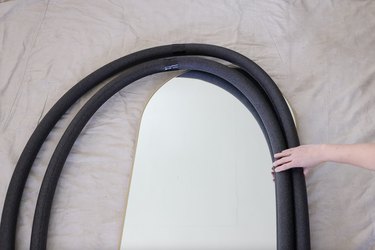 Step 3
Cut off the excess length from the pipe insulation tubes.
Step 4
Measure the length of the foam tubes and cut long strips of fabric to the same length (make sure the width of the fabric is wide enough to wrap around the tubes). Set your hot glue gun to the low-temp setting, and then wrap and glue the fabric snugly in place around the tubes. Fold the ends in neatly, similar to how you'd wrap a present.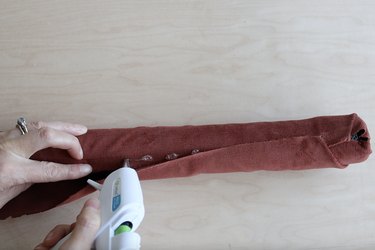 Step 5
Arrange the fabric-wrapped tubes on top of the mirror. Hot glue the outer tube in place around the edge of the mirror, and then glue the second tube in place, making sure to press it tightly against the first tube as you glue.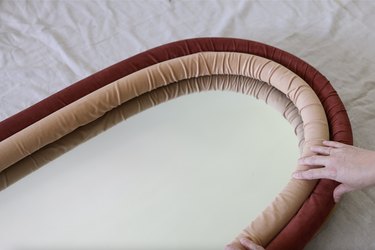 Step 6
Cut two foam tubes to size to frame the bottom of the mirror. Glue the fabric around them, and then glue them in place on the bottom edge, making sure to match up the fabric colors so they appear like a seamless outer arch and inner arch.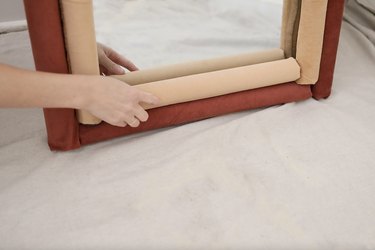 Your mirror is all set to reflect your best style!