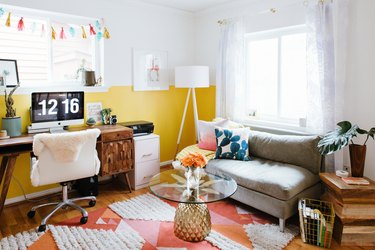 Productivity will always be the primary objective of designing a home office but don't let that deter you from having a little fun on the side. Introducing an unexpected pop of color by way of an accent wall or vibrant furnishings can be the difference between a snoozy workspace and an energizing one. The color yellow immediately comes to mind here, with its cheerful disposition and lively character.
Far too often the color is overlooked, but it deserves to be more than just a lone accent. Here's your chance to truly make a moment out of it and give your office space a visual boost while you're at it. Sure, decorating with the hue can be intimidating but a thoughtful approach is all it takes to seamlessly integrate the vibrant shade into your space. To help you get started, take a peek at the yellow home office ideas ahead for some much needed inspiration.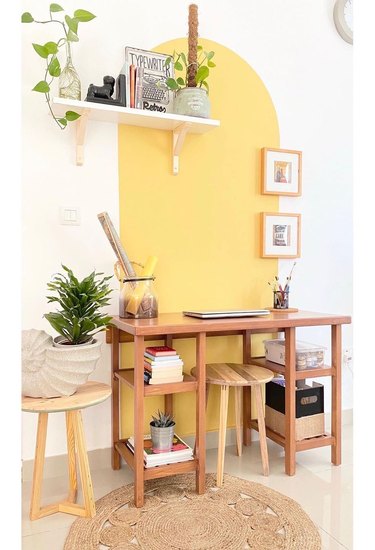 An accent wall is always a surefire way to introduce a bold splash of color to a space, but we're all for using an artful approach. Interior stylist Krisann D. accomplished just that with this yellow arch DIY project that also doubles as a statement-worthy backdrop for the office desk in her workspace. A wall-mounted bookshelf with a vibrant array of plants beautifully completes the scene.
2. Balance out minimalism.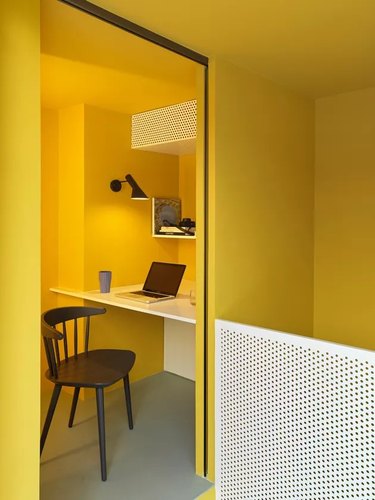 Designating a bright dose of color to a minimalist scheme is an easy way to offset the stark nature of the "less is more" approach. The rich warmth of yellow is enough to compensate for the lack of home office decor and wall art, as showcased by this stunning closet-turned-office designed by MDDM STUDIO. Small space dwellers, take note.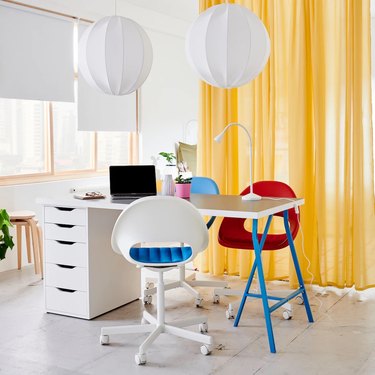 Not quite sure how you feel about a permanent addition? Experiment with temporary accents such as window treatments, or follow the lead of this captivating scene from IKEA and go for a bright yellow curtain that ingeniously also functions as a room divider. Elevate the scheme by working within a palette of primary hues, as seen here, and showcase complementary pops of blue and red with the help of office furniture to build out a statement-worthy finish. A healthy amount of natural light wouldn't hurt either!
If you're looking for high-impact home office design ideas, a beautifully patterned wallpaper is certainly one way to go about it. This print, spotted on Anthropologie, is subtle yet captivating with a geometric motif that's neutral enough to blend into a variety of aesthetics — be it boho, retro, or modern. Add an element of interest by pairing the background with an equally colorful gallery wall of collected art and decor.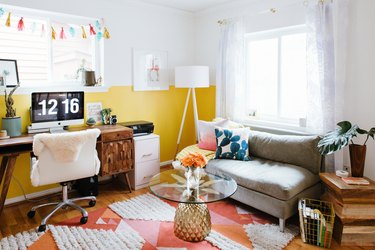 In Anna Reynal's charming abode, a chic yellow color blocked wall not only helps section off her workspace from the rest of the room, but also lends a touch of whimsy to boot. Starting off with high-contrast white and yellow paint colors, Reynal elevated the setup with analogous touches of pink and orange to help balance out the lively hue, all the while highlighting its warmth.
6. Turn it into a bohemian oasis.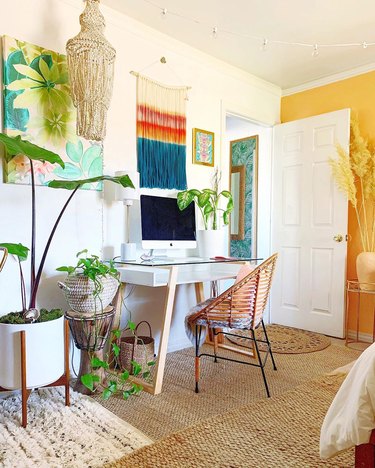 Yellow walls are a simple way to infuse a dose of happiness into a space and that sentiment can go a long way in a home office. Take an interior design cue from Sarah Califiugi, who used the saturated tone to accentuate the backdrop of her personal workstation. With a boho scheme in mind, the creative layered the room with jute area rugs and woven decor pieces. She then capped things off with lively greens, which effortlessly balance the vivid shade of yellow.