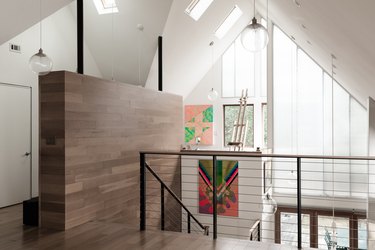 While you're busy configuring the light fixtures and ambiance for the rest of your home, here's a friendly design reminder: Don't forget about your hallway. While some may dismiss the passageway as a space that's simply meant for walking through, trust us when we say, it's so much more. Sure, the hallway is functional (those discarded shoes love to find their way into this corridor), but it often serves as the first impression of your personal aesthetic. So give it a focal point with an on-trend light source.
Whether you choose to accentuate the space with a console table and corresponding table lamp or you decide to go all out with a hallway chandelier, paintings, greenery, and specialty wallpaper, make sure your decorative genius is visible to all who enter. These modern hallway lighting ideas will do the trick.
1. Install ceiling lights with a bit of hang.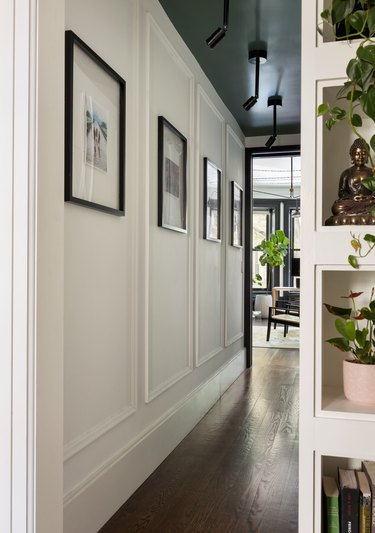 To ensure that the photos and art lining your hall receive sufficient light, skip track lighting and consider using long neck fixtures. M&P Design Group shows us how to properly execute the arrangement in this hallway which features modern pendants that complement the matte black photo frames. Also, notice how the bulbs are positioned to perfectly illuminate each snapshot.
2. Use flush mount hall lighting.
We love flush mount ceiling lights as an option for small spaces. And as this sweet setup demonstrates, the design approach also works for hallways. The white shade and gold accents on this fixture add a bit of modern flair to a pared-down hall with mirrors, a wall painting, and a corner plant. If you'd like to DIY the brass look on an existing fixture, simply go to town with a tube of Rub n' Buff in Antique Gold.
3. Add personality with pendant lighting.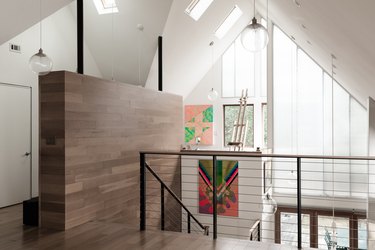 Up the style ante in your hallway with glass globe pendant lights. In this design, the fixtures' transparent appearance helps enhance the space without overpowering it. Instead of competing with the ample amount of natural lighting, the globes blend effortlessly, pairing well with the high ceilings, sleek wood flooring, and crisp white paint.
4. Keep it subtle with a wall sconce.
For a more subtle glow, consider a wall light. This lovely hallway from Gamble + Design features a sconce with a circular cover plate that casts light downward. It gives the space a sense of warmth that adds to the cozy feeling created by all the wood tones. Even the stainless steel barn door track just works. Pro tip: To control the amount of light in the space, consider installing a dimmer switch.
5. Pick something opaque.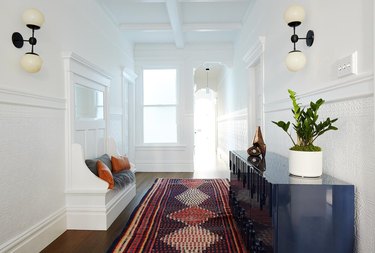 This hall has a few traditional touches thanks to the wall trim and ceiling molding, but the opaque wall sconces add the perfect amount of modernity. And even though the natural light is abundant, the milk glass globes will pull double duty by illuminating the area and serving as an on-trend accessory, thanks to the extended, intersecting arm.
Want a subtle yet sufficient way of lighting your hallway? A small wall-mounted fixture with a shade will do the trick, and keep the space looking spiffy. And in this case, the more petite the better. To get the look, take cues from this Chango & Co. design which features a soft white wall color paired with a wooden entryway table, natural wood flooring, and neutral-toned accessories. Throw in a vibrant floral arrangement for a pop of color.
7. Go with a brass finish for extra flair.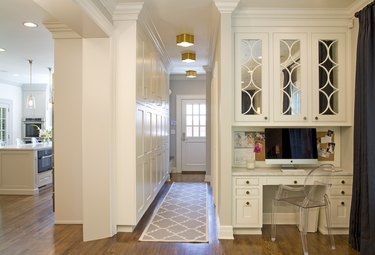 This hallway from Mel Bean Interiors is absolutely stunning, and at least some of the credit goes to the brass finish on the modern flush-mounted ceiling lighting. The color adds a touch of personality and trendy elegance to a classic design. And with an all-white backdrop, the fixture will be impossible to miss.