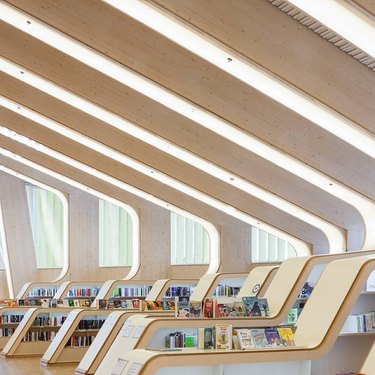 Argentine short story writer and poet, Jorge Luis Borges once said, "I have always imagined that Paradise will be a kind of library." And as we've virtually traveled around the world and bookmarked some of the most stunning and breathtaking libraries that we've found, we can't help but wholeheartedly agree.
From Canada to Mexico, all the way to Austria, these libraries are known for their striking architecture, the millions of books they house, their unique interior design, and the way they have the power to transport us, much like books, to a completely different universe. Take a tour around the world without leaving home thanks to these 11 libraries.
1. Tianjin Binhai Library, China
Tianjin Binhai New Area Library, nicknamed "The Eye," is ​obviously​ a sight for sore eyes. Wondering where it got its nickname from? The library's sphere, located at its center, appears to look like an iris and can be seen from the outside through an eye-shaped opening. The five-level library, which first opened in October 2017, is also home to 1.2 million books (#goals).
2. National Library of Finland
The National Library of Finland, located in the University of Helsinki, is the largest and oldest library collection in the Northern European country. It's also home to more than three million books and periodicals. Established in 1640, the stunning library is comprised of two buildings — the Fabiania building and the Rotunda annex. The library's vaulted ceilings and its classic architecture make for a grand and dreamy space for book lovers to get lost in.
3. Stuttgart City Library, Germany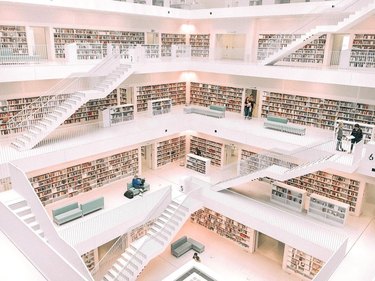 The nine-story Stuttgart City Library is by far one of the most breathtaking libraries in the world. Its minimalist and all-white interior might not scream cozy, but if you ever get to check it out for yourself, it'll leave you in complete awe. The library first opened to the public in 2011 and was designed by Yi Architects, founded by South Korean architect, Eun Young Yi. According to ​The Daily Beast​, Yi was influenced by the Pantheon in creating the library, saying "Like the Pantheon, this archaic type of space refers to the original cave as a human dwelling and is reinterpreted against the background of our changed technical reality."
4. Biblioteca Vasconcelos, Mexico
Mexico City has its fair share of beautiful bookstores (honorable mention: Cafebreria El Pendulo in Polanco), libraries, and cultural centers but Biblioteca Vasconcelos takes the cake. Located in the downtown area of Mexico City, the library is spread across 409,000 square feet and was designed by Alberto Kalach, using concrete, steel, and glass. As soon as you step foot into this "mega library," you'll automatically feel as though you've been transported to a different universe.
5. The Old Library at Trinity College, Ireland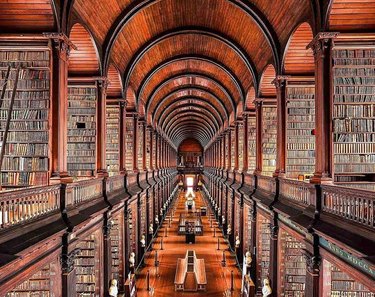 Curious to walk the halls that some of Ireland's most famous writers like Oscar Wilde, Jonathan Swift, and Bram Stoker might have frequented in their day while attending college? Then you need to add the Old Library at Trinity College in Dublin to your list. Part of the Old Library is the Long Room — the 213-foot main chamber built in the 17th century that houses more than 200,000 of the library's oldest books. This breathtaking library is also the permanent home to the Brian Boru harp, which is a national symbol of Ireland, a copy of the 1916 Proclamation of the Irish Republic, and the Book of Kells, which dates back to the 9th century. Not only will you be surrounded by beautiful books when you step into the Old Library, but you'll learn so much about Ireland's history.
6. Central Library of Vancouver, Canada
There are some libraries we love for their impressive interiors and others that we love for their striking exterior. According to the library's history, the design of the Central Library of Vancouver was inspired by the Colosseum in Rome. It was designed by architects Moshe Safdie, Richard Archambault, and Barry Down, and was officially open to the public in May 1995.
7. Admont Abbey Library, Austria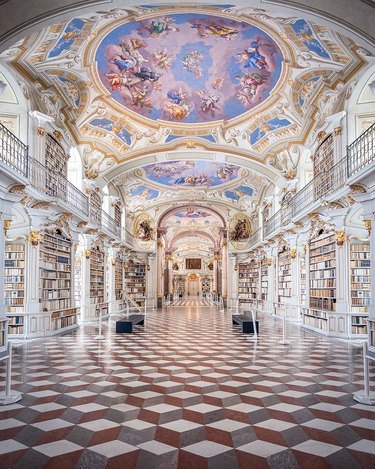 The gorgeous Admont Abbey Library is one of the largest remaining monastic libraries in the world. Known for its Baroque architecture, art, and manuscripts, the Admont Abbey Library feels like you're stepping into a dream. According to the library's website, the seven ceiling frescoes are "suffused with the spirit of the Enlightenment" and were painted by Bartolomeo Altomonte in the summer of 1775 through summer of 1776. This ethereal-like library holds more than 70,000 volumes.
8. University of Warsaw Library, Poland
Founded in 1816, the Warsaw Library is just as beautiful on the outside as it is on the inside. However, it's the library's botanical garden rooftop that draws us to this book lover's dream. Designed by landscape architect Irena Bajerska, the roof garden is one of the largest in Europe and consists of four parts: the golden, silver, crimson, and green section. The combination of concrete, green-colored glass, and lush vegetation growing on the library's facade is the perfect combination of nature and literature meeting halfway, and we'd love to get lost here in our favorite book.
9. Taipei Public Library Beitou Branch, Taiwan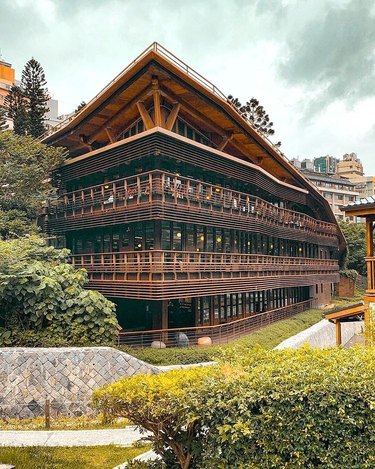 Another example of beautiful greenery surrounding a library and amplifying its beauty is the Beitou Library in Taiwan, which first opened in November 2006. Located in Beitou Park, the library is Taiwan's first "green" library, as its roof is covered in solar panels, according to Travel Taipei. It was designed by Bio-Architecture Formosana. Additionally, rainwater collected by the roof's drainage system is used to water the library's plants and flush its toilets. So, if you're looking to go green while you cozy up to a good book, Beitou Library's lush environment is the perfect spot.
10. Vennesla Library and Culture House, Norway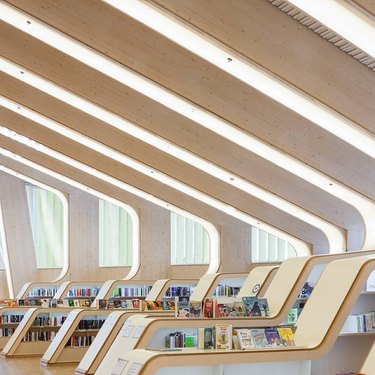 Norway might be known for its Northern Lights, but the Vennesla Library and Culture House is another gorgeous destination you need to check out. Built in 2011 and designed by architect firm Helen & Hard, it has even won several architecture prizes. Similar to Taiwan's "green" library, the Vennesla Library was designed to be a low-energy building. Its glass facade and urban loggia design also let in the perfect amount of natural light needed to curl up to a good book.
11. The Bodleian Library, Oxford, England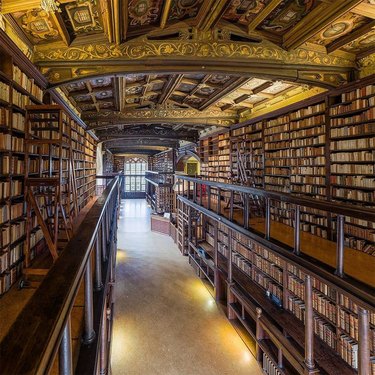 Last but not least, let's virtually travel to England to check out its Bodleian Library that forms the largest UK university library system (AKA the Bodleian Libraries group), with more than 13 million printed items, 8,000 e-journals, and more. Dating back to the Middle Ages, the Bodleian Library is also one of the oldest in Europe, and is Britain's second largest (first place goes to the British Library).
---
Pamela is a freelance writer and social media strategist based in Los Angeles, CA. She loves books and all things Oscar Wilde. Follow her on Twitter and Instagram @bypamelaavila for more.
View Work