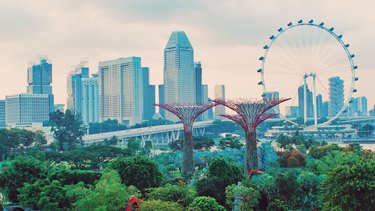 Box office numbers don't lie — people have gone crazy for Crazy Rich Asians. The romantic comedy, based on the bestselling satirical novel by Kevin Kwan, has grossed nearly $45 million in the U.S. in less than two weeks, and is being heralded for its talented cast (including scene-stealing breakout star, Awkwafina) and funny, sharp script. Crazy Rich Asians is the first film with an all-Asian cast to be produced by a major Hollywood studio since 1993's The Joy Luck Club (that's appalling, BTW) and its success underscores the importance of diverse representation on the big screen.
Crazy Rich Asians mostly takes place in Singapore, where Rachel (Constance Wu) is accompanying her boyfriend Nick (Henry Golding) to his best friend's wedding, visiting her old friend Goh Peik Lin (Awkwafina), and meeting Nick's crazy rich family (including his mother, played by Michelle Yeoh) for the first time. In addition to being super entertaining, the filmmakers went above and beyond to capture the various settings that Kwan describes in perfect detail throughout the book's narrative. You know how Sex and the City depicted New York's coolest boutiques, hottest restaurants, and most strollable neighborhoods in a way that was authentic to locals and aspirational to potential tourists? Crazy Rich Asians does the same for Singapore and will make you want to book a flight ASAP.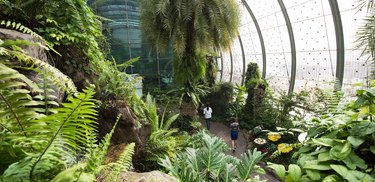 Using the book/film as a guide, sightseeing begins upon landing at Singapore's Changi Airport, which has been deemed the world's best airport by Skytrax for the last six years. Seriously, this place is like a plant-filled resort oasis — there's a cactus garden, a sunflower garden, and a butterfly garden, y'all. Not to mention a rooftop pool, a complimentary movie theater, an enormous slide, and tons of amazing food.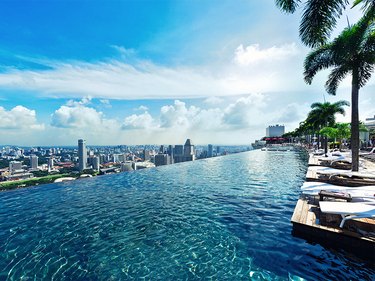 Speaking of food, if you actually make it out of the airport, prioritize like Rachel and Nick by hitting up one of the city's hawker centers — in the film, they go to Newton Food Centre for Singapore's infamous street food. If you've got the cash, book a room at Marina Bay Sands SkyPark, if only to enjoy the guests-only, surfboard-shaped rooftop infinity pool. Grab a drink at the gorgeous Raffles Hotel (where the couple stays in the luxurious Presidential Suite), do a little shopping and Instagramming along Ann Siang Hill and Bukit Pasoh Road, and take in the views from Merlion Park, seen in the movie's opening credits. Make sure to hit up two iconic landmarks that serve as the backdrops for the story's wedding — Chijmes Hall, the gothic-style chapel where Nick's friend gets married, and Gardens by the Bay, an impeccably manicured outdoor garden where the wedding reception takes place.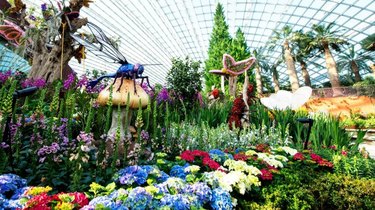 These locations are all highlighted in Crazy Rich Asians, but Singapore's incredible architecture is ever present throughout the film, and a reason to visit the city on its own. Of particular interest to Hunker readers are Singapore's highly coveted black-and-white bungalows. First, a brief history/geography lesson: Singapore is a small island country in Southeast Asia that has been a sovereign city-state since 1965. While the island and its native inhabitants have obviously been around for a lot longer, colonial Singapore was "founded" in 1819 as a trading post for the British East India Company, and became a British colony in 1858. Aside from Japan's occupation during World War II, the country remained under British rule until 1963, when Singapore got together with a few other former colonies, and seceded from the U.K. to form Malaysia. Two years later, Singapore separated from Malaysia and became its own nation.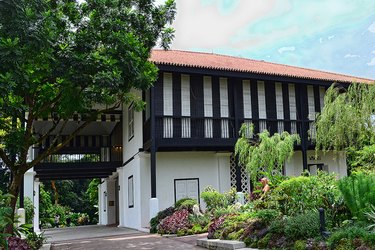 Today, Singapore culture reflects the diversity of its primarily Chinese, Malay, and Indian citizenship, and its longtime history as a global trading hub. But Singapore's black-and-white bungalows are among the specific historical landmarks that remain from the country's century-plus years as a British colony. The homes were built for British military officers, judges, and other members of colonial high society during an approximate 25-year span in the late-19th and early-20th centuries. Black-and-white bungalows got their name from their dark wood beams and whitewashed walls; the word "bungalow" has complex origins, but in this context, it's been used to describe stand-alone houses, typically of impressive size.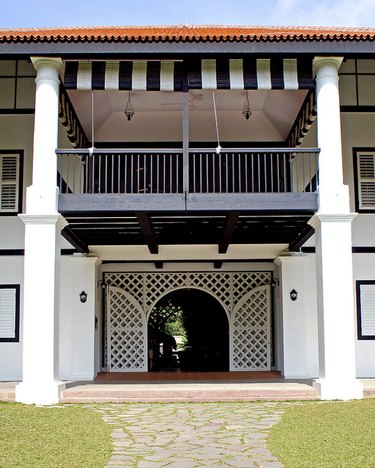 The black-and-white bungalows of Singapore are, quite simply, real estate porn. Their pitched roofs and wide over-hanging eaves were built with the tropical climate in mind, ventilating the spacious interiors and shielding the outdoor verandas from the rain. Their design is sometimes called Tudorbethan style, which takes traditional Victorian structural elements and gives them a tropical and art deco twist. Only about 500 of these homes remain, with many having been sadly demolished in favor of larger, more modern developments. The houses that are still standing, thankfully have been given conservation protection by the URA (Urban Redevelopment Authority); some are owned by Singapore's government, but plenty are still used as homes. The lucky owners can modernize the interior all they'd like, but they're required to restore and retain the general architecture, including the doors and windows, and can only paint the exterior in the iconic black-and-white. On the rare occasion a black-and-white is put on the real estate market, it gets snatched up quick and for a lot of money.
The best way for visitors to take a gander at these impressive historical homes is to book a tour or wander around black-and-white enclaves like Alexandra Park, Medway Park, and Cluny Hill — where Goh Peik Lin lives in Crazy Rich Asians, BTW. The oldest black-and-white in Singapore, Atbara House, was once the French Embassy but is now abandoned and open to visitors when it isn't being used as an event space. (Louis Vuitton hosted a party there last year, for example.)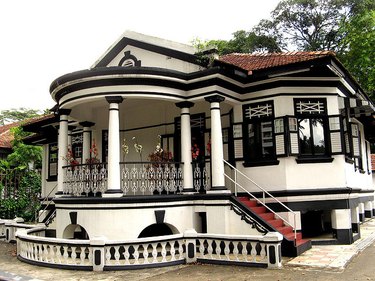 There are also a number of old black-and-whites that have been turned into restaurants — book a table at a well-reviewed spot like Indocafé and take in the ambiance while enjoying delicious Peranakan cuisine.