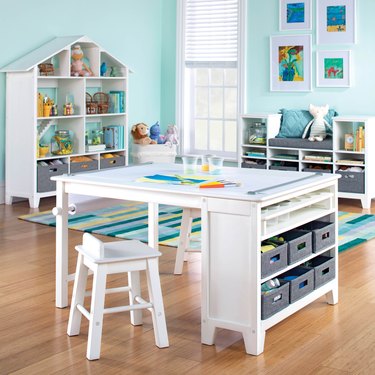 Martha Stewart's latest collection is for the kids, but we have a feeling that adults will also be thrilled. In partnership with kids' educational toy and furniture company Guidecraft, Stewart has released the much-needed Martha Stewart Living and Learning Kids' Collection, which was designed with homeschool spaces and children's bedrooms in mind.
Featuring storage solutions, ergonomic wooden designs that can be mixed and matched, and simple light gray and white shades, the collection is meant to suit a variety of kids' spaces. Designed specifically for ages 5 to 15, the line was also inspired by the idea of a child's home office where young people feel inspired to create, study, and organize.
In addition to being sold on the Guidecraft website, the Living and Learning Kids' Collection is also available at participating retailers like Amazon and Wayfair. You can see our favorite pieces below.
We love how this piece has options for both displaying items and storing them away.
The corkboard in this design is a nice touch, making the desk a more personal space.
Perfect for a room that needs both extra seating and storage.
This piece is a triple-threat. It features seating, storage, and display shelves.
---
Anna is a Los Angeles-based writer and editor who covers lifestyle and design content for Hunker. She's written for Apartment Therapy, the L.A. Times, Forge, and more. She previously worked as the lifestyle editor at HelloGiggles and deputy editor at So Yummy. Her email: anna.gragert@hunker.com