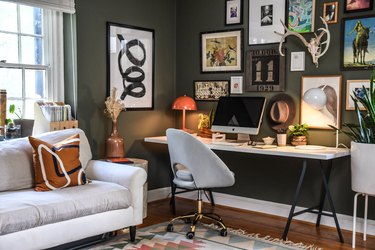 When it comes to creating spaces that are bold and full of energy, plant expert and stylist Hilton Carter knows just how to make dozens of disparate details come together with cohesion. When he set his mind to carving out a workspace in a living room, he started with the artwork. "I was really looking to create a vibe that was colorful, modern, and full of inspiration," Carter explains. "While the gallery wall helps as a collection of inspiration, it was having the ability to play with color around the room that made me the most excited."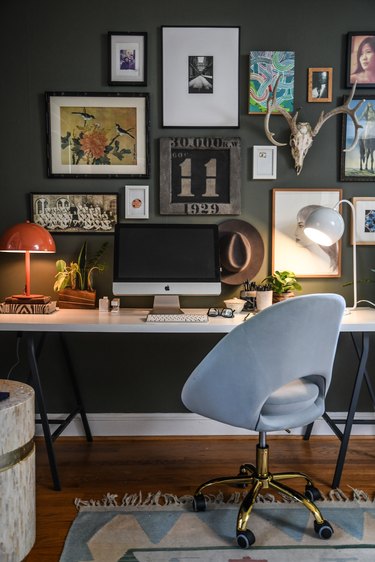 The artwork in the space features a mix of textures and styles, but it's the modern black-and-white piece that really grounds the design, especially in combination with the adjacent orange lamp. "I thought that color would pop against the green of the wall ... the retro style really felt right," says Carter.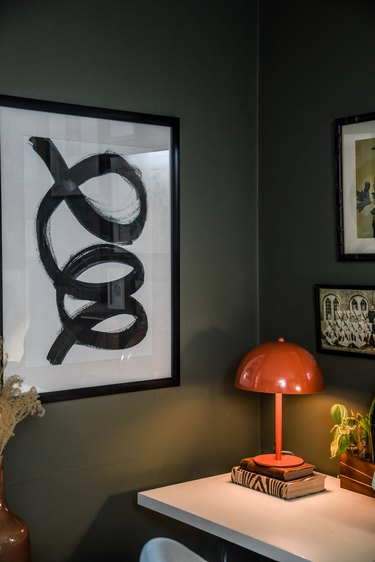 Most important to creating a cohesive workspace, Hilton advises, is finding a desk chair that is comfortable, but that doesn't destroy the vibe of your room: "When you're working from home or just working anywhere, you must have a comfortable chair that also has style."
Get the look of Hilton's living room workspace:
---
Leonora Epstein is Hunker's Senior Director of Content. She has previously served as Executive Editor at HelloGiggles and as BuzzFeed's Deputy Editorial Director. She is the co-author of "X vs. Y: A Culture War, a Love Story" (Abrams, 2014). Feel free to reach out at leonora@hunker.com.