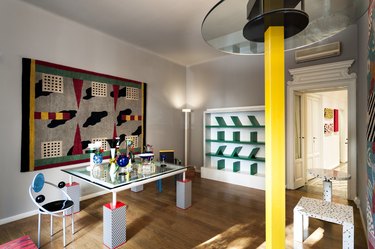 Not to say we told you so, but it's official: '80s decor is back. After spotting post-modern shapes, geometric prints, and wavy accents in the catalogs of some of our favorite high-street home retailers, we predicted that modern, Memphis Design-inspired decor would be everywhere in 2020 — and, as it turns out, we were right. Even leading interior designers by the likes of Meg Sharpe of Meg Sharpe Interiors and Sarah Sherman Samuel seemingly can't get enough of the iconic '80s design style.
To learn more about Memphis Design, the influential post-modern design movement that dominated the '80s and is currently making a major comeback, we turned to interior designer Liz Lipkin. "Founded by designer Ettore Sottsass in 1980, the Memphis Group was an Italian-based collective of designers and architects," Lipkin tells Hunker. "Their aesthetic was a deliberately exuberant and colorful reaction to the more restrained minimalism of the '70s. Inspired by art deco, pop art, and 1950s kitsch, the Memphis look is characterized by geometric shapes, squiggles, wacky arrangements, color blocking, and bright, clashing colors — often contrasted with black and white."
So, how do you make the once-dated '80s design style look current? Ahead, Lipkin divulges her expert tips for nailing Memphis Design-inspired decor in 2020.
1. Strike a balance between refined and whimsical.
As this kitchen designed by Meg Sharpe of Meg Sharpe Interiors demonstrates, the first rule of Memphis Design is that "sophisticated and fun don't have to be mutually exclusive," explains Lipkin. "I just love the playful contrast here between the Memphis-inspired chairs and light fixture and the more serious chevron flooring and brass cabinetry."
2. Incorporate clean geometric prints and patterns.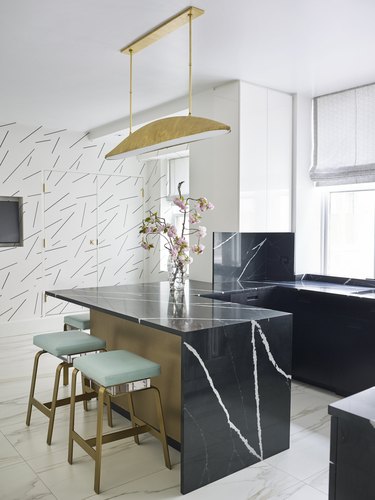 "'80s-inspired abstract and geometric prints and patterns are being reinterpreted in clean, minimalist ways that look chic, not kitsch," says Lipkin — and the wallpaper in this kitchen designed by Melanie Morris of Melanie Morris Interiors is a perfect example. "For a similar graphic look without the commitment, try a removable wallpaper like this one from Walls Need Love or an accessory like this pillow from Gilded Living Home," suggests Lipkin.
3. Opt for minimal furnishings with '80s-inspired flair.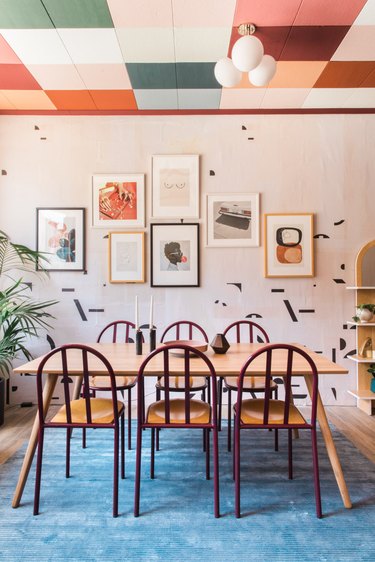 This dining room designed by Caroline Lee and Anne Sage is rife with modern Memphis Design details, but one element, in particular, stands out to Lipkin. "There's a lot of inspiration here — from the bold color-blocked ceiling to the jumbled geometric wallpaper — but let's not lose sight of those fantastic purple tubular steel dining chairs," notes the interior designer. Sculptural and modern, they lend visual interest to the space without veering into kitschy territory.
4. Invest in a unique, impactful accent piece.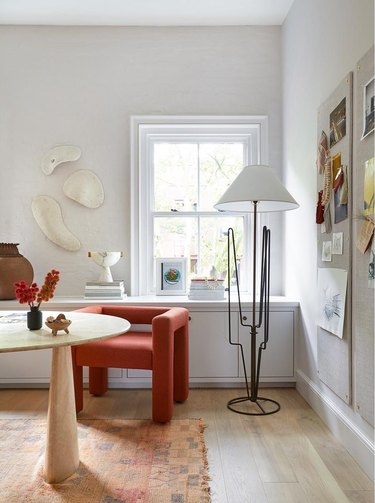 "The juxtaposition of such dynamic sculptural silhouettes is really compelling in this gorgeous room," notes Lipkin of a space designed by Elizabeth Roberts Architects for Athena Calderone of EyeSwoon. "But consider that any one of these pieces on their own would add life to a room."
"If you're ready to introduce some Memphis to your home, but want to start small, don't underestimate the power of a unique accent piece," offers the interior designer. "I would flank a sofa with a pair of these floor lamps, or dress up a basic bedroom with this squiggle mirror."
5. Play up contrast with color, pattern, and proportion.
This space designed by Sarah Sherman Samuel "is a softer, more organic approach to the look, grounded in pale pink," explains Lipkin. "It's a nod to the past, but the space still feels very contemporary. I love the sharp contrast of the graphic black and white stripe on the ceiling with the artwork's biomorphic geos and the cartoonish proportions of the chair."