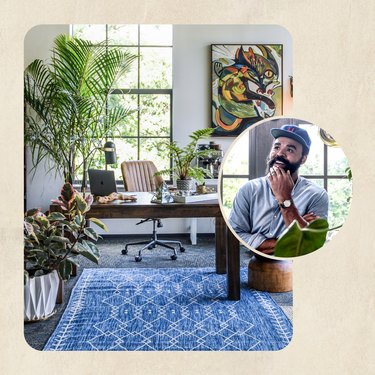 In My Element visits with creatives in their at-home workspaces.
Welcome to In My Element, a series where we talk to creatives about the nooks and crannies of their homes that bring them true inspiration. Today, we're chatting with plant expert and stylist Hilton Carter, whose abundant, verdant interiors have gone wildly viral on Instagram.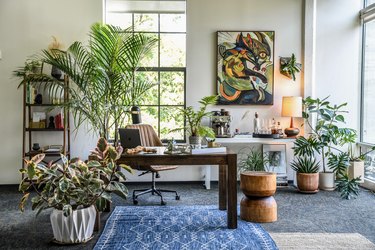 Hunker: Tell us about this beautiful space ... what do you use it for?
Hilton: This is my studio space! It's a workspace I rent in my apartment building to give myself room to create. Recently I've been creating plant care and styling videos here and working on designing new products.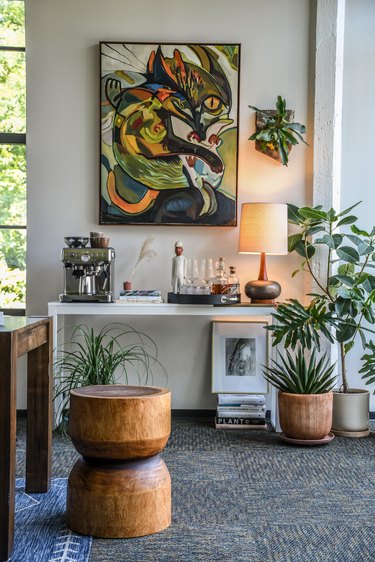 Hunker: How does this room reflect who you are and your unique style?
Hilton: Well, for one, I've always been a fan of spaces with high ceilings and large windows. And this warehouse has both. These attributes allow me to bring in more plants but also large ones at that. Having a workspace that sets me perfectly in my element is everything one needs to feel comfortable and to have a place to breathe with how crazy the world is right now.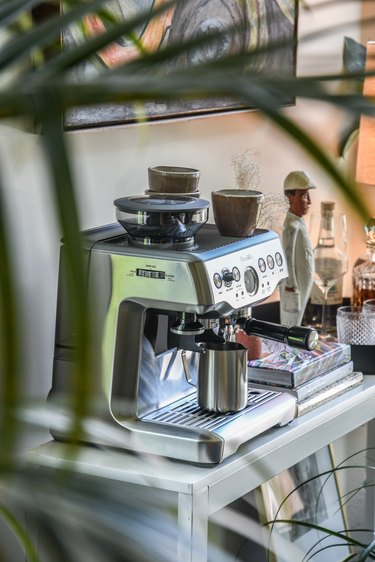 Hunker: Can you talk about a few of the key pieces that played a role in making this space special?
Hilton: Yes! While I did a planter, lamp, rug, and other great items from Walmart (Ed. note: While some of Hilton's exact product is sold out, we've included substitution suggestions at the end!), there are a few that truly made the space shine. For one, the Acme Furniture Hamilton office chair set the mood from the jump. Not only is it stylish and sleek, it's really comfortable. I also picked this coffee color because the warm tones work well in a space surrounded by greenery. Another item that played a major role in making my workspace special was the Breville espresso machine. I find myself working really long hours in the studio and having a way to get that shot of goodness quickly, whenever I wanted, is a big deal. And lastly, I'd have to say the Haussmann Wood D Bell end table was a great addition because not only is it stunning, it's another simple way to bring the outdoors in.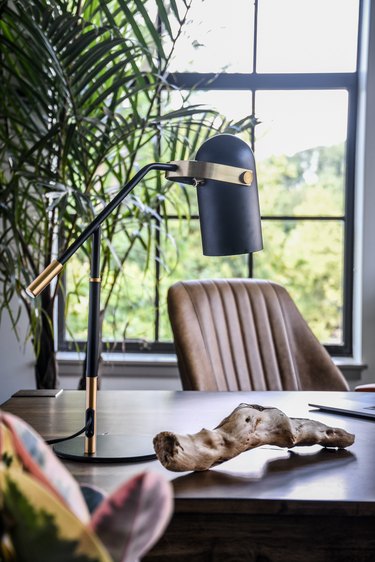 Hunker: When it comes to working from home (as so many of us now do), what are some must-haves in a home office space?
Hilton: Well, natural light is probably the most important requirement for a home office. It makes you feel more energetic and alive. Trying to be creative in a dark room can become depressing fast, and right now, we don't need that type of energy in our lives. Good vibes only. Natural light will provide that. But if there is no natural light, bringing in the right lamps to make the space feel more warm and comfortable would be ideal. And I couldn't leave this without suggesting bringing in plants to help bring life, color, and companionship.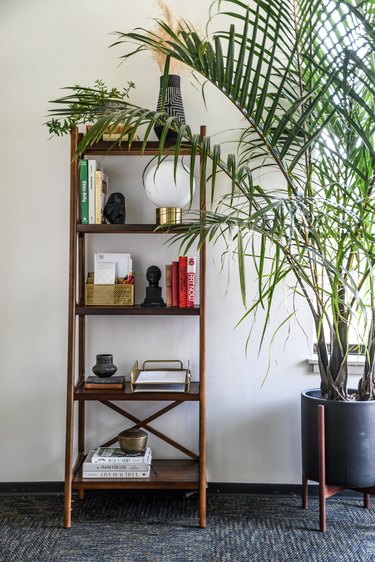 Hunker: Can you talk a little about the use of plants in the space?
Hilton: When I bring plants into any space I think about how the type and size of the plant will affect the spot that it's in. I always lead with a statement plant: a plant that will set the tone for the room and mostly likely will be the largest plant in the group. (In my workspace, that would be spindle palm.) Then I'll work in different types of plants based on the light that I have coming into the room. Here on my desk I decided to bring in some air plants given that they don't take up too much space but can also thrive in the bright, indirect light my desk gets. I've added a beautiful variegated rubber tree that I've potted in my MoDRN Scandinavian Multi-Faceted Earthenware Pot, also from Walmart.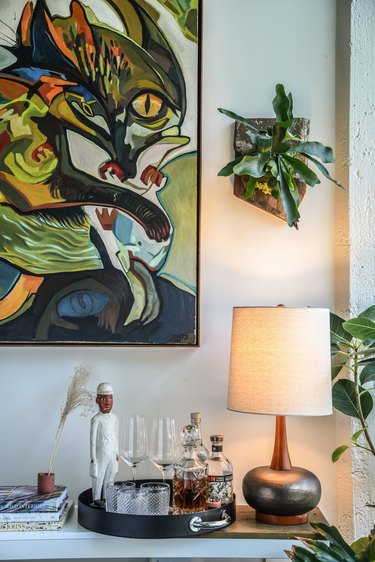 Get Hilton's home office/studio look: