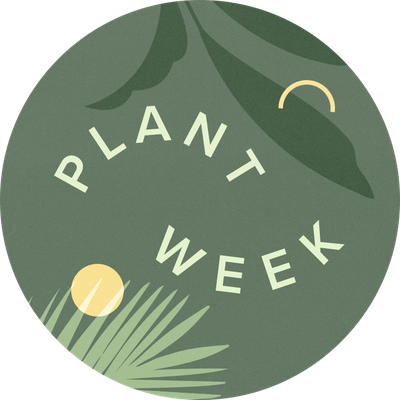 Welcome to Plant Week: Our guide to all things indoor plants, including tips for beginners, advice on care, and tons of plant-spo.
Christopher Griffin (better known to legions of fans on Instagram as the Plant Kween) fell in love with all things green after visiting Philadelphia-area nurseries with their grandmother as a child.
"She was the original green goddess in my life," Griffin tells Hunker. "There was just a light, a joy that shone from her. To see her happiness and to see she was creating something for herself — her own little garden and green spaces — was really beautiful. She instilled in me at an early age that it's important to remember nature and gardening are part of our family roots and you're the author of your own joy."
It's a motto that Griffin carried into adulthood and a mantra that guided them in the process of not only claiming, but cultivating the space around them.
"I had an apartment in New York and I ran over to a local hardware store and picked out my first plant, a struggling pothos" they recall. "I said if I can bring this kween back to life, and give her that new growth realness, then I may have something on my hands."
Now, five years and more than 200 plants later, the rest is viral Internet history. Below, Griffin shares more about the best plants for beginners, caring for plants as self-care, and returning to familial roots.
​Hunker:​ What advice do you have for notorious plant killers, such as myself?
​Christopher Griffin:​ The important thing to know is that there's no such thing as a green thumb. It just causes unnecessary anxiety for folks — and plant parenting is a process. There are some plants that don't vibe well with me and that's okay.
My top advice would be to do an assessment of your space — the kind of sunlight you get, the average temperatures and humidity levels. And remember all of this changes as the seasons change. The second thing is to do research on the plants that you want to bring into the space. I do a quick Google search on plants to see if I can provide them with the environment they would need in order to thrive. It's about being intentional about the plants you bring into your space.
​Hunker:​ What are the beginner-friendly plants you'd recommend?
​CG​: There are three plants I'd recommend. The first would be the pothos, and there are a bunch of different varieties — the neon pothos, the golden pothos, the marble queen. She is extremely resilient and easy to care for. She also grows quickly, so if you're a kween that really enjoys the immediate satisfaction of new growth, the pothos is for you, and it's very easy to propagate if you're into sharing plants with folks. It's a fun way to bring a couple of plant friends into your circle.
The second is the ZZ plant, which is another common house plant whose roots have these rhizomes that look like little potatoes and allow the plant to store water for itself. If you want a plant that can thrive with a little bit of neglect, the ZZ plant is for you.
Then, lastly, is the snake plant. It's a sword-like looking plant and adds texture to a space. They're also wonderful air purifiers and can survive in a bunch of different lighting situations. Plus, you don't have to water it as often because it's used to arid conditions. That's the only plant I've never killed. It is possible though — if you're an overwater-er, then she'll go to that little botanical garden in the sky.
​Hunker:​ What role do plants play in your self-care routine?
​CG​: Existing as an unapologetic Black queer, non-binary femme is not always the easiest thing in the world. It's a process. I'm learning about myself every day and I've been trying to create more spaces of healing for myself. As Black folks, we are constantly exposed to trauma in a variety of ways and in my role as an educator, I'm in a helping profession — but I've realized I can't pour from an empty cup. So I have to make sure that I'm filling myself up so that I can show up in the best possible way for the folks that I care about.
I feel like my plants have allowed me a very introspective and reflective space to really look at how I'm nurturing my own mind, body, and soul. Am I drinking enough water? Am I getting enough sunlight? Am I feeding myself nutrients so that my roots can grow?
I have a greater appreciation for growth — like slow growth, and resiliency. My plants reflect those things back at me. Some folks may treat plants like furniture or decoration, but these are living things that I'm learning from every single day.