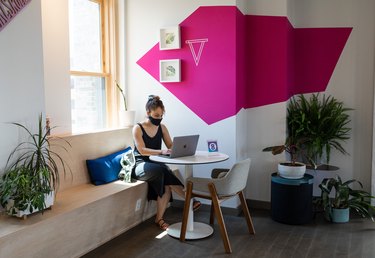 The COVID-19 pandemic has greatly affected how we work — and this includes how we co-work. According to a 2019 study conducted by Gensler, a design and architecture firm, one in seven participants utilized a coworking space for at least part of the work week. Now, with more people working from home and socially distancing, these numbers have changed, culminating in a projected economic loss for the market. As a result, coworking spaces have had to adapt.
To better understand what the future of coworking might look like, we went right to the source. After speaking with representatives from four different coworking, networking, socializing, and community-based companies, it's clear that these spaces have refreshed their digital presences while creatively reimagining life in their physical locations.
Prioritizing Digital Programming
Following closures of their physical spaces and cancellations of in-person events this past March, coworking and community platforms like Ethel's Club (Brooklyn, New York), The Coven (Twin Cities, Minnesota), Girls' Night In (nationwide), The Wing (nationwide), and more have relied on digital memberships and gatherings. These include workshops, private member groups, and classes.
"In mid-March, we closed our physical clubhouse in Brooklyn and launched an online clubhouse meant to give access to events to members while keeping them connected," Naj Austin, founder and CEO of Ethel's Club — a coworking, social, and wellness club for BIPOC individuals that started in January 2019 — tells Hunker. "We offer a variety of classes and workshops three times a day, every weekday, alongside discounts, perks, and other resources."
In addition to their digital-first membership — priced at $17 per month — the company waived membership fees for the month of April. It also organized free healing and grieving sessions for the Black community; current offerings include DJ sets and guided meditations. Thanks to these additions and transitions, Austin states that, currently, their membership includes around 2,000 people from all over the world.
The Coven, a coworking space for women, non-binary, and trans people that began in March 2017, has also seen membership increase as a result of a digital shift. Since March, the platform has had 500 worldwide members join its ranks with their "pay what you can" digital membership. Though the option is no longer available — the virtual membership is currently priced at $25 — for every five memberships that are purchased, The Coven gifts one back to the community.
"Even when people can be in physical proximity together again, [our digital platform will still be] a way to access The Coven," Erinn Farrell, The Coven's co-founder and chief creative officer, tells Hunker. She adds that even though the company re-opened its physical spaces in June, it will still keep its virtual branch open for those who may not have access to a physical community.
Girls' Night In — a media brand and community that started as a weekly newsletter in 2017 — introduced an entirely new platform during the pandemic. However, The Lounge, which beta-launched in Washington, D.C. in September 2019, wasn't initially designed to be entirely online.
"We actually built those membership offerings to facilitate in-person connections and while that's still so important to us, we didn't want to press pause on our plans for The Lounge when COVID hit," Olivia Rogine, Girls' Night In and The Lounge's director of community, tells Hunker. "We knew our community still needed us and one another now more than ever."
Like Ethel's Club and The Coven, the team at Girls' Night In had to pivot, turning The Lounge into a digital membership platform where people can gather online. The Lounge currently has a waitlist, with memberships costing $12 a month or $130 a year.
The Wing, a controversial, women-focused coworking company that launched in October 2016, made a similar change. It now provides members with virtual programming and meet-ups that allow them to stay connected in the midst of a pandemic (although it has faced challenges that came with major layoffs).
Applying Pandemic Protocol to Physical Spaces
Yet after months of balancing work and life at home, it became evident that people still yearned for physical spaces to conduct their business — especially to separate home from work. As a result, coworking spaces had to get creative while following pandemic safety protocol — which can vary depending on individual state and city regulations. For instance, global coworking company WeWork, founded in 2010, has implemented updates like buffer zones and single-use utensils.
The Coven also introduced new standards for its spaces after reopening in June. The company began letting members back in at a low capacity rate and now requires masks at all times, social distancing, capacity limits, no shared products, and more.
"There are [temperature] checks, redesigned spaces, and the reserving of full spaces for the entire day," Farrell explains. "Before, it was first come, first served, coffee shop-style coworking, but now our members have a much stronger sense of who's going to be in the space every day and how it's going to be laid out."
Hygge — a coworking company in Charlotte, North Carolina, that launched in 2015 — unfortunately lost 50% of its membership after closing its locations in March. But since reopening in May, the company has slowly been getting its business back as it adjusts the rules of conduct while working to maintain the intended vibe of the space.
"We didn't make any [design] changes in the open spaces," Alyssa Pressler, Hygge's director of marketing, tells Hunker. "I know of other coworking spaces that put up plastic panels, for example ... We decided not to do that. We decided that if anything, that looks more scary than we would like right now. All of our members know that if they use [the open] flex space, they need to sit at a table by themselves. There's no sharing tables. And they need to wear their masks the entire time that they're working."
At Hygge, people are able to rent their own secluded office spaces starting at $600 per month. There, they are allowed to remove their masks — barring that their company is comfortable. "We're seeing office spaces pick up a bit more because people are in their own secluded room," says Pressler.
While pandemic protocol does vary based on location, coworking spaces across the board look different than they did just a few months ago. This is the new normal.
Repurposing the Physical Space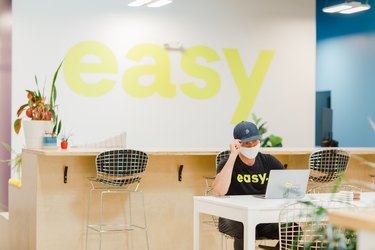 In addition to altering regulations and procedures, coworking spaces like Hygge and The Coven have been using their locations for alternative purposes. In June, after George Floyd lost his life to police brutality in Minneapolis, Minnesota, The Coven turned its Minneapolis location into a drop-off site for donations.
"We partnered with dozens of local community organizers to understand what the specific supply needs were for different communities, and the community at large in the Twin Cities," Farrell says. "Every day, we would post those needs on our Instagram Stories, people would come by and drop things off, we would organize everything, and then organize the volunteer fleet of cars to get that stuff delivered ... We sent out over 300 vans full of supplies across the Twin Cities."
Hygge, on the other hand, has partnered with local schools to repurpose the open space at their Hill Street location. "We partnered with a couple of area nonprofits, including the Steve Smith Foundation and the Charlotte-Mecklenburg Schools to open up a schooling area for low-income, at-risk children who are primarily homeless or at risk of being homeless in the county," Pressler says. "So, those kids come in every single day. They have their own secluded space. The teachers do everything there — we just facilitate having a space to do it." This program is particularly intended for students who wouldn't have access to Wi-Fi for remote learning.
Adding space for students has also been taken into account by Blankspaces, a Southern California coworking community founded in 2008. According to a September 15 newsletter, the company has started offering custom memberships for learning pods: small groups of students who share an instructor or tutor. This will allow these pods to have access to meeting rooms and private offices that have amenities like internet access and air conditioning.
As we all know, right now, planning for the future is difficult. With this in mind, coworking spaces are realizing what their communities need in these tough times.
"We are hyper-focused on providing whatever our community needs right now, digitally, and are excited to open doors again when it's safe to do so," Austin says, when asked about the future of Ethel's Club. What this currently looks like is free healing sessions for the Black community, an emphasis on supporting BIPOC creators, plenty of opportunities for their members to connect with one another, and the chance for prospective members to try one week free.
For now, The Lounge intends to continue planning intimate virtual gatherings that are host- and expert-led. The membership currently includes events based around professional development, financial wellness, and group meditations. And while continuing to work with the local community for programs (such as the one for schooling), Hygge is also designing membership plans for couples who are juggling work and childcare.
Though coworking businesses have certainly seen a shift as a result of the pandemic, it would ultimately seem — regardless of location — that they all have one thing in common: a desire to do right by their communities. Whether that involves starting a virtual branch or opening up the space for those in need, coworking and networking companies seem to have a pulse on what their members need as our world continues to evolve. For those who may not have access to an in-person space, we imagine that these accessibility changes are especially welcome.