In our Architect of Impact series, you'll meet the people and organizations using design to drive positive social change, along with the movements behind them.
When Katherine Williams was a young child, she attended a career fair sponsored by the Girl Scouts in her hometown of Chesterfield, Virginia. At the fair, she talked to many people, but her interest was piqued by a conversation she had with an architect. She was intrigued by the combination of skills required by the profession, from the scientific to the mathematical and artistic. After that encounter, Williams spent most of her teen years learning more about different design careers, as she explains during a phone call with Hunker. This included participating in various camps and programs dedicated to architecture, design, and engineering.
By the time she headed to college, Williams had no qualms about what she wanted to study. After obtaining her Bachelor of Architecture at Howard University, Williams began working at various commercial architecture firms in Virginia. Eventually, she left that traditional track to explore her own path, working for affordable housing developers and academic institutions.
Beyond her own career, Williams has made it a practice to create resources for other Black women interested in architecture. In 2020, Archinect reported that Black women make up 0.4% of licensed architects in the U.S. Three years later, there has been some growth, but people like Williams want to make sure that growth is constant — not merely a trickle of change.
In 2015, Williams launched Black Women in Architecture (BWA), an annual brunch with the goal of bringing together professionals in the Washington, D.C., area to meet, swap stories, and build community. Inspired by events thrown by groups like the National Organization of Minority Architects (NOMA) and the American Institute of Architects (AIA), Williams saw the value in creating space for Black women to convene with each other.
"The idea was to connect women in the D.C. area who didn't really have a central place to meet each other, and to hopefully foster relationships that could continue beyond the event," she says.
Williams recalls the first few years of the brunch, when she worked with a small team and caterer to pull off an event with a central concept of gathering people over a meal. "That was really the focus," she explains. "We just wanted to get together. It wasn't any larger than that." Since then, though, the popularity of the gathering has led to the expansion of the BWA from an annual brunch to a resource hub for Black architects in the District of Columbia, Maryland, and Virginia (DMV) area and beyond.
The Black Women in Architecture Network, which Williams now runs alongside a team of volunteers, has added other initiatives, like the Desiree V. Cooper Memorial Scholarship, an award to help with the fees associated with the Architecture Registration Exam, which professionals must take in order to become licensed architects in the U.S. Williams reveals that the cost to take the six exams is around $1,410, a significant barrier for those longing to take the next step in their careers. Though she notes that some firms have begun to cover the cost of the exam and related study materials, if you work in the public sector, there is sometimes a lack of financial support. Through initiatives like the scholarship, Williams hopes to offer access while also modeling ways of supporting emerging architects.
"It was one of the first times where I participated in a national event and really saw the power of getting together in a room full of Black women." — Williams
The idea for the BWA brunch was initially sparked by Williams' decades-long involvement in Riding the Vortex, a collective of Black women architects who organize panels to discuss their experiences in the industry. The first Riding the Vortex session occurred in 2007 at an AIA convention and was organized by Kathryn Prigmore and the late Barbara Laurie, who met while teaching at Howard University. They asked Kathy Dixon, founder of K. Dixon Architecture, and Williams to be the panelists for their inaugural program. At the time, Williams didn't imagine their panel would evolve into a traveling forum for conversations around race and gender and that in 2022, they would be awarded the 50th Whitney M. Young Jr. Award at the AIA Conference on Architecture.
"It was one of the first times where I participated in a national event and really saw the power of getting together in a room full of Black women," Williams states. The brunch taps into this power, providing camaraderie and space for women who lament being the "only one" at their firms.
After starting the BWA Network, Williams learned through Prigmore of a similar group that operated during the early '90s. Formed in Baltimore, Maryland, the group also called itself Black Women in Architecture and sought to raise the number of Black women architects. The members did so through networking activities and professional development sessions on topics like becoming a business owner and marketing. The group disbanded in 1994.
Williams became aware of the group after starting her brunch, and she acknowledges their joint mission in amplifying the work of Black women architects. "That's why I call the BWA Network a 'restart,' because I do want to give credit to people who were doing this before," she says. Though their methods might be different, Williams sees the BWA Network as continuing a long history of interventions aimed at making architecture a sustainable option for young BIPOC professionals.
"There's no one way to be an architect. We all have different ways of being one, and sharing our stories can help people figure out their own path." — Williams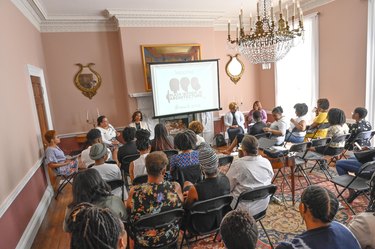 As the BWA Network prepares for this year's brunch, which will take place in September, as well as another round of scholarship applications, Williams is thankful to be able to practice a profession she enjoys while also helping others who want to be architects. She stresses the importance of "having a network of support" — individuals at different points of their careers who can offer guidance and community.
"There's no one way to be an architect," Williams concludes. "We all have different ways of being one, and sharing our stories can help people figure out their own path."