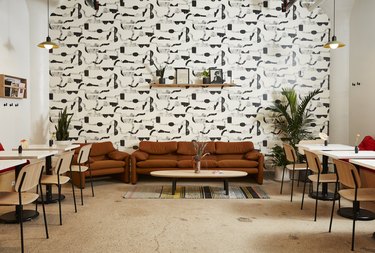 Even though it can't open its doors right now due to COVID-19, New York-based Ethel's Club is offering virtual resources to support Black communities. The people of color-focused co-working and community space opened its doors in 2019, with a bright and welcoming space designed by Shannon Maldonado.
In light of the murder of George Floyd, the space announced that it would be holding virtual "group healing and grieving sessions" for "Black people around the world." Ethel's Club announced two dates for the event; at the time of writing, all 1,000 spots were filled. The organization tweeted that it would soon be adding additional dates.
Ethel's Club is also offering week-long free memberships for people of color. This includes access to creative workshops and community gatherings, per their Twitter account. When it debuted, the space had a waitlist of around 4,300 people. In light of COVID-19, the organization premiered a digital monthly membership.
Just recently, the organization also tweeted that it will hold a Juneteeth virtual gathering black featuring artists and healers. While the future is still largely unclear in terms of what co-working and community spaces will look like in a post-coronavirus world, Ethel's Club is making a statement with its virtual efforts.
---
Eva is a Los Angeles-based writer who covers trends, news, and makers for Hunker. Her writing has been featured in the Los Angeles Times, The Guardian, Bustle, KCET and more. She is a proud bookworm and organizes her books by color.