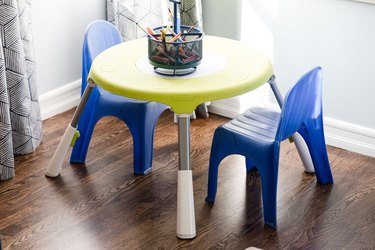 While spending a lot of time at home can be great for tackling organizational projects or trying a new DIY tutorial, many people find themselves with the challenging question of how to best structure their work and free time. That gets even trickier when you add kids to the mix. If you're working from home and trying to figure out your own flow, how does your kiddos' new normal figure in?
Thankfully, Twitter has some answers. People have been sharing sample schedules for keeping kids on a routine — and also balancing the needs of the whole household. Here are some of our favorites so far.
We love this bilingual guide (originally shared on Twitter) that also includes some time for writing letters to loved ones you might not be able to see right now:
If you've got kiddos in older age groups, this might help:
Or if you want a structure that's helpful but not necessarily created by the hour:
Here's a great way to break things up if you're taking care of kids with another person:
And a humorous take on this scheduling task:
---
Eva is a Los Angeles-based writer who covers trends, news, and makers for Hunker. Her writing has been featured in the Los Angeles Times, The Guardian, Bustle, KCET and more. She is a proud bookworm and organizes her books by color.