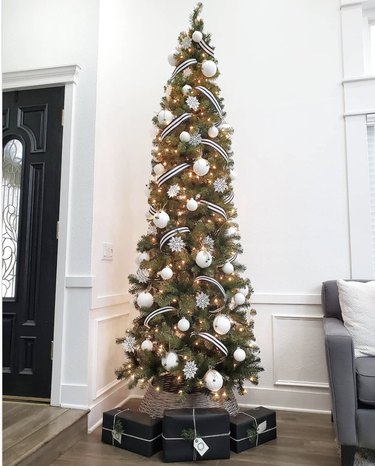 No holiday evergreen is complete without some Christmas tree ribbon. Using this classic accent can add wonderful color and texture — even some drama — to your tree. Plus, it'll make those year-in-year-out ornaments feel fresh and new again.
1. Go for sweet and simple.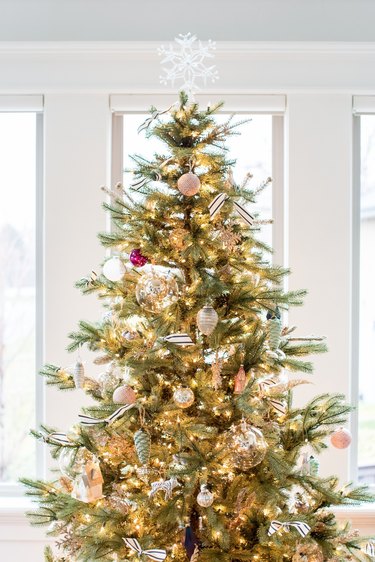 Studio McGee's approach to Christmas tree ribbon is sweet and subdued, here. Small simple ties — made of a black and white, striped cotton from The Container Store — dot the tree, which otherwise has a glass and metallic theme. For a cohesive holiday look, the fabric also appears on a simple Christmas wreath nearby.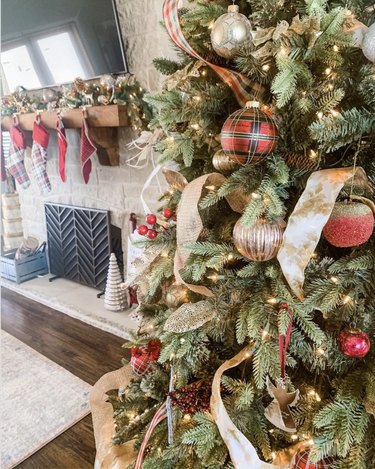 Christina Renee Martinez of Palindrome Home has a much more lush and varied approach to Christmas tree ribbon, with three different styles tucked in and among the branches and family ornaments on her evergreen. With this tree, she switched from an all-gold decorating theme to incorporate multiple textures and patterns, including plaid and jute for a rustic look that feels timeless.
3. Try a criss-cross pattern.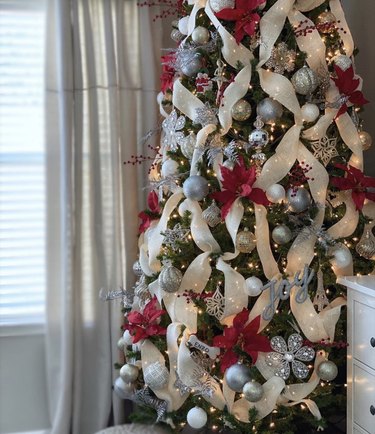 4. Let your ribbon cascade down.
For a really full look, let wide, mesh Christmas tree ribbon cascade down a slim tree. If your material is thick enough, you can create an almost striped effect. Here, Maggie of Home on the Ridge alternates red and gold trimming to give the evergreen in her bedroom a gauzy, feminine maximalist vibe. It's accented with more traditional red and white Christmas tree ribbon here and there.
5. Use black and white for a modern effect.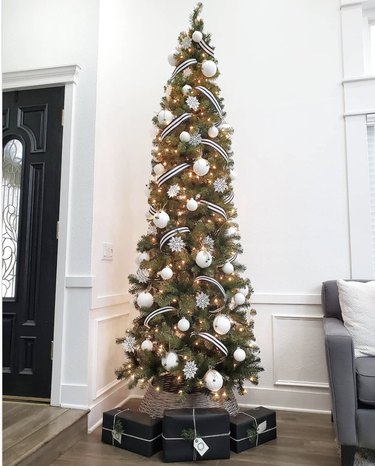 For a modern evergreen, start by limiting your palette. Black and white feels nontraditional, but very chic, for the holidays. The Christmas tree ribbon here has a simple black and white stripe, which creates a minimal holiday look and feel that complements the simple white balls and snowflakes.
---
Laura Lambert is a Los Angeles-based writer and editor who covers lifestyle, design, and women's health.
View Work