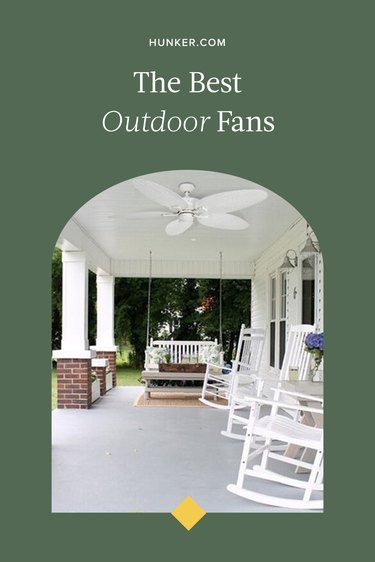 Welcome to The Cool Down, Hunker's definitive guide for staying cool, calm, and collected all summer long.
While it's far more common to install a ceiling fan, standing fan, or wall-mounted fan indoors, there are a few reasons to seriously consider using a weather-resistant outdoor fan during the warmer months.
If your porch, balcony, or patio doesn't get much wind, an outdoor fan will do wonders to increase air circulation. The consistent movement of air is also a great way to keep you cool. Though the environmental temperature remains the same, your body temperature naturally decreases when met with a powerful breeze. Outdoor fans are also key for pest control. Pesky insects are no match against a steady flow of air, so your outdoor living area will be virtually bug-free. If these perks have convinced you, check out this list of outdoor fans that will vastly improve your summer.
If your outdoor space can accommodate it, a ceiling fan is the way to go. Safe for kids and out of the way, the ceiling fan pushes hot air down to the ground and pulls cool air up for optimal temperature control. This simple, straightforward ceiling fan by Honeywell is damp rated, which means it's designed to withstand humidity and light moisture. Its five blades are operated by an easy pull chain, but the entire fan is compatible with the brand's remote controls if you're looking to upgrade. The tropical, wicker vibe is ideal for hot weather settings.
For all the bells and whistles you could want in a ceiling fan, look to the Minka Aire Java 3. It's wet rated, so it can handle direct exposure to the elements, and it's remote control-operated, so you never have to interrupt your lounging. Outfitted with a dimmable LED light, it can create ambiance and illuminate the area at night. It offers a sleek, modern look with a polished nickel base and silver blades.
It may be a splurge, but this Pottery Barn fan has features to back up the price. The base is made of die cut metal in dark bronze, while the rustic propeller is natural buttonwood. In the center, there is a dimmable LED light for setting the mood, while remote control operation allows for ultimate relaxation. It's also damp rated, so it's best suited for a covered porch or patio, but can also move indoors.
It might look small, but this misting fan is mighty. Its powerful blower can reduce air temperature by up to 25 degrees and its fine mist, which is created with a standard hose hookup, is incredibly cooling. With a convenient pivot function, the strong breeze can point in any direction. The product is also weather, UV, and rust-resistant, so it'll last for summers to come.
This iLIVING fan is the ideal wall mount option. The bracket is adjustable and super easy to mount. It has a water-resistant, galvanized steel frame and curved aluminum fan blades that provide swift airflow. Plus, it can be quickly turned into a misting fan with the purchase of a kit that's sold separately.
A pedestal fan is a fine choice if you want flexibility. You can move it from place to place, cooling any area you please. This DecoBreeze version has a tilt adjustable head, so you can aim the breeze exactly where you want it, and oscillation capabilities for wide coverage. It's wet rated and includes a weighted base, so rainy and windy conditions don't pose a threat. With faux rope and brass accents, the nautical design brings a total seaside feel.
---
Morgan Goldberg is a writer based in Los Angeles. She likes pasta, hiking, and crossword puzzles.