The new norm means remembering to bring your face mask along with your keys, phone, and wallet before you leave the house. But even though masks look like one size fits all, not everyone can wear them comfortably straight out of the box (or even straight out of the Etsy order envelope).
Here are some face mask hacks we've seen lately that can make things a little easier:
1. Try an ear loop extender.
2. Use a nose wire.
Those of us that wear glasses and a face mask need to deal with a small inconvenience: fogging up our glasses every time we breathe. In order to avoid this, or just to make the mask easier to wear over your nose, you've got two options. Buy a face mask with a wire built in or try a DIY hack to add a pipe cleaner to a mask you already own (like this one by Homemade Ginger).
3. Add a headband.
Another alternative: Grab a headband to help with masks that can't seem to stay on your ears. You can either purchase one with buttons on it already or make your own (try these DIY instructions by Jennifer Maker).
4. Incorporate essential oils.
We previously wrote about an idea we say floating around online: applying essential oils before putting on your mask. Look for essential oils that can be applied directly to your face safely (or to linens). We especially suggest ones that have calming properties (who doesn't need to feel less tense in these times?)
5. Add a paper clip.
Don't have sewing supplies? Look for a simple paper clip for this easy hack. Loop the strings through either side of a paper clip and adjust until it fits in a more snugly.
6. Adjust the strings to tie around the back of your head.
If you need to stay clear of the ear area when wearing your face covering, Homemade Ginger shared a few quick steps to help. Take the two ear loops and add an extra elastic (or string/alternative material) to extend its reach; tie to each loop and then place the larger string around your head.
7. Grab a little bit of dish soap.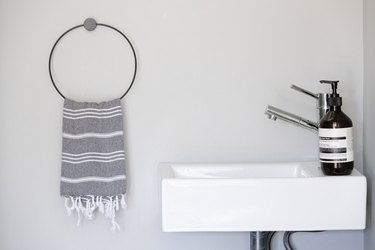 Yes, you read that correctly. Optometrist Joseph Allen told NPR that a quick trick to avoid fogging up of glasses while wearing a face mask is to use dish soap — or even shaving cream. Add a drop to the lenses (on both sides) and rinse off. Allen says this helps with temperature changes aka the dreaded glasses fog.