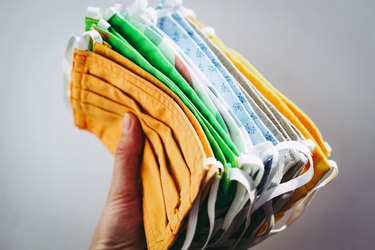 Need a craft project and also an extra face covering? Thankfully, plenty of people online are happy to share their tips for how to make one at home.
While there are plenty of no-sew hacks, if you want to get creative and put your sewing skills to use, you can find a few sewing patterns, too. Keep in mind that the Centers for Disease Control currently recommends three materials for homemade face coverings: cotton fabric, a t-shirt, or a bandana. Here are just a few sewing patterns to try.
1.  Tiana's Closet Face Mask Pattern
2. Joann Mask Sewing Pattern
Craft retailer Joann has a hub dedicated to making masks with plenty of resources. You can find a printable sewing pattern in four different sizes; this pattern was shared by a former healthcare worker.
3. Washington Post Fabric Mask Sewing Pattern
4. Craft Passion Face Mask Sewing Pattern
5. Unity Point Health Olson Mask Pattern
Iowa-based Unity Point Health has asked for sewing volunteers and shared its pattern. This pattern is just for the mask part, as St. Luke's hospital will add double side tape and hair ties later — so keep that in mind when making them for yourself if you choose to use these instructions.