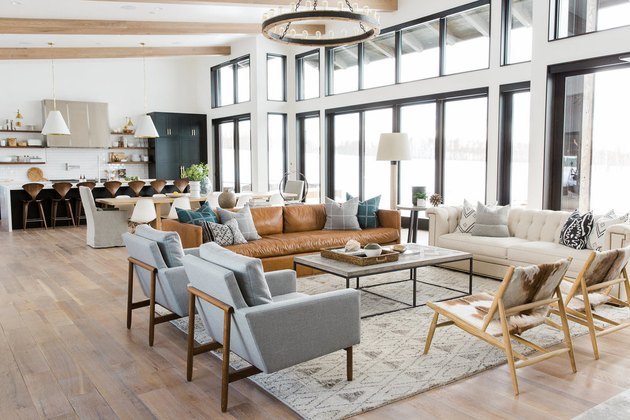 Remember those holiday dinners where you were crammed into your aunt's chintz formal dining room? According to Zillow, they may be a thing of the past.
While the traditional dining room has been a stalwart in homes for years, new research shows that it's less and less of a selling point for millennial homebuyers, who are more likely to look for open concept floor plans — meaning that the dining, living, and kitchen areas aren't divided by walls. After all, half the fun of having people over is having them in the kitchen with you, right?
Zillow found that the number of listings mentioning "open concept" living areas doubled since 2015 — jumping from 2% to 5%. In the top 35 metro areas, formal dining rooms remain more common and more expensive. Still, the gap is shrinking, with open concept living areas seeing huge increases in cities like Boston, Dallas, Indianapolis, and Houston.
So, what's behind the shift? Zillow believes that millennials — you know, the ones who have killed avocado toast, shopping malls, and print news media — are also killing the dining room, trading it for open floor plans, where it's easier to entertain and supervise children. What's the point in having a room that inevitably only gets used a few times a year? Give us more usable space any day!
Check out Zillow's full report here.
---
Laura is a New York City-based freelance writer who writes about travel, food, and design. Her work has appeared in Architectural Digest, Bon Appétit, GQ, Condé Nast Traveler, and more. She's a sucker for a good curbside furniture find.
View Work