Over the years, the Christmas special has been a big part of television history, with many of our favorite shows devoting multiple episodes of their series to the holidays. In addition to seeing how our favorite characters celebrate Christmas, we love seeing what their tree looks like. Some are big, bigger than the spaces they are put in, while others barely even register as a houseplant. Here's a look at some of our favorite trees throughout the years.
1. Downton Abbey, "Christmas at Downton Abbey"
A tree fit for a castle, the Crawley Family tree is an absolute epic. The massive tree is as decorated as the rest of the manor, and remains the standard for over-the-top Christmas decor.
2. Friends, "The One With the Routine"
It's not enough that Monica's Manhattan apartment is bigger than a house, but her Christmas tree is bigger than those found in most suburban homes.
3. The Office, "Christmas Party"
Michael and Dwight's tree is too big to fit into the office, so they chop off the top to sell "for charity." The tree is later lit up to a less than enthusiastic response from the rest of the office.
4. Will and Grace, "All About Christmas Eve"
Another great New York City tree, this one comes topped with a giant star featuring Jack's headshot in the center, "to give the other ornaments something to aspire to.''
5. Nailed It! Holiday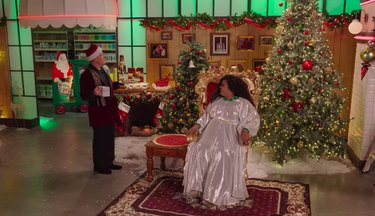 Bless the hearts of the amateur bakers that take on Nailed It!'s challenges. For Nailed It! Holiday, the challenges are festive and the set is maximalist holiday at its best. Why have one tree when you can have at least three or more, covered in white lights and tons of tinsel?
6. Grey's Anatomy, "Grandma Got Ran Over By A Reindeer"
Over the holidays, the staff of Seattle Grace deal with everything from a father who fell from his roof while hanging Christmas ornaments to a young boy needing a heart transplant who doesn't believe in Santa.
7. BoJack Horseman, "The BoJack Horseman Christmas Special"
Parodying the "very special episode" trope of 1980s sitcoms, as well as holiday episodes in general, "The BoJack Horseman Christmas Special" is for those who can only stand to watch Charlie Brown and Rudolph so many times.
8. The Lucy Show, "Together for Christmas"
When Lucy and Viv can't decide on whether to get a green tree or a white tree for the house, they decide to get both. After both trees are left destroyed during an intense decorating session, the two stitch the trees together.
9. Black-ish, "Just Christmas, Baby"
Sometimes tempers can flare over what color combination to go with when it comes to the Christmas tree, but Black-ish reminds us it's all about family in the end. There are many classics on this tree: ornaments made by the kiddos, popcorn strings, paper decorations, and lots of holiday cheer.
10. Mad Men, "Christmas Comes But Once a Year"
Speaking of white trees, the Sterling-Cooper office is decorated with a very '60s fake white tree. This was a very popular choice for not only offices, but many homes during the late '50s and into the '70s.
11. A Charlie Brown Christmas

This just may be the most well-known tree on the list. After being sent out to get the biggest tree he can find for their Christmas play, Charlie returns to his friends with a tree that could hardly support a single ornament. The children do their best to turn the dinky tree into a beautiful, festive symbol of the holiday.
12. This Is Us, "Last Christmas"
Unfortunately, this Christmas turns out to be eventful for the Pearsons and company. But before the turn of events, we can't help but swoon over Randall and family's Christmas tree, wrapped in red velvet accents, lots of red ornaments, handmade trinkets, and twinkling white lights.
12. Gilmore Girls, "Forgiveness and Stuff"
The Independence Inn is, of course, decked out for the holidays in Gilmore Girls. We love the mix of hanging pine cones, red and gold ornaments, and bright, warm lights.
13. Seinfeld, "The Strike"
What list of famous TV trees would be complete without Frank Costanza's anti-Christmas Christmas tree? The bare-bones Festivus pole is at odds with the commercialization of the holiday.
14. 30 Rock, "Christmas Special"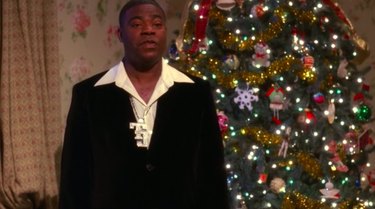 Jack's live Christmas Eve Special wouldn't be complete without a glimmering Christmas tree decked in gold tinsel, multicolored lights, and kitschy ornaments.