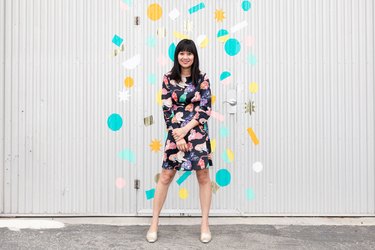 Who: Joy Cho
Where: Los Angeles, California
Style: Festive, functional, and fun
Walking distance from the L.A. River are blocks of industrial buildings in the Elysian Valley area of town. There you'll find a fairly nondescript gray warehouse that would blend into the surroundings if not for one colorful, confetti-painted door. Through it is the studio of Joy Cho, the creative director, author, and designer who continues to decorate and DIY her way into people's hearts and homes all over the world. The confetti is a fitting graphic to mark her presence: an expression of celebration, excitement, and, yes, happiness. It's also about making an impression, an overwhelmingly positive one, which has been the driving force behind her wildly popular Oh Joy! brand for more than a decade.
For the last three years, this warehouse has been the place where the designer does her diverse range of work: developing her growing array of branded merchandise, creating the posts and videos that reach thousands each day via multiple platforms, and most recently, hosting business classes for her Oh Joy! Academy. So many people wonder, How does she do it all? It's like she is everywhere. Well, this mother of two has some help: a staff of six creative women who are integral to Oh Joy! and an amazing 4,300-square-foot space for them to collaborate in.
Hunker spent the morning with Cho to talk about creative spaces, learn how she designed her studio to adapt to her many needs, and, of course, get a closer look at the items and people who inspire her.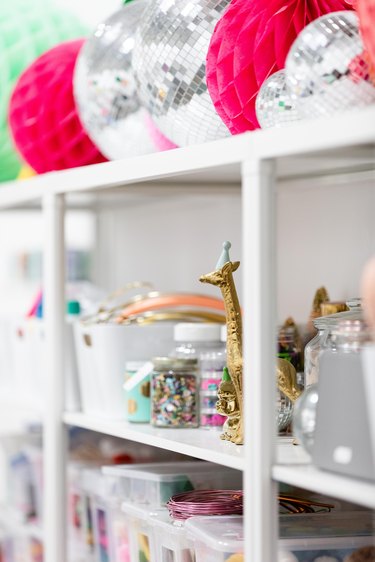 "The great thing about this space is that it's big and open and lofty, yet it's divided up, which I think for a creative space is so helpful, because you get the feeling of it being open and collaborative," shares Cho, as she walks us through the studio.
When you first enter, there's a wealth of furnishings that greet you in the enclosed front area before you proceed into the bright open studio, which is sectioned off by low and high walls. Skylights in the wood-plank ceiling allow in natural light, while pendants by Cedar and Moss for Rejuvenation provide additional illumination. "We created sections because sometimes when you have a big, open creative loft, you just see all the mess," says Cho. "We always have a million projects going on at one time, which often creates (beautiful) messes. It's nice to feel like if something is going on in one space, it's not overwhelming everything, and, you're not losing your focus or distracted with what's happening in other spaces."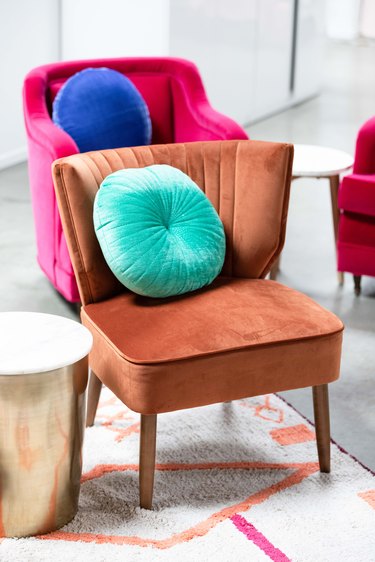 Throughout the studio are uplifting framed art and quotes, including ones from her store, which features prints by Cho, Colleen Bringle, PPL of Fashion, and Bonnie Tsang. "A lot of prints were done by Simply Framed or Framebridge," she says. "And then sometimes we get art from Society6, where you can get it framed when ordering."
On this particular day, one area is set up for an upcoming weekend workshop: "It doesn't normally look like this, it's usually more of a loungy space," Cho notes. "We basically pulled every chair in the office to make this classroom for 20 people, and then over here [just behind the wall] it's our shoot space," where they usually shoot on Tuesdays and Fridays. The pastel set of velvet chairs in the temporary classroom are from Interior Define, and the sofa is from Joybird, while the furnishings in her shoot space include a mix of various brands the Oh Joy! team loves and works with regularly. Here they photograph all of the Oh Joy! scenes, rooms, DIYs, and "flat lays."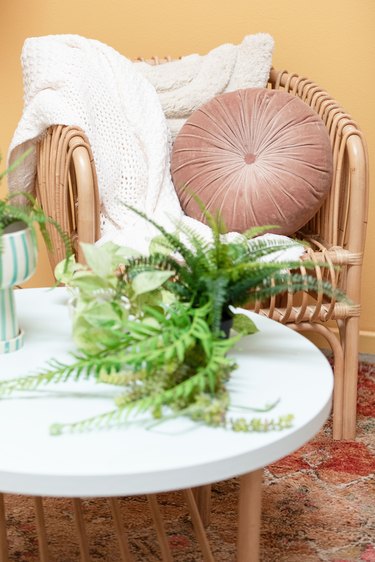 It's a busy production schedule that requires changing the design of the space sometimes more than twice a week. That means constant repainting, refiguring layouts, and swapping out furniture, artwork, and more. When asked if she brings in outside help, such as a carpenter or painter, to continually transition the space, she says, "Nope! It's all done by my Creative Content team. They paint, style, they're all multitalented. It's all women here, so there's no handy guy ... just handy women!"
At the far end of the studio is their large prop room with shelves upon shelves of goods, a veritable feast of colorful decor and home accessories that just screams possibilities. "We try to keep everything contained," mentions Cho. "It's a lot of stuff, organized kind of by categories. It's a mix of so many things. Some products are our own designs, some items are by others, some are vintage." You'll find an area for dried and faux flowers, a wall of lush pillows, glass and dinnerware galore, tabletops and lamps, kids' shoes for practically every little one in your life — and even that oversized ice cream cone that you never knew you needed. (Adding to our shopping list now.)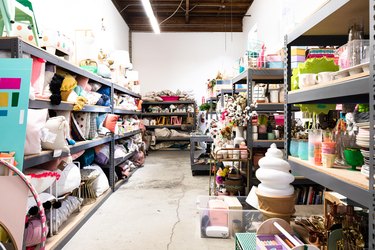 "We have all different types of things, little tiny things ... you can see there are drawers, confetti, party supplies," she adds. "There's also a section of sprinkles and fake food, because sometimes you have to do food shots and need a whole bag of picnic food to get the full context of things. So it's nice to have a few staples lying around that kind of look real, but aren't necessarily real, so we can mix them with some actual real food, too."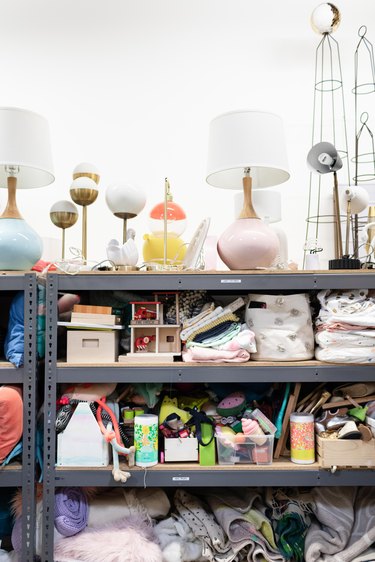 Since the needed inventory is always evolving, Cho has to make space for new items, which means they purge a few times a year. Where do they go? "It's a combination of giving them away amongst the team, sometimes we'll do little sale on social media," she says. "Sometimes we work with organizations who decorate for people coming out of homelessness, or different organizations like that, to give things that are great quality a home that could use it."
When we reach the end of the prop room, it leads into the team's enviable craft area, bedecked with idea boards and shelves and containers of pure fun: disco balls, honeycombs, yarn, piñatas, and an impressive collection of spray paint. "This is where all of the craft projects get made," says Cho. "The Creative Content team that is styling in the shoot room work back here, so they work back and forth all day among these spaces."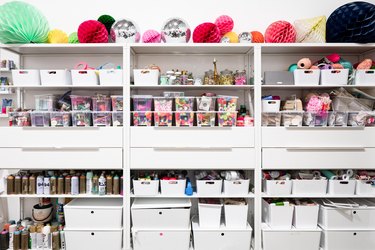 The rest of her team (social media, e-commerce, business, and design) works in the adjoining open office space and meeting room, which is primarily white, punctuated with bursts of color in the form of spray-painted lanterns, gold ottomans, a patterned wall graphic, and Oh Joy! furniture and pillows.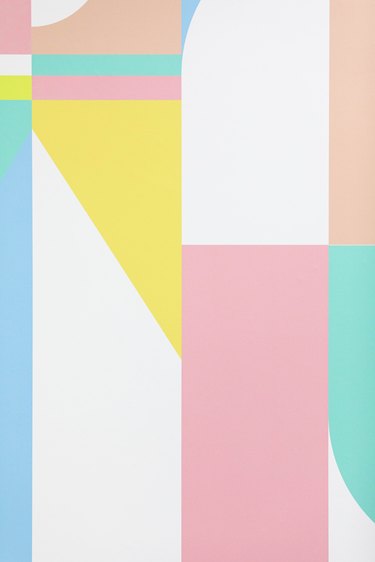 Nearby is a familiar sight to anyone who follows Cho's blog: the team's kitchen, with its fairly subdued color scheme of white and mint from her Oh Joy! Petal cement tile from Clé, down to the glass and dinnerware, with appearances of gold hardware to add nice touches of sophistication.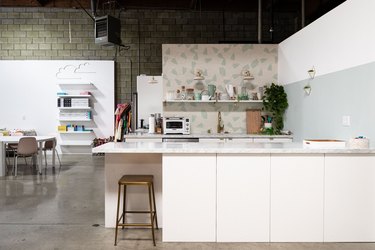 The kitchen faces the studio's dining area and lounge space where brighter colors dominate in her DIY wall hanging, more Oh Joy! pillows, her line of luggage, and an assortment of cups and artwork. Pretty much everywhere you turn, there's something to entertain the eyes and brighten your day. (We're talking about you, sunshine and rainbow pillows.)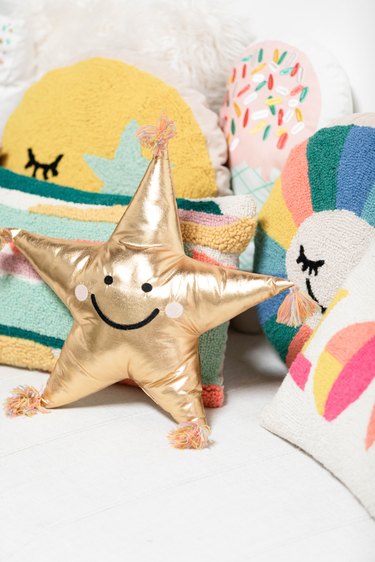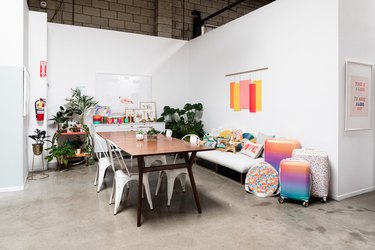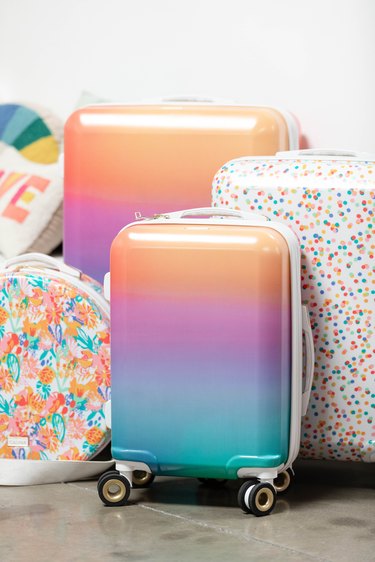 As we make our way into Cho's office, which sits between the kitchen and dining area and also features Oh Joy! Clé tile, she talks about the project she's most excited about: her dream home that will be done later this year.
We asked her if there is anything she learned from setting up her studio that she applied to the construction of her home: "I think that when you're working on any space, it's about the needs of whoever is gonna live there," shares Cho. "This space, which is my office, already existed, but we adjusted it toward our small team of people working here. We don't sleep here or live here, but we needed a kitchen that functions for multiple people while also being a kitchen for content and photo shoots. We needed spaces for people to sit and eat, for small groups or for the entire group, so I'm taking those things into consideration for sure from my office into my home."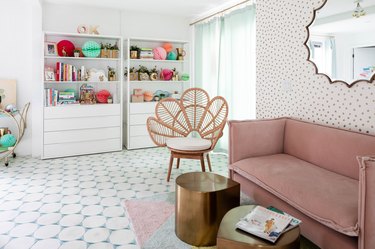 Of course the home is for Cho's family of four, so she kept in mind the needs of her two daughters, who will be 5 and 8 by the time they move in. "They won't be babies anymore, so we didn't have to be so precious with everything, but there are definitely round coffee tables and lots of things with round edges, because pointy things are still not super safe for kids," she says. "At the same time it's not like designing a house for a toddler or for a baby — we could really focus on both form and function for our future."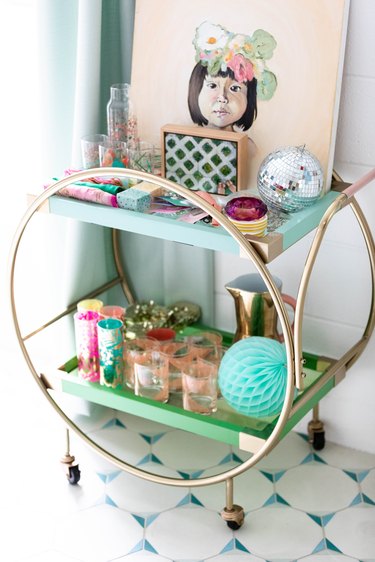 As her creative ventures at home and beyond continue to grow, with Cho making her mark on so many lifestyle goods, one thing she can assure us of is not to expect any men's products in the future. "I'm fully aware that I have a strong female demographic, and we do really well with our female customer who buys for themselves and their kids. I have learned early on that if you're good in a certain area, know your niche and own it!"
Want more Joy in your life?