Who: Mike Perry, artist
Where: Crown Heights, Brooklyn, New York
Style: Funhouse eclectic
You may not know the artist Mike Perry by name, but if you've seen Broad City, you know his work — vibrant, quirky, imperfect, a bit profane. Those Emmy-winning animated title sequences are just a piece of the whole. In Perry's Crown Heights studio, the walls are overflowing with paintings, drawings, sculpture, furniture, artifacts, and found objects of all kinds. What's the style of the space? "Productive," says Perry. "Or, depending on who you are, overstimulating."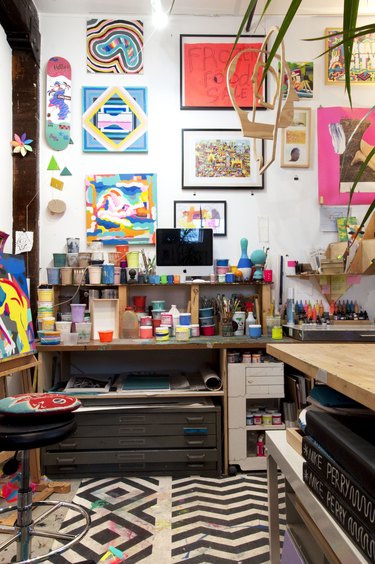 Perry has been in this studio, in the Monti Building on Bergen Street, for 12 years now, and in that time the studio has been in more or less a state of constant flux. "It changes every day," he says. "That's what happens when you make things — it's always alive and crazy and moving." For all the tools and raw materials, Perry says it's very organized. But, he says, "All it takes is a go button on a project and all of a sudden, we're exploding."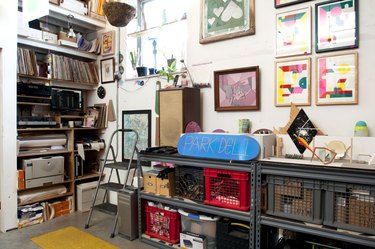 Every morning, Perry makes the 10-minute walk down from his Crown Heights apartment to the studio itself, where he'll spend 10 or 12 hours. In the afternoon, he'll walk home, where his wife, photographer Anna Wolf, works, and grab the dog, Bass. "I have a real neighborhood lifestyle," he says. "I go outside, say hi to all the people that I know from being here forever." He estimates he's done this very walk 8,000 times.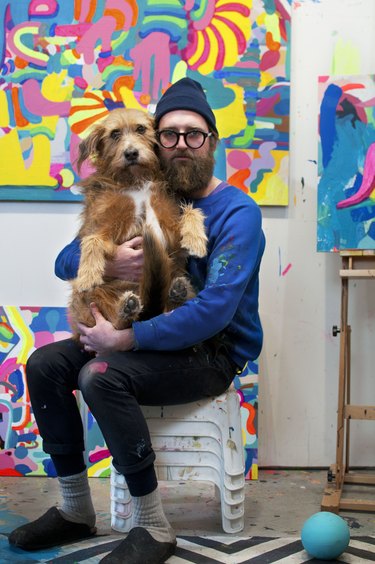 Perry shares the studio with a studio manager and J Bell, the director of Craft. "The space is J's," says Perry. "If we need something custom, if we need a shelf in this exact shape for this exact function, he'll just build it."
Together, they've created a space across three rooms that is part fabrication shop, part painting/graphic design/animation studio, part library, part gallery. There are innumerable working parts, and many different disciplines under one roof — from 3D imaging in one corner, to a pile of books in another.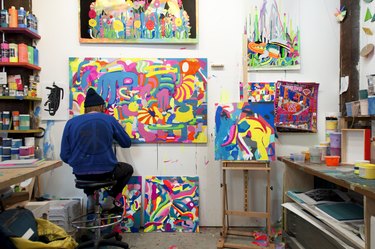 "It's almost hard to not be here," says Perry — because of the work at hand, but also the building at large, which is full of other artists. "I never thought about the importance of the space itself being an active part of the making process. I feel the building itself, the space, leads to creativity, productivity. You can't help but feel energy in the building itself. Some other crazy person is making some vision of their own things, going for it, on the other side of this wall."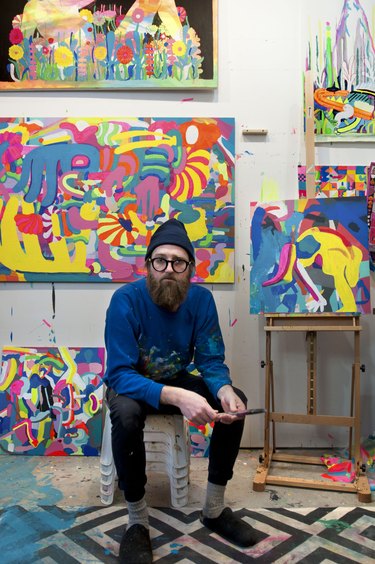 "I feel very fortunate that for my job, I get to buy the things that I would buy anyway," says Perry. "Nothing's better than buying a bunch of fluorescent inks."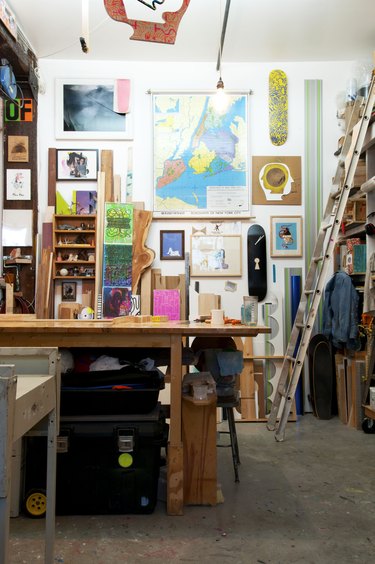 "As a studio, we have a strong philosophy that recycling is super important," says Perry. "We're always trying to figure out how to renew things, make their way into new work." Very few things in the densely packed studio go to waste.
"J and I have a bad habit. I call it responsible trash picking," he adds. "A part of his role, I'll bring stuff in, and J's got to figure where it goes."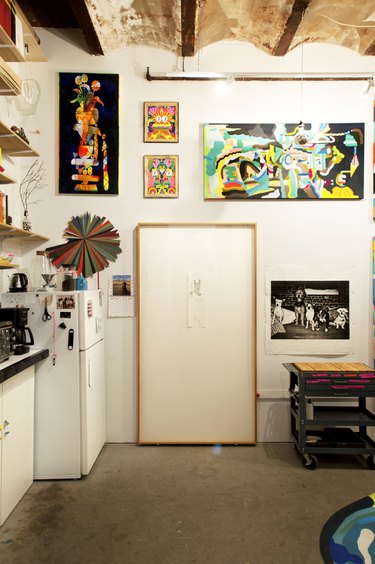 While the studio functions primarily as a way to showcase what Perry and J create, there are personal items as well — art and items J has collected, as well as friends' art and one piece by Perry's grandfather, who gifted him his first set of paints when he was just a teenager.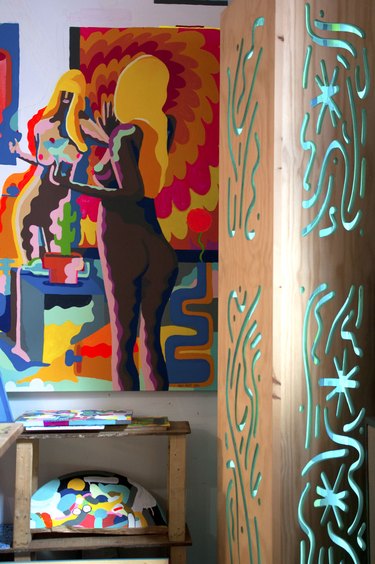 A series of nudes, Perry's most recent body of painted work, dates back to 2015-2016.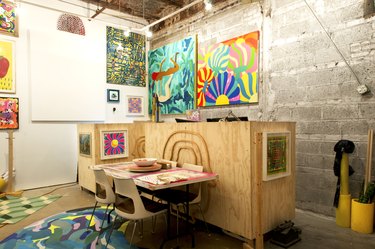 In the front room of the studio, where Perry and J host visitors, there's an animation bay and the studio manager's desk.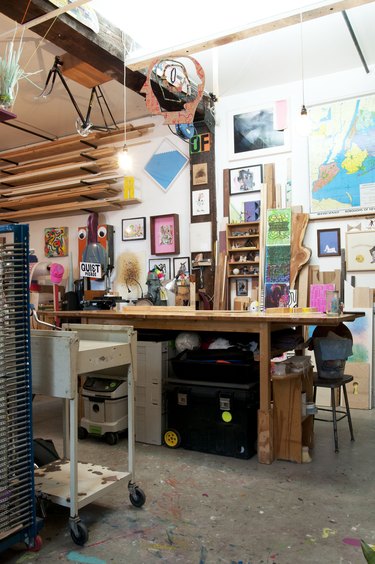 The center room is for fabrication — it's where the table saw and most of the tools and raw materials are stored.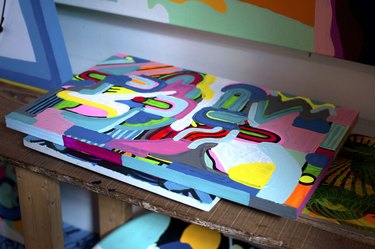 And the third room, in the back, is Perry's.
The wish list, like the studio, is ever-evolving. "There's a pen there, waiting for it to be added to right now," Perry says.
LOCALS KNOW BEST
Favorite piece of design or architecture in your neighborhood, town, or city: "I'm super lucky in that I live that city lifestyle where I don't leave my neighborhood a lot. My circumference is pretty tight. I like that I can be walking down the street, and it feels like a typical Brooklyn neighborhood, and then on Eastern Parkway, the Brooklyn Museum is right there. It's such a refreshing building to see, only in that it gives the neighborhood a moment of grandeur."
Best places for thrift store finds, antiques, or flea markets: "Kansas City or Minneapolis."
Best farmers market: "I'm at the Grand Army farmers market every Saturday. I'm living the typical Brooklynite life: I have a dog, I go to the park, I go to the farmers market. But you know what? It's fucking delicious. The mushroom lady is my favorite lady."
Best happy hour: "The studio itself is my happy hour spot."
Best cheap and cheerful restaurant: "I'm at Sunshine Co. on Washington all the time, mostly because they're the only spot with outdoor seating, so I can take the dog. I'm lucky it's delicious."
Best place to experience art and culture: "Outside, everywhere."
Best coffee shop: "I don't have a coffee shop. We made the decision to buy an espresso machine probably nine years ago. I thought, I'm gonna spend $2000 now but I'm going to save thousands and thousands. And I make a mean cappuccino."
If I were to have visitors, I would take them to: "On a good stroll, anywhere. If you're into walking, you just go left — or you go right."