Ever since I started working at Hunker some two-plus years ago, I've developed a weird "non-shopping" habit. A lot of the major stuff in my home needs replacing. The couch is a lumpy West Elm sectional we got off Craigslist that used to be in okay shape. Our mattress sits on an IKEA platform ripped to shreds by our cat. Our "nightstands" are a file cabinet and a sad midcentury table I rescued from a damp garage. But all of it is still technically functional, so I feel a mental tug-of-war any time I come close to completing checkout on a new sofa or mattress. Like so many of my other millennial counterparts, I have enormous anxiety around spending money on furniture — like, shouldn't I just be saving?
Because I spend my days looking at decor, I've come to the decision that anything new that I buy in the "major" category has to meet certain criteria: 1) It must be quality and viewed as a long-term investment, so no budget substitutions; 2) It must feel special (something I don't often see in friends' homes or from a non-mass maker); and 3) I need to maintain an obsession/desire for the item for a few months. (And in case you're wondering, so far I have purchased zero things, so this game is totally working against me.)
The latest thing that hits all those notes is this subtle dual-tone rug by Aelfie, a Brooklyn outfit known for creating rugs by artists or rugs that sport playful patterns. This blue one is actually uncharacteristically reserved compared to their other designs, and I can't explain why it's just so perfect. Is it the two particular shades of blue? The shimmer that comes from its hand-knotted bamboo silk? The bit of fringe that's just a touch traditional?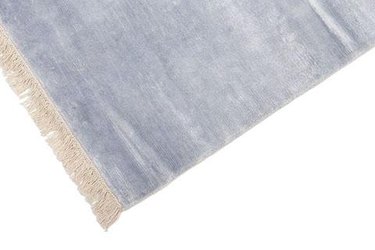 I guess it's the type of item that provides a creative/daydream-y jumping off point. Like the girl who has this rug — I can imagine that the rest of her living room has to be amazing, right?
Like anything beautiful and handmade (their rugs are crafted by artisans in India), this lovely isn't cheap ($1,080 for a 4' x 6' rug), but also not as expensive as some other rugs I've considered.
Maybe this is also just the thing you're looking for, and if that's the case: You're welcome. As for me, I'll report back to you on my decision ... in, like, a year.
---
Leonora Epstein is Hunker's Senior Director of Content. She has previously served as Executive Editor at HelloGiggles and as BuzzFeed's Deputy Editorial Director. She is the co-author of "X vs. Y: A Culture War, a Love Story" (Abrams, 2014). Feel free to reach out at leonora@hunker.com.
View Work