One of the hallmarks — if not the hallmark — of classic Parisian decorating is the epic gilded mirror.
In old apartment buildings, they're typically found above the fireplace, and are often a fixture of the home's permanent architecture. The effect is always appreciated: Not only does a huge mirror like that make a room appear more open and spacious, it also has the bonus of making a space feel swanky and elevated.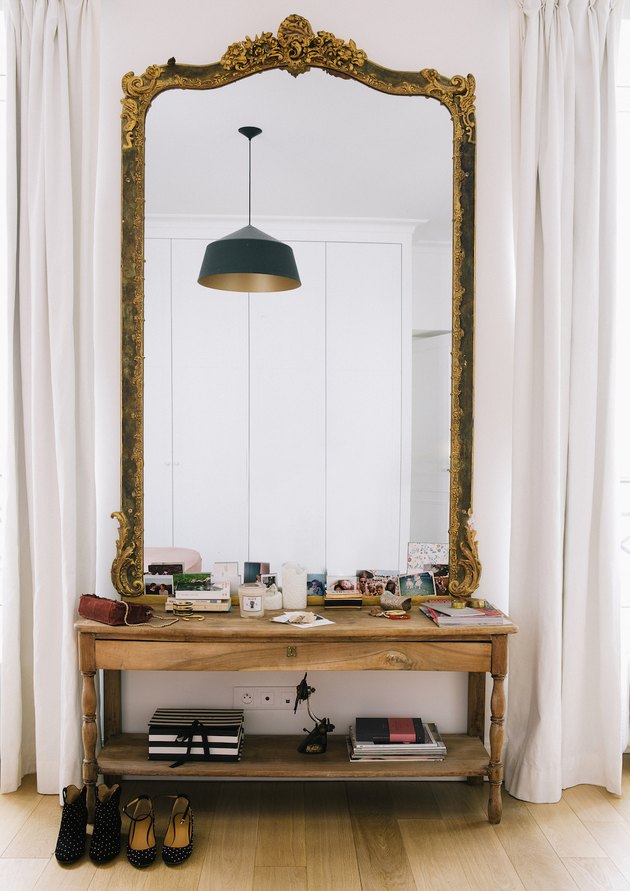 In smaller Paris flats (where you might not have a fireplace), you'll usually find these mirrors sitting on the floor near a doorway or in a main space. Parisians have the advantage of being in a city filled with the world's most amazing antique fairs and flea markets, so it's much easier to source one of these authentic behemoths on their own turf. So, no surprise that when we took to the internet to try to find something on U.S. shores, we were like, Whoa, très beaucoup de money.
But then we noticed that a bunch of the fashionista types and style mavens we follow have these mirrors — and guess what? They're from Anthropologie. Granted, no, these are not antique mirrors, but they are very much French-inspired. The retailer carries them in three sizes (but we want the largest one, obv), and they range from $448 to $1,548. There are also two additional finishes — silver or "antique black" — but c'mon, go for the gold.
---
Leonora Epstein is Hunker's Senior Director of Content. She has previously served as Executive Editor at HelloGiggles and as BuzzFeed's Deputy Editorial Director. She is the co-author of "X vs. Y: A Culture War, a Love Story" (Abrams, 2014). Feel free to reach out at leonora@hunker.com.
View Work