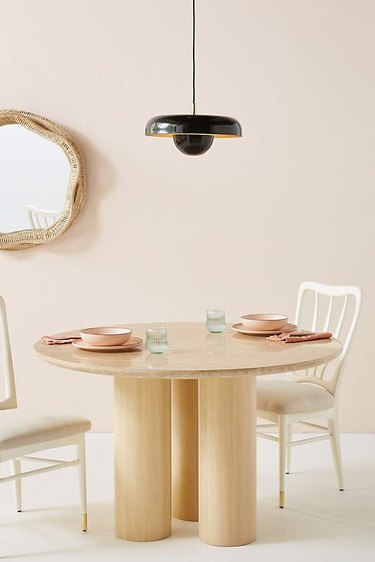 Hunker may earn compensation through affiliate links in this story.
Nothing dials up the drama in a dining room quite like a great statement light fixture, but choosing one can be a stressful undertaking. Since it's bound to be the focal point of your space, there's a lot riding on the decision — should you go sleek and modern? Art Deco elegant? Or laid-back and boho? And that's without even deciding between a chandelier, pendant, or semi-flush mount style. (Trust us, it took a while to get that terminology down.)
But if you find yourself in need of a dining room lighting idea, there's no shortage of inspiration to pull from these high-style spaces. Each design is distinct and full of personality, but the light fixtures overhead are truly the crown jewels. So whether you decide to drop it low with a dangling pendant or keep things flush at the ceiling, here are six dining room lighting ideas to draw your eyes upward (and make your dinner guests light up with envy ... basically it's a win-win).
Dining Room Lighting Idea #1: Glass Semi-Flush Mount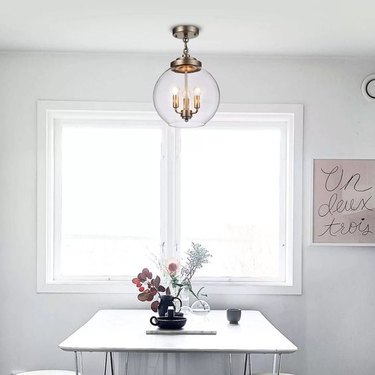 We often think that good lighting is like a beautiful piece of jewelry — it's a finishing touch that adds drama and a hint of glamour to your space, whatever your style may be. And in this case, it's undoubtedly true — this glass orb feels like an elegant pendant necklace in this white dining room.
Dining Room Lighting Idea #2: Natural Texture Chandelier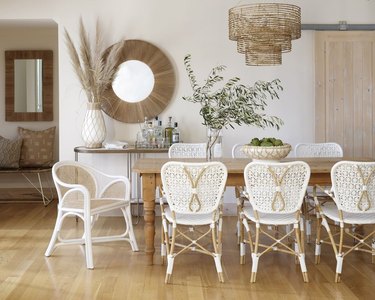 The word "chandelier" may still conjure images of stuffy, faceted jewel-dripping fixtures for some, but this organic, earthy dining room lighting alternative is anything but. Woven jute takes the tiered look in a decidedly laid-back direction we love.
Dining Room Lighting Idea #3: Midcentury Atomic Chandelier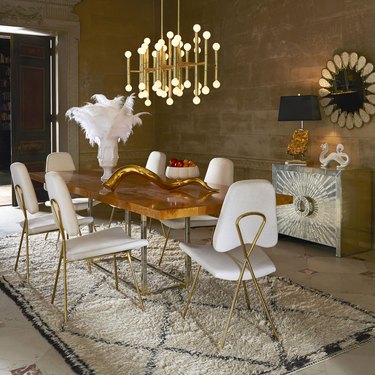 Deco-drama dining room lighting idea, coming right up. This sculptural geometric chandelier will bring dozens of points of light to your next dinner party without feeling dated.
Dining Room Lighting Idea #4: Contemporary Pendant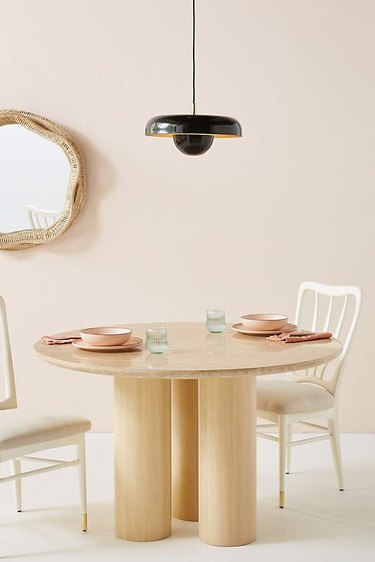 We're loving this contemporary ceiling fixture, which adds just a hint of retro charm without going overboard. The adjustable cord means that you can modify the drop — either closer to the table or to the ceiling — according to your preferences. But the two-tone finish, made up of a sleek black exterior paired with a brass interior, is hands down our favorite part.
Dining Room Lighting Idea #5: Modern LED Chandelier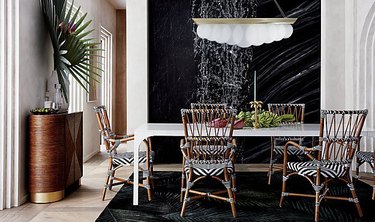 Our obsession with moon phases may be as old as humanity itself, but this energy-efficient LED light is a mega-modern, high-tech take on that enigmatic orb.
Dining Room Lighting Idea #6: Cluster of Papery Pendants