Who: Candace Kim
Where: Pasadena, California
Style: Modern minimalist inspired by nature
The first thing you notice when you step inside Candace Kim's Pasadena home is the epic view. Unique floor-to-ceiling windows give way to a sun-drenched view of lush greenery and the San Gabriel mountains. Inside, the tropical plants, Brazilian cherry wood flooring, and eclectic rattan pieces create a similar ambiance — bringing the outdoors in, with natural, sustainable materials and earthy tones. As the founder of sustainable lifestyle brand Selah, it's not just an aesthetic choice, it's also an intentional one. Much of the house was furnished with her own pieces — reflecting her commitment to sustainability. "Each product is purposeful in its design, material, and use. Everything is made from natural materials, from raw wood to natural dye linens and making good use of deadstock fabric," she says.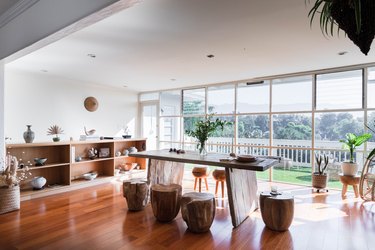 In addition to her own products, she filled the space with sentimental objects and handmade pieces from makers and artists. "I have a hand-painted canvas piece from Küdd:krig, organic soy candles from Lait, beautiful artwork by Gowun," she says. Her impressive variety of indoor and outdoor plants come from various local nurseries: Annandale Nursery in Eagle Rock for gardening plants, Ponderosa Cactus for succulents, and Lincoln Nursery for exotic plants.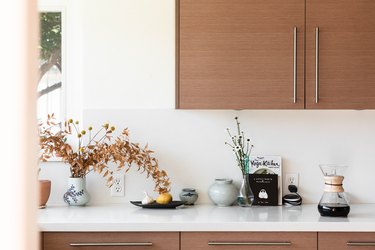 Kim shares her 2,200-square-foot plant-filled oasis with her husband and pets: a rescue dog and bunny. The home was well maintained by previous owners and needed very few renovations, so their focus was really about making it their own. "We repainted the house with shades of creamy white to replace the melancholic and dark colors that were originally there. This transformed the entire feel of the home," Kim says.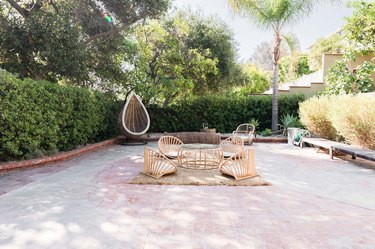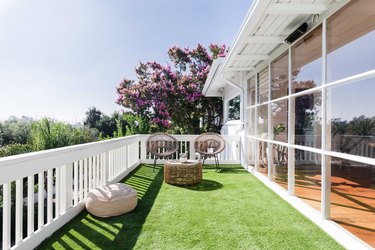 The property also boasts over 5,000 square feet of sprawling outdoor space. "The worn, rustic brick that lines the ground gives it a historic charm, while multiple trees, including fruit trees, and greenery add a touch of nature," says Kim. "The middle terrace has a drip irrigation space for my gardening endeavors, which has grown some amazing squash!" Nature plays a big role in attracting homebuyers to Pasadena. "It has a 'best of both worlds' feel to it: trendy but classic, not urban or suburban, modern yet with an old historical feel. Pasadena also obsessively preserves its trees, which is one of its unique charms," she says.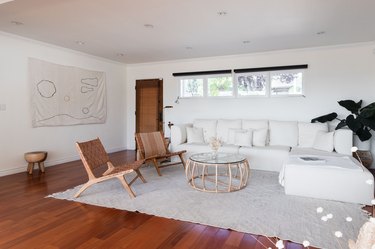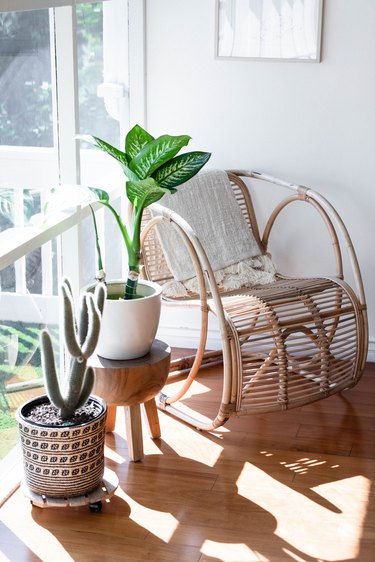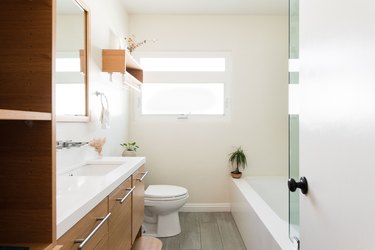 Kim manages her business from home, so it was crucial for the space to be functional, which meant creating her own office space and a showroom on the lower level. She also rents out her home on Peerspace for photoshoots and events. Kim says, "We have had makers, fashion brands, bloggers, and even ESPN utilize our space for their shoots, and [we're] thankful that our space could meet their creative needs." In order to create a healthy balance between work and life, creating a morning ritual helps: "Maintaining balance is honestly a daily challenge, requiring focus and boundaries," she shares. "I start each morning before sunrise by taking care of myself through meditation, prayer, and nurturing my soul so that I will have energy, clarity, and expectancy for the day. After taking care of family, pets, and errands, I begin working on Selah," she says.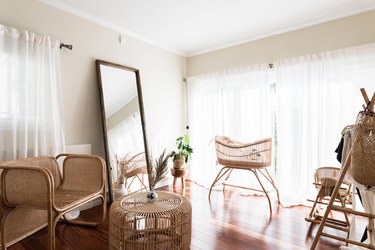 She launched Selah after working in fashion, explaining that, "After graduating FIDM and working in the fashion industry, I was disheartened to see the amount of waste and its detrimental effect on the environment. These were the early roots that led to the values that drive Selah today." She credits her eco-consciousness to her grandmother. "My grandma made a point to never waste anything," Kim shares. "This entailed making scrunchies out of my worn out clothes, refurbishing thrifted clothes and furniture, and handwashing our clothes."
With Selah, she works directly with local artisans and makers in Southeast Asia. "We only work with few families with the intent of supporting their communities as well as my local community," she says. It's important to know the process and materials used in the making of your purchases. "For example, many of our products use rattan, which is a fiber made out of a climbing palm that grows under the canopy of the forest. Its fast-growing nature, strength, and visual appeal make it a great alternative to wood and combating excessive logging, which destroys forests."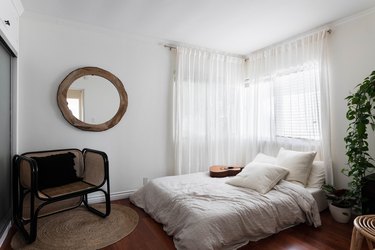 Currently, she's working on becoming a 100% no plastic home, hoping to eventually also apply that to her brand. For those looking to be more mindful in their home purchases, she says to look out for products with durable design. Says Kim, "The best way to achieve timelessness is to choose quality over quantity, classic over trendy, and simplicity/functionality over embellishments. Think long term and invest in what you put in your home."
Locals Know Best