By most people's definition, the term wet bar refers to a bar that has a working sink and a dry bar is one without, so the idea of a dry bar sink is bound to inspire some confusion. What's a sink doing on a dry bar, which isn't supposed to have a sink at all?
A more appropriate distinction between a wet bar and a dry bar would be the presence of a faucet. Using that as a criterion, the idea of a dry bar sink makes more sense. When included in a dry bar, a sink doesn't have have running water or overflow holes, but it can have a drain. The drain, if there is one, doesn't necessarily have to connect to the plumbing system. It could empty into a removable container under the sink or simply onto the ground, which would eliminate the expense of installing drainage plumbing and make the drain easier to keep clean.
It's Basically Just a Bar Sink
The confusion over sink terminology extends to manufacturers and distributors, because it's virtually impossible to find fixture described as a dry bar sink offered on any retail or manufacturer websites. Wet bar sinks abound, though, and manufacturers often identify them simply as bar sinks. Any bar sink can be used as a dry bar sink. All you have to do is forget the faucet.
Bar sinks are seldom large. Many are just 12 to 18 inches square or have a diameter of roughly that amount. Besides round and square, available shapes include D-shaped, elongated oval or rectangular and irregular. These sinks are usually lightweight and decorative, made of copper, pewter, bronze or stainless steel. The installation method can be drop-in or undermount, and some are designed to go both ways.
Why Would You Need a Dry Bar Sink?
A wet bar is perfect for people whose entertainment style calls for mixing drinks and preparing hors d'oeuvre_s_, and you'll often find one in an upscale recreation room, pool patio or finished basement. In such a setting, the bar functions as a mini kitchen, and it may even feature a small refrigerator. The sink eliminates the need to transport dirty dishes throughout the house during party time. Just wash them at the bar.
If you're remodeling, and your plans include a bar, the addition of running water might send the project over-budget. Alternatively, it may be impractical to run plumbing to the bar because it's situated well away from a suitable tie-in. A sink on the bar can still serve multiple purposes, though, even though it isn't served by a faucet. You can use the sink to: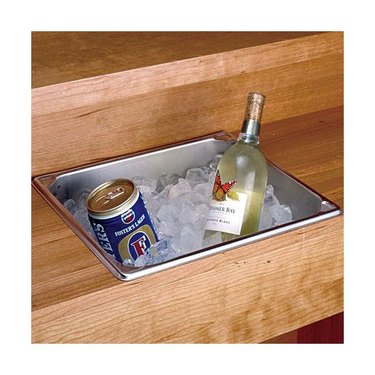 Hold ice
Chill beer and other beverages
Empty unused drinks
Wash fruit, vegetables and greens
Prep other food items
A dry bar sink doesn't have to be installed on a bar. For example, you can install one at end of your kitchen counter and use it as a prep sink. It provides working space when more than one person is working in the kitchen and helps keep people away from the sensitive area around the stove.
Installing a Dry Bar Sink
Because it doesn't require plumbing, a dry bar sink is very easy to install. You simply cut a hole for it in the bar top, set it in place and fasten it with the clips or support posts that are supplied with it. Most dry bar sinks are small, and many are lightweight, so you can usually do the job yourself.
The cutting template for the hole is usually supplied with the sink instructions. Just draw the sink outline in the proper location and you're ready to go. The actual job of cutting can be more or less challenging, depending on the countertop material. You can cut wood, laminates and some synthetic materials with a jigsaw, but stone, composite stone and other hard materials call for an angle grinder. If you've never used one, you might want to consider getting the hole cut by a pro, especially if you're installing an undermount sink, which requires a flawlessly cut sink opening.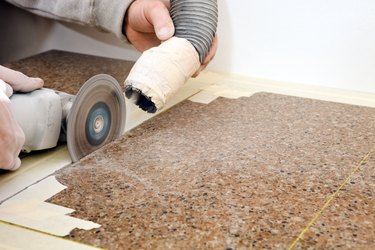 When you install an undermount or drop-in sink, you usually seal the rim with silicone caulk, but because there's no running water to seep between the rim and the counter, you might want to skip this step. If the sink has a drain hole, you'll want to install a drain assembly, but you don't need a P-trap. It's your choice whether to let the sink water drain into a bucket via a tailpiece or direct it onto the ground through a pipe network.
Tip
Some undermount bar sinks made of composite stone or ceramic can be heavy and may take two people to install.