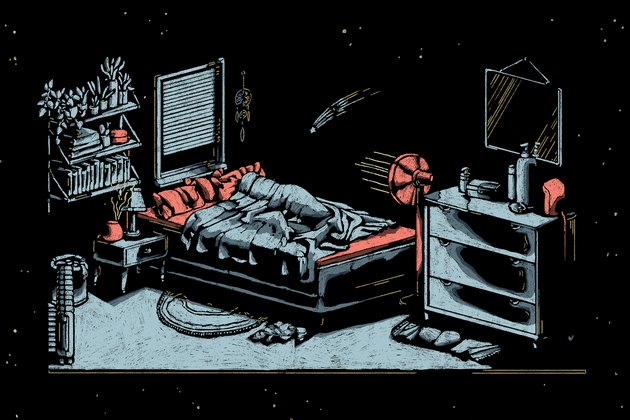 When I moved into my apartment a few years ago, I turned the smaller of the two rooms into my bedroom. I'm glad I did, but it meant my bedroom was hardly a relaxing place to unwind. Over time, I made some small improvements that have made a big difference.
ADD SOME AIRFLOW (OR JUST WHITE NOISE). I'm someone who needs a little ambient noise to sleep soundly. Usually a fan does the trick, and it also moves some air over my face that keeps me comfortable while I sleep.
If moving air or keeping your bedroom cool isn't your concern, try a white noise machine instead. Wirecutter (a New York Times company) recommends the Lectro-Fan, which I also like.
SOOTHE YOUR ACHES IN HEATED LUXURY. One ofthe most luxurious purchases I've made was a heated mattress pad. I turned to Wirecutter experts again, and I wasn't disappointed. They suggest the Sunbeam Premium Quilted pad, and there's a non-quilted version for about half the price if you don't need the fluffy texture on top.
Plus, most models come with dual controls, so you can set up one side of the bed independently of the other. If your partner prefers it warmer or cooler than you do, it's no problem.
INVEST IN GOOD SMELLS AND HAPPY SINUSES. The air can get pretty dry in my apartment, which means a small humidifier can go a long way toward a comfortable night's sleep. I knew I wanted a small, ultrasonic humidifier for my bedroom, but after looking into several models, I decided to get one that pulled double duty as a scent diffuser. When you add a few drops of essential oil to the water after you fill the diffuser, it will both humidify the room and carry a pleasant scent on the mist.
KEEP THE AIR CLEAN AND CLEAR. One of the best purchases I've made for a relaxing, luxurious bedroom is one that may seem out of the ordinary: an air purifier. I didn't think much of it until I caught myself vacuuming up a lot of dust from a spot I'd recently cleaned, and thought that an air purifier might keep some of that dust from getting into my lungs. I picked up Wirecutter's budget-friendly recommendation, theGermGuardian.
© 2018 THE NEW YORK TIMES.