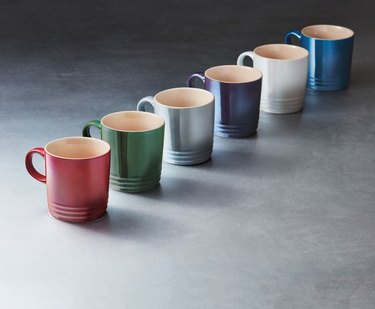 Come November you can always find me here: the antiques shop in my hometown — Fayetteville, Arkansas — that sells the best hot chocolate mix. I've made the same annual visit (and purchase) for 15 years, in fact. And this year I know exactly what I want to sip that hot cocoa out of: Le Creuset's metallic mugs.
Whether you're looking for the perfect holiday gift or just want all of your mugs to go without matching, Le Creuset's metallics collection should be at the top of your list. The way the mugs' glaze catches the light? It's undeniably festive.
The mugs come in a set of six with colors ranging from red to blue. If there's a Le Creuset fanatic in your life, this is a more affordable gifting option than one of their iconic dutch ovens, of course — but offers the same high-quality stoneware. The mugs are a great way to check out the brand without totally splashing out, I'd say.
---
Carolin Lehmann is an Associate Editor at Hunker. She's a graduate of the Missouri School of Journalism and has previously written for HuffPost, Seventeen magazine, and a variety of local news outlets. As a studio apartment dweller, she's always on the lookout for new ways to decorate a rental on a budget.
View Work