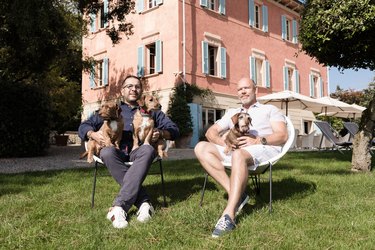 Who: Philip Robinson and Paolo Kastelec, of Villa Fontelunga, a boutique hotel
Style: Eclectic Italian traditional
While the beauty of Tuscany is the draw, most guests leave Villa Fontelunga raving about its hosts (dogs included). Twenty years ago, Philip Robinson and Paolo Kastelec left London for a sprawling Tuscan estate near the town of Arezzo — home to a proper villa, 200 olive trees, and exquisite views of the Val di Chiana. In nine short months, they transformed a five-bedroom, two-bath house that had been last renovated in the 1950s into an eight-room hotel, each with a bathroom en suite and a distinct palette and personality. (There is now an additional junior suite on the property as well, part of a renovated outbuilding where Robinson and Kastelec live.)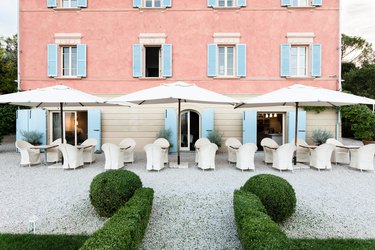 Neither Robison nor Kastelec had worked in hospitality before — Robinson was a set designer for film and television, and Kastelec, who grew up in Rome, had worked as a broker in London when they met. But the couple brought with them a strong sense of aesthetics, a love of the land, and genuine interest in travel, food, informal luxury, and playing host to people from around the world.
It was no easy feat, transforming what their real estate agent had initially disregarded as rubbish, says Robinson, into what Villa Fontelunga is today. But the pair wanted to renovate on their own. "There was a moment when we looked at the property during construction with half of the interior walls missing and thought that we had less property than what we'd purchased," says Robinson. "I remember accepting the first booking whilst holding a toilet in my arms and standing in a pool of mud. But we made it — somewhat like Fawlty Towers — and we're still going, so we must have done something right."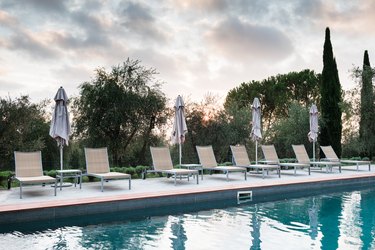 That was 1999. Villa Fontelunga opened the following year. By 2005, Robinson and Kastelec had built two self-catering villas — Villa Gallo and Villa Galletto — which sit opposite each other across an exquisite 10-by-4-meter pool. The look and feel is a more extreme blend of traditional Italian and modern. "Although people wanted to look at 'rustic charm' in Italy, they didn't necessarily want to stay in it," says Robinson. "I designed it using the brick and stone materials of the area but in a more modernist way."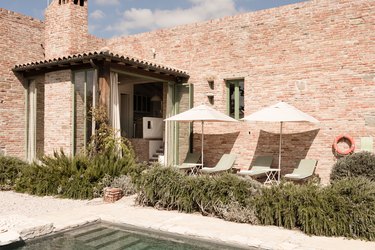 And next on the agenda is Giardini di Borgo 69 — an ambitious complex of a dozen self-catering townhouses of varying size, for sale or for short-term stays, plus a shop, a bar, and a restaurant serving farm-to-table food produced from a garden on the estate. You can follow along on Instagram as the foundation gives way to walls, decor, and more.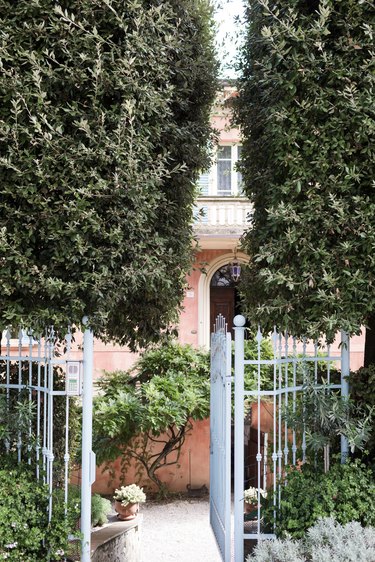 The ivy-covered walls and blue shutters give Villa Fontelunga a traditional Tuscan feel from the exterior.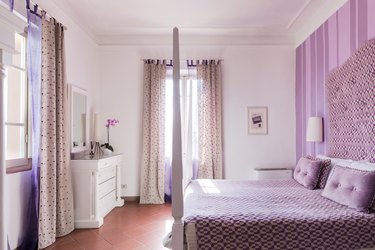 Inside, each of the eight guest rooms sit at a corner of the building, across two floors, with windows on each side. And each room has its own distinct color story. "A key element in each room was the damask fabric," says Robinson, who spearheaded the design. "I found many styles and colors and chose my favorites to furnish each room. This became the principal difference between the rooms."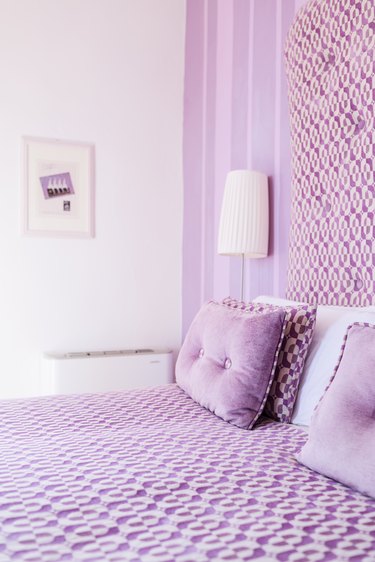 "I then followed this idea through, naming the rooms after precious materials in Italian that paid reference to the damask in that room," says Robinson. This room is called Ametista.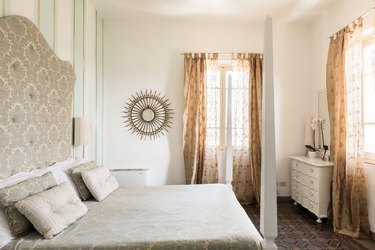 The Oro room is known for its amazing views of the Val de Chiana.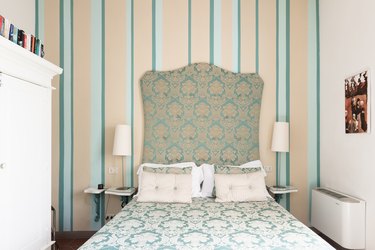 Outside each room is a small swatch of the damask in a frame to help identify which room is which.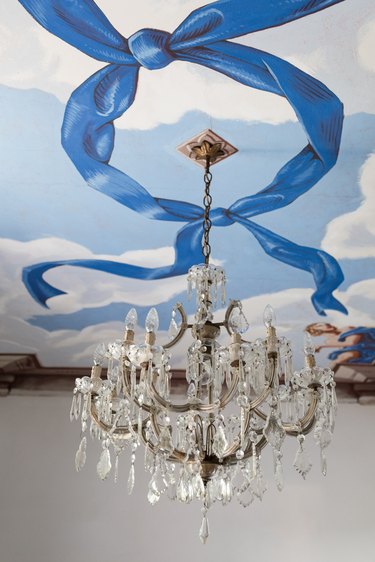 There are wonderful touches throughout Villa Fontelunga as well. "I had an artist friend from the film industry come over and paint a fresco on the ceiling of the hallway in the style of Tamara de Lempicka," says Robinson.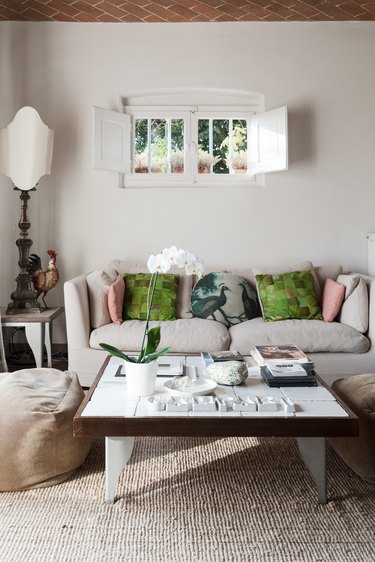 "Paolo loves his details and over the years he has purchased many of the 'bits and bobs' you find around the house," says Robinson. The lounge, here, is meant to be a communal place where guests can truly relax.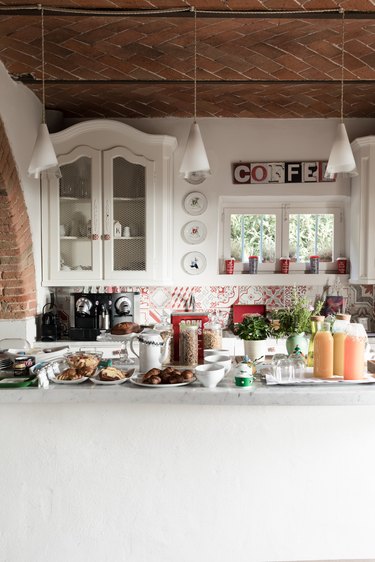 Breakfast is served daily. Kastelec himself is known to bake the daily cake each morning.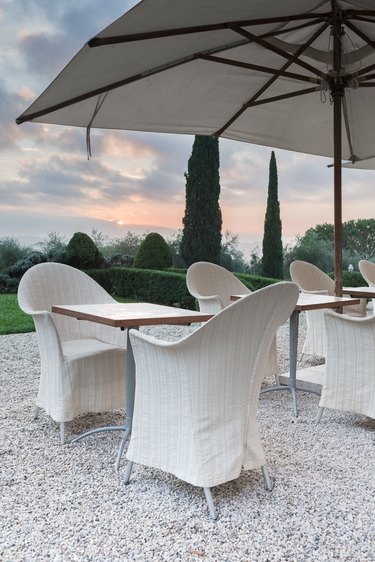 And on Tuesdays and Fridays, there's a communal dinner — held outdoors, as long as the weather allows.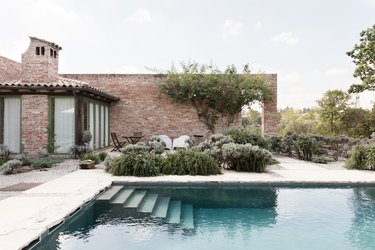 Nearby, Villa Gallo reflects Robinson's more modern sensibilities, while hewing close to the traditional architecture of the area.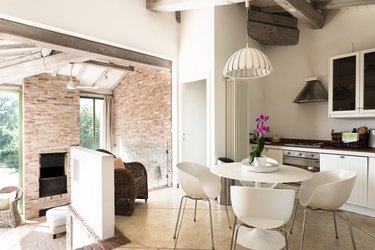 The villa is self-catering, but guests may also come up to Villa Fontelunga for meals at an additional cost.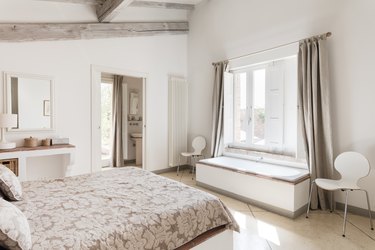 Inside, the colors are more muted, and the lines are sharper and more modern. For Robinson, it's about mixing contemporary design with traditional methods of building.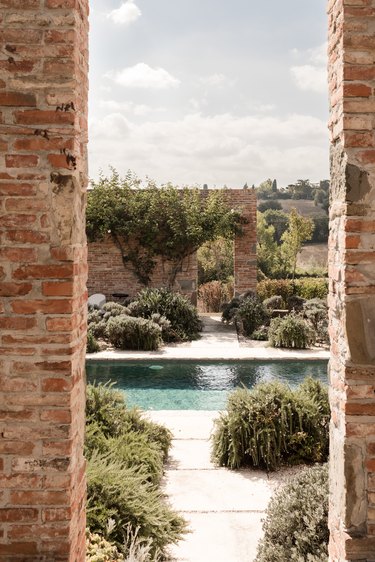 Across the pool lies Villa Galletto, another one-bedroom cottage on the property.