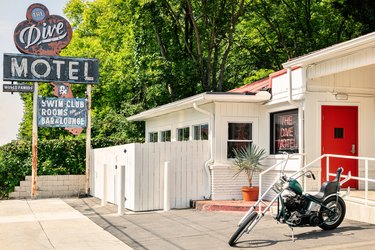 No longer known solely for its "honky-tonk" vibe, Nashville has been flaunting some haute design over the past few years. Add The Dive Motel & Swim Club to the mix. Open since summer 2019 — from Lyon Porter and Jersey Banks, the brains behind Urban Cowboy in Brooklyn and Nashville — the process into hip-hotel status required a top-to-bottom renovation of a sad, dilapidated old motel.
"It needed a full gut to the studs," says Porter, the hotel's owner and designer. This included expanding the common area by taking out a few guest rooms, building a new pool (the original had been filled in with dirt and tire — not exactly swimmable!), adding vintage wallpaper and wood paneling, and hiring local painters (Meg and Stinky of I Saw the Sign) to hand-paint walls. Bobbi Rich, a former story and field producer for TV shows like American Pickers, helped with sourcing found objects and the motel's ideation.
The thoughtful reboot of this 1956 motel's 23 rooms allowed retro flair to shine — in a good way. "It was built in the heyday of motels and perfectly positioned on the old Dixie Highway. You could take a straight shot to Florida with the family and stop in Nashville on the way, get an affordable room, and take a dip in the pool," he says.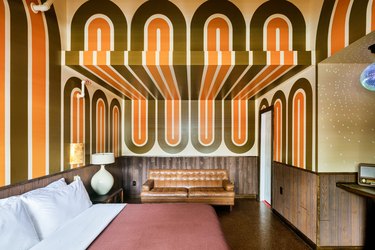 The thematic rooms each have their own retro-kitsch flair. In this room, wood paneling and groovy stripes go full-on 1970s.