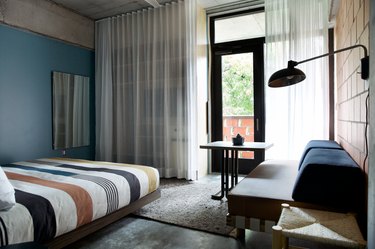 One of Austin's newest hotels is a study in contrasts — a modern terra cotta block-style building tucked into a historic pecan grove. (Know Austin well? That's near the Barton Springs swimming hole and Zilker Park.)
The Carpenter Hotel debuted last November, part of a hospitality group called the Mighty Union founded by two guys linked to the Ace Hotels. Within the shell of the original Carpenters Hall Local 1266 — which dates back to 1948 — a restaurant, bar, and cafe were added.
"The whole thing looks like it's been here all along," says Jen Turner, the hotel's architect. "You wouldn't know the difference from the outside. It kind of feels integrated with the city." One goal of the project is to be an extension of Zilker Park. Keeping the property's trees — while freshening up the landscape — achieved this.
"It's a little bit hippie, a little bit Wild West Mexico, a little bit of modern," Turner says.