Go to any old restaurant, and chances are the water glasses are far from memorable: a clear, plastic or glass tumbler you wouldn't give a second thought about. Go to the Madonna Inn in San Luis Obispo, CA and it's the opposite. You'll quench your thirst from a candy-colored chalice, one of the hotel's signature glass goblets that look straight out of a fairytale. These goblets are all part of the over-the-top allure you'll find at the roadside hotel, that could best be described as Barbie-meets-Bedrock, with a little bit of Swiss chalet thrown in. If an all-white, minimalist hotel is your worst nightmare, the Madonna Inn would be your paradise.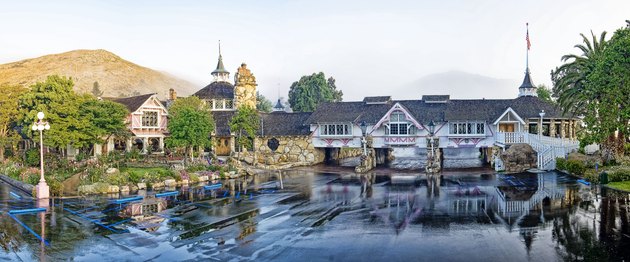 Madonna Inn, which opened on Christmas Eve in 1958 with just 12 rooms, was the dream project of Alex Madonna, a self-made construction magnate whose frequent business travels had him longing for a "beautiful inn with an elegant dining room and a pleasant coffee shop." He and his wife Phyllis couldn't decide on a uniformed decor, so they decided to decorate each room differently. As Phyllis writes in her book, My Point of View, "We had the opportunity to make more people happy by doing every room differently," adding that Alex would joke that changing each room would guarantee they wouldn't make the same mistake twice.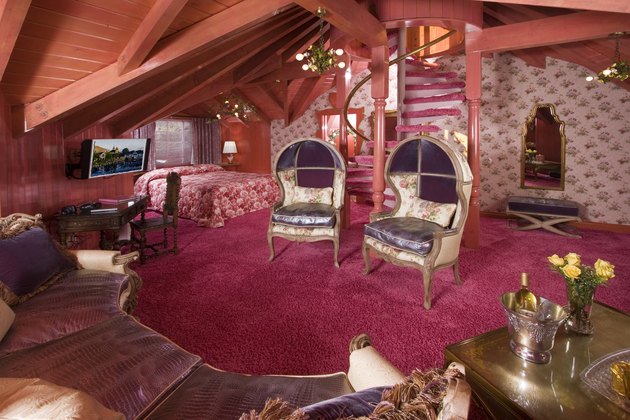 Over the years, the Madonna Inn would expand, eventually reaching a total of 110 units, all with dizzying rainbow colors, extravagant decor, and quirky names such as Just Heaven and Love Nest. There are rooms with waterfall showers, pink glitter wallpaper, gold cherub chandeliers, red patent leather walls, and a spiral staircase leading to a cupola that overlooks the grounds. One room has a bed made from a buck wagon while another keeps a replica moonshine still in the bathroom. The most popular room is the Caveman suite, which is exactly what it sounds like — a cave-like setting with a rock waterfall shower and animal print furniture.
But the flamboyance isn't just reserved for the accommodations. A pink floral carpet, which was designed by Disney artist Alice Turney Williams (who also designed some of the rooms), runs throughout the property. There are pink tennis courts, an infamous waterfall urinal in the men's bathroom, and last, but not least, the Gold Rush Steak House, where diners can sit in Pepto-Bismol pink booths and enjoy a slice of pink champagne cake for dessert. As Mrs. Madonna writes in her book, they chose pink to be the hotel's signature shade because, "we thought we would like a color that flattered people and made them feel relaxed and happy when they were around it. We feel pink spotlights people and highlights their positive attributes, it became our trademark."
A place this magical might inspire visitors to want to bring a piece of it home, which is where the aforementioned goblets come in. These goblets have been a staple at the inn since the 1970s, and much like the inn, the've gone through their own evolution. The very first goblets were made by L.G. Wright Glass Company and came in a design known as the "Flat Rose." As the name suggests, the roses were flatter and not as ornate as the modern ones. In the 1980s, Mr. Madonna decided to revamp the goblets so they would resemble the Inn's famous Disney illustrator-designed rose carpet. "Little did he know how those would take off," says retail manager Cheri Humphrey, who has worked at the inn for almost 40 years. She says the goblets, which come in two sizes, for water and wine, have always been the Inn's best-selling item, but its popularity increased even more when they became available to purchase online.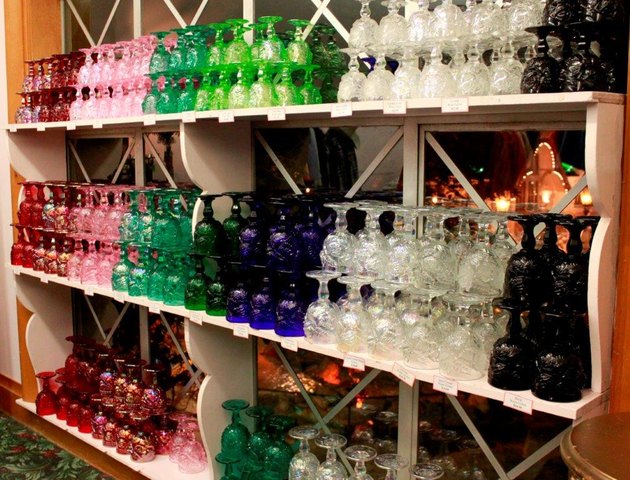 Over the years, the goblets have been made by several different glass companies, including Dalzell-Viking Glass, Fenton, and finally, Mosser, which has producing them since 2009. While the goblets started off with just four colors — amber, spring blue, red, and pink — they have been made in at least 40 different shades such as jadite, chocolate milk, opaque pumpkin, and honey luster. The Inn works with Mosser to develop new colors about three to four times a year. "It's fun working with them, and they're very innovative and try different things like pink opal, which we got a shipment of right before we shut down [because of COVID]," says Humphrey. At first she was panicked about receiving a huge shipment when they suddenly had to close, but the whole thing ended up becoming a success: The pink opal sold out in their online store almost immediately. "It was sort of a little bit of sunshine in the dark time that we were having," she says. The Inn also sells other Mosser glassware items, such as soap dishes, cake stands, and fruit bowls. And if a goblet happens to break, they send the pieces to Virginia-based jewelry artists who turn them into upcycled pendants, bracelets, and earrings.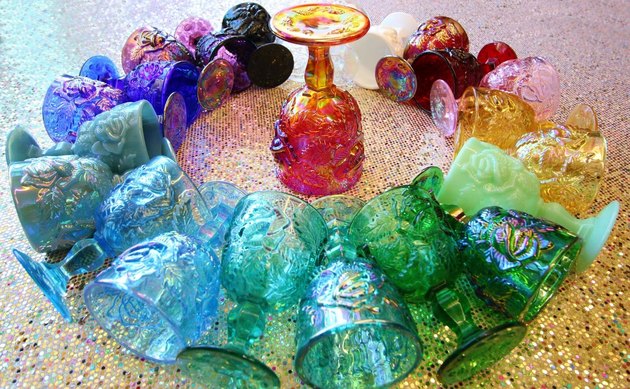 Choosing which goblet to take home is almost like a rite of passage for Madonna Inn newbies. But if you're having trouble deciding, you can't go wrong with the most popular colors, which are red, and, of course, pink. Plus, you'd be paying homage to the hotel's legendary sweethearts. Before Mr. Madonna passed away in 2004, he and Mrs. Madonna would eat all three meals at the Inn, with him always drinking out of a red goblet while his wife would use a pink one. "When Mr. Madonna passed away, Mrs. Madonna took over the business and she began drinking out of the red goblet," says Humphrey, adding that Mrs. Madonna, who turns 92 this October, still uses the red one to this day. "People just love the goblets," says Humphrey. "It's just a part of staying here at Madonna Inn — coming in and collecting one, or many!"
---
Marie Lodi is an LA-based writer and editor who has bylines in PAPER, The Cut, ELLE, Bustle, Fashionista, and more. She also co-hosts Fishnet Flix, a podcast about costume design and fashion in film, and runs a food blog called The Bloodfeast, which is inspired by period cravings.
View Work