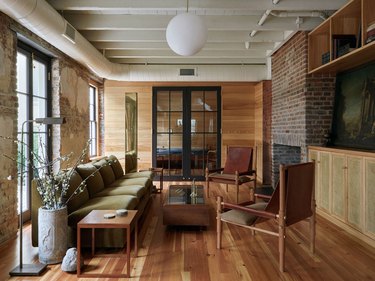 In order to restore the glory of an old Charleston, South Carolina house while updating it for a modern family, careful hands were needed. The house (referred to as "Carriage House") was built in the 1850s, at a time when Charleston had one of the busiest ports in the country. As the city changed, the house changed with it, enduring its fair share of renovations for over a century. By the time Brooklyn-based Workstead Studio got to the house, which is located in the picturesque Charleston Village neighborhood, the kitchen had adobe-themed elements, thick faux-plaster walls could be found throughout, and the ductwork was in dire need of an upgrade.
Because of Charleston's history, architectural preservation projects are common. Workstead collaborated with Charleston-based contracting team Gateway Park Enterprises to successfully preserve the original grandeur of the 2,000-square-foot home's interior. In order to fit multiple bedrooms (and still have efficient circulation), the team devised a first floor layout with public rooms (the kitchen, dining room, and living room), and created private rooms upstairs. The result is a 150-year-old home that breathes, has natural light, and fits into its historic and modern surroundings.
---
After interning at Dwell magazine in San Francisco, Kate began writing about arts, design and culture for other national publications. She is based in Los Angeles and San Francisco.
View Work