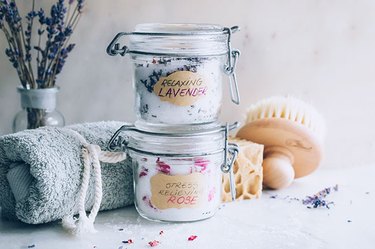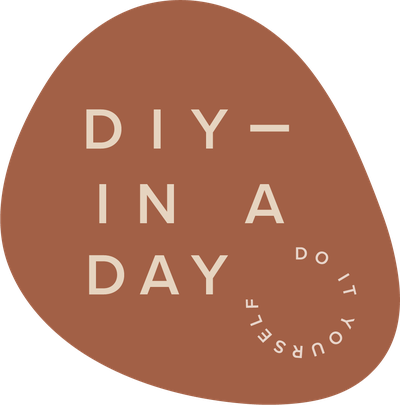 DIY in a Day brings you step-by-step instructions for easy projects that will spruce up your space — within 24 hours (or less!).
Few experiences compare to a long soak in a warm bath after a stressful day. With a few staple ingredients like Epsom salt and baking soda, it's easy and inexpensive to make your own bath salts. Your body can soak in the salts' healing minerals while you soak up the relaxation. Package the salt blends in glass jars for simple homemade gifts that are perfect for the holidays or anytime of year. For this tutorial, we'll show you how to make either Stress-Relieving Rose Bath Salts and Relaxing Lavender Bath Salts.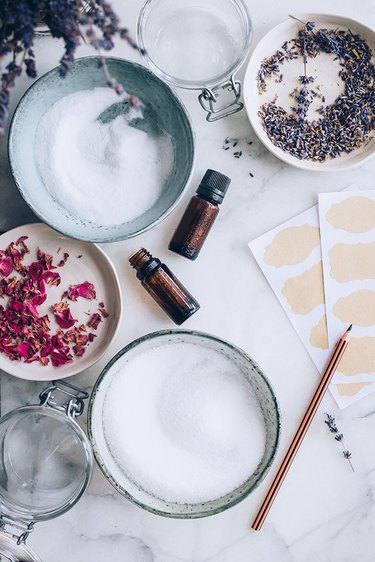 An easy all-purpose bath salt is two parts Epsom salt, two parts other salt (Himalayan, Dead Sea, or kosher salt), and one part baking soda.
Epsom salt: Boosts the body's magnesium levels — the mineral can be absorbed into the skin while you soak.
Baking soda: Softens the skin and aids in detoxifying.
Himalayan salt: Eliminates toxins, balances the skin's pH levels, and reduces inflammation.
Kosher salt or Dead Sea salt: Supplies additional minerals that help relax the body and cleanse the skin.
In a mixing bowl, toss together the Epsom salt and baking soda with either the Himalayan, Dead Sea, or kosher salt.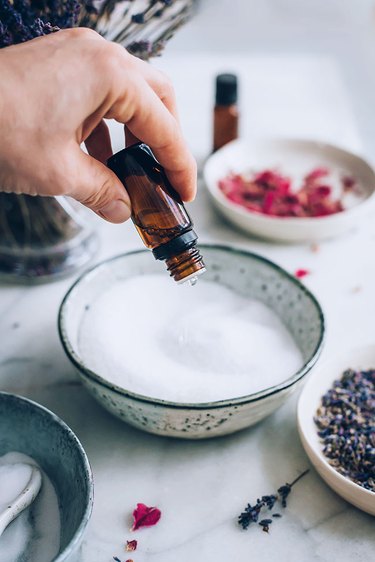 Sprinkle the mixture with either the lavender or rose essential oil drops and mix well. Blend the mixture to break up any baking soda clumps and saturate the salt granules with aroma.
You can't go wrong with the calming, relaxing scent of lavender. The essential oil has many healing uses, including easing headaches and bringing on sleep. Soaking in the oil while you're in a bath can also provide a mild analgesic effect to ease body aches and cramps.
Rose is another favorite essential oil for the bath. The soothing scent is especially helpful when you're stressed or experiencing PMS.
Add two tablespoons of herbal add-ins like dried roses or lavender. You can also try dried herbs such as energizing mint or congestion-clearing rosemary. Don't use dried chamomile buds; they tend to fall apart in the bath, making a mushy mess that's hard to clean up.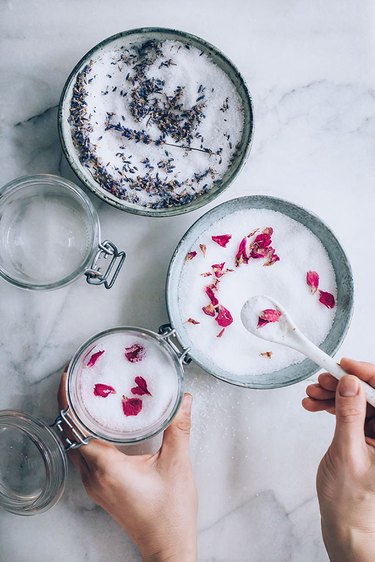 After stirring, transfer the salt mixture to a wide mouth jar. Each of the above recipes makes about two cups of bath salt by volume, which will fill four four-ounce jars.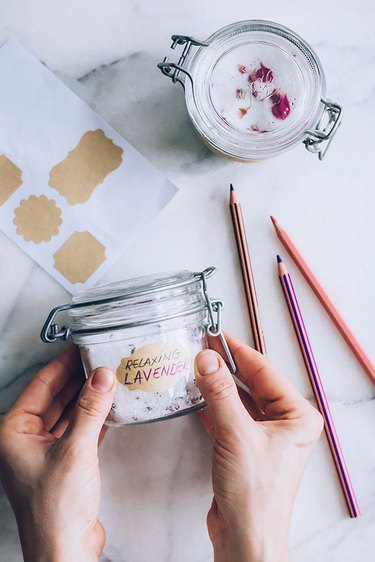 Labels are highly recommended for any DIY project, but especially if you're giving the bath salts as gifts. Attach a simple label and your homemade gift is good to go.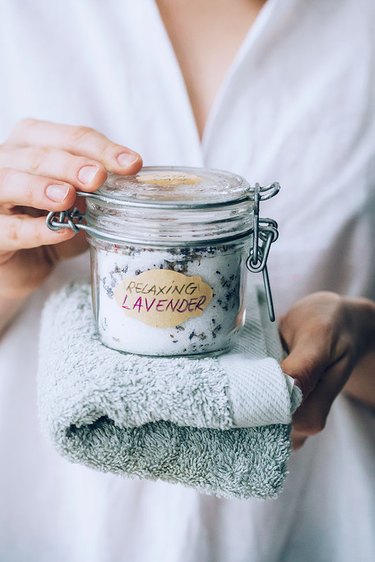 To use, dissolve 2 to 3 tablespoons of the bath salts in a warm bath and soak for at least 20 minutes.