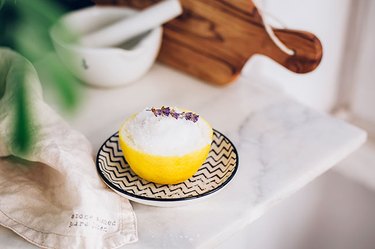 Squeaky is all about the borderline genius hacks and ideas that keep literally every inch of your space pristine.
Skip the store and make these homemade lemon air fresheners for a completely natural way to eliminate odors. Lemon has a bright, fresh scent that will have your house smelling like you've been cleaning for hours. With just three basic ingredients — lemons, salt, and essential oils — you can make four simple lemon air fresheners that will diffuse aroma throughout the house in minutes.
Step 1
Cut the two lemons in half horizontally and hollow out each of the four lemon halves. Use a small paring knife to go around the inside edge of the lemon rind to release the fruit. Then scoop out the lemon wedges using a spoon. You can toss the fruit but why not make some lemonade?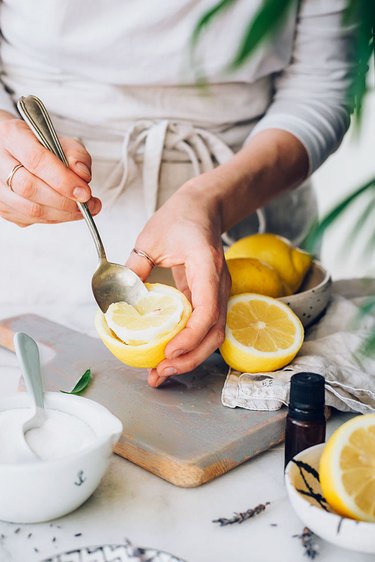 Step 2
Pour the sea salt into a small bowl. Add 25 drops of each peppermint and lavender essential oil for every cup of salt and stir thoroughly. Feel free to change up the essential oils; a lot of scents pair well with lemon. Here are a few combinations you can try:
Lemon and frankincense for a calming aroma

Lemon and pine or juniper for a bring-the-outdoors-in scent
Lemon and eucalyptus for an uplifting, breathe easy combination
Lemon and tea tree for an air cleansing air freshener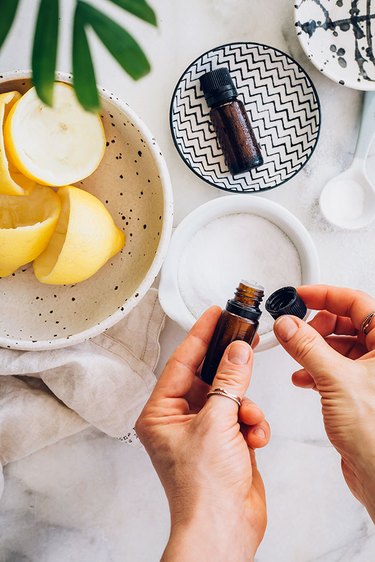 Step 3
Transfer the salt into the lemon rinds. Depending on the size of the lemons you'll need 1/4 to 1/2 cup of salt for each lemon half. Sprinkle more essential oil onto the salt if you want a stronger scent.
Step 4
Put each lemon air freshener on a small dish and place them in different rooms around the house. A sunny spot is especially good as the heat will help diffuse the oils' scent as the salt absorbs stale odors.