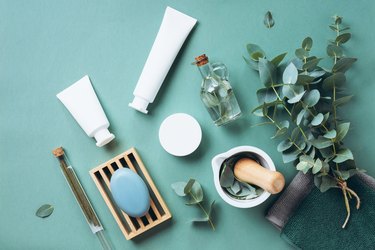 Plants are essential to our daily life; they filter the air we breathe, provide shade from harmful sun rays, and can even lift our mood. We also look to mother nature's bounty to provide us with the ingredients to improve our skin, digestion, and overall health. In short, these powerhouse plant combos are basically unstoppable. Here is a quick list of plants that will not only boost your home's health but also help keep our skin looking young and radiant, too.
Chamomile
The daisy-like flowers of chamomile pack a big antioxidant and astringent punch with their calming ingredients. Steep some blossoms for a warm tea while treating your skin to this Aesop Chamomile Concentrate Anti-blemish mask with evening primrose. Not only will your skin feel fresh and relaxed, you will, too.
Rose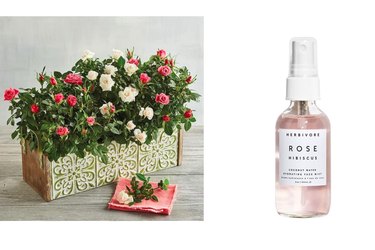 The rose is a powerful romantic and fragrant flower, and its hue carries distinct meaning to the recipient — red: passion; white: innocence; pink: gratitude; yellow: friendship. While the color of the roses differentiate, they all have the same anti-inflammatory, wrinkle reducing, and redness diminishing elements. In the same way, this rose hibiscus hydrating face mist leaves dry, dull skin feeling refreshed and soft as a petal.
Sage
The aromatic sage shrub is a delightful garnish for a fancy cocktail, a powerful astringent to smudge out spiritual impurities and pathogens, and has healing properties to lessen the appearance of scars, help with skin inflammation, and fight against premature aging. The anti-bacterial mix of sage, grapefruit, tea tree oil, dandelion, kale and 2% salicylic acid in this facial cleanser reduces pores and regulates breakouts.
Aloe Vera
The versatile aloe vera succulent is easy to care for and can thrive in the harshest conditions, yet can store large amounts of water. It has been used for millennia to aid in boosting the immune system, and help with skin eczema and sunburn. It has been said that Cleopatra and Nefertiti used Aloe Vera in their daily beauty regimen. The Seven Minerals Aloe Vera Gel is 99% organic and leaves no sticky residue. If aloe was good enough for Cleopatra, it's good enough for us.
Lavender
A native flower of the Mediterranean, aptly named for its brilliant purple color, lavender is rich in antiseptic, anti-bacterial, and anxiety soothing agents. It is commonly used in home decor, essential oils and lotions for relaxation, but when included in this vegan lip balm, it creates a soothing addition to your bedtime routine.