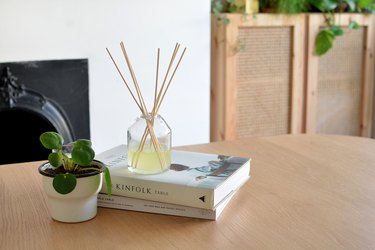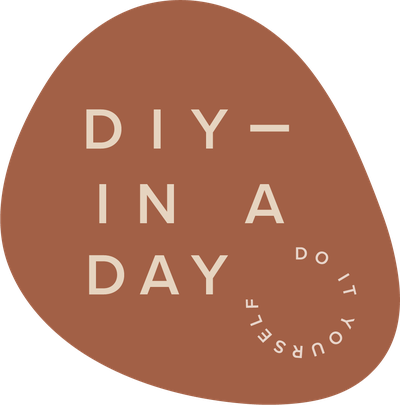 DIY in a Day brings you step-by-step instructions for easy projects that will spruce up your space — within 24 hours (or less!).
Reed diffusers are a great way to add fragrance to your home, however, most store-bought diffusers are expensive — so why drop $$ when you can make your own for a fraction of the cost? Commercial air fresheners tend to use synthetic fragrances and they're full of chemicals (especially the plug-in ones). These simple DIY diffusers are a natural alternative, and you can customize your fragrance by blending different essential oils.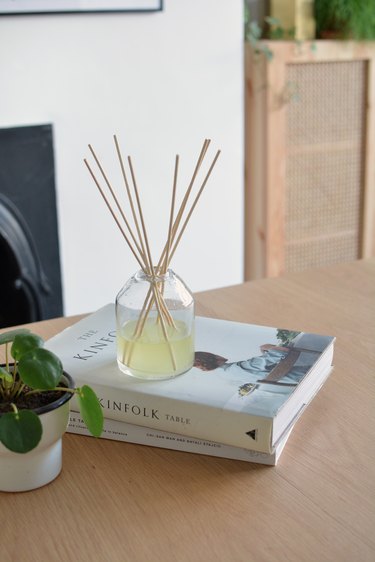 Before we start, there are a few things to consider when making your own diffusers:
Base/Carrier Oil
First, decide whether you want to use oil or water as a base. We're using sweet almond oil for our diffuser because it's light in color and absorbs well through the diffuser sticks. Safflower oil or fractionated coconut oil are also good options for oil-based diffusers. With an oil base there is less evaporation so it lasts longer, but you can use distilled water mixed with alcohol as a carrier too.
Diffuser Jar
For a diffuser, it's important to use a glass vessel. Look for small bud vases or small glass jars with a narrow top. The smaller the opening, the slower the liquid will evaporate.
Essential Oils
Keep it simple with one oil or get creative and combine your own scents. Citrus is a great option for using in kitchens and bathrooms, and combinations like lemon, grapefruit, or lime work well. For relaxing blends, oils like lavender and chamomile go hand in hand, while peppermint is a popular choice for more of an uplifting blend (we love to combine it with orange, especially during the holiday season). For lovers of floral scents, jasmine, rose, and neroli are commonly used for home fragrances. For this tutorial, we wanted a fresh woody scent, so we've combined cedar and bergamot in our diffuser.
Things You'll Need
Glass jug or measuring cup for mixing
Step 1
Measure out half a cup of carrier oil — we're using sweet almond oil for our base.
Step 2
Pour the oil into a glass jug or container (such as a glass measuring cup), and add in 40 to 50 drops of essential oil. We're using 15 drops of cedar and 35 drops of bergamot oil for our blend.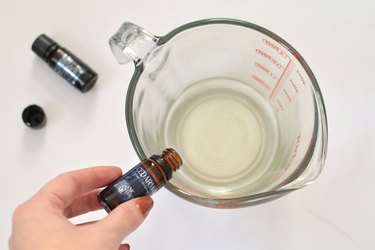 Step 3
Add in 1 to 2 tablespoons of rubbing alcohol, or you could use vodka. The alcohol helps to thin the oil so it travels up the reeds. Stir well for several minutes to bind the oils and alcohol.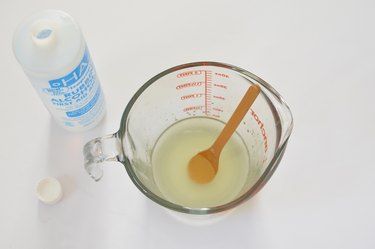 Step 4
Decant the mixture into your glass diffuser jar.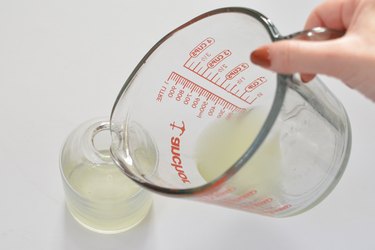 Step 5
Place in six to 10 diffuser reeds and leave them to soak up the oil for an hour. Flip the reeds over and place the diffuser in your room of choice. We like to use ours in smaller spaces like bathrooms, where they're most effective.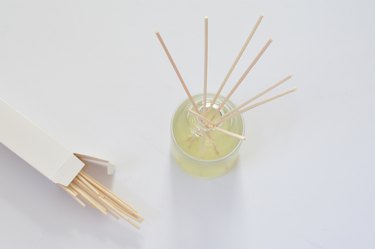 Remember to flip the reeds over each week and give the diffuser a quick swirl every month to keep the oils mixed well.