Often there is more than one right way to do something.
If you're in military bootcamp, making your bed is all about attention to detail, speed, and yelling. Yes, yelling. The commanding officer tests his new recruits by yelling at them during bed inspection to learn whether they'll crack under pressure. In the military, there is definitely only one way to make a bed. Thankfully, at home you can make your bed according to your own sense of comfort and style.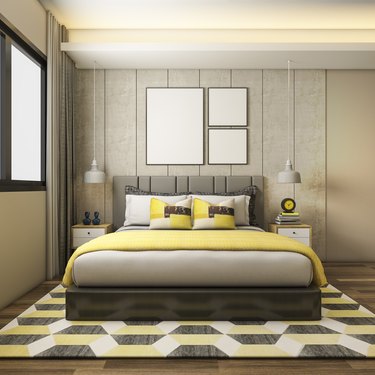 Your bedroom should reflect how you live. Do you watch TV in bed to unwind during the evening? Do you like to lounge in bed with a cup of coffee on the weekends? If so, you might prefer a bed that looks and feels like a cozy family room. On the other hand, if your bedroom is visible from public areas of your home, you might prefer a bed that looks sleek and tidy. Whatever you decide, let's make a bed that helps you enjoy your most personal space at home.
Things You'll Need
Bed skirt

Mattress cover or pad

Fitted sheet

Flat sheet

Pillowcases

Blanket

Comforter or quilt

Bed pillows


Accent pillows

Throw blanket
Make Your Bed: The Prequel
Before you make your bed, you need to make two decisions. First, decide whether you need a bed skirt. If you want to include it in your bedding ensemble, place it on top of a box spring, centering it so that the sides and foot of the bed frame are evenly covered. Then place the mattress on top of it.
Second, decide whether to use a mattress protector or a mattress pad. A mattress protector simply creates a barrier between a mattress and undesirable things, such as dust mites, bed bugs, and liquid. A protector is made from a thin fabric that either looks like a fitted sheet or encases the entire mattress. A mattress pad is used to increase your comfort. In the past, people added a mattress pad or mattress topper for extra cushioning. Now, people frequently use a mattress pad to control how warm or cool they feel. Place a mattress pad on a bed in the same manner as a fitted sheet, tucking the elasticized corners of the pad under each corner of the mattress. Run your hand over the top of the bed to smooth out wrinkles and then tuck the sides of the pad under the mattress.
Make Your Bed: The Right Sheets
In case you're unaware, there's a bit of a war waging over sheets. Since you're the boss of your bed, we'll let you decide what feels right. However, we will suggest buying sheets made from either Egyptian or percale cotton because they have the most luxurious feel, no matter what the thread count is. If you live in a cold climate, consider investing in flannel sheets for added warmth.
Traditionally, people in the United States buy a set of sheets that includes a fitted sheet, a flat sheet, and two pillowcases. If you have such a set, making a bed is pretty straightforward. Place the fitted sheet over the mattress, pulling the elasticized corners over the corners of the mattress. Use your hand to smooth out wrinkles on top and tuck the excess sheet under the mattress. Next, place the top sheet over the mattress with the decorative side facing down. The top hemmed edge should align with the top edge of the mattress. Make adjustments so that equal lengths of the sheet hang over both sides. Tuck the foot of the sheet under the foot of the mattress and allow the sides to hang freely.
Now, let's discuss a few sheet options.
Do you need to use a fitted sheet? No, hotel maids center a flat sheet over the mattress, tuck the sheet under all sides of the mattress, and form hospital corners so the sheet lies perfectly flat. Hotels choose to use flat sheets for two reasons: It's easier to stock one type of sheet, and the elastic corners of fitted sheets wear out quickly due to frequent washing. At home, a fitted sheet is faster to put on a bed and will likely be laundered only once a week.
Do you need to use a top sheet? No, Europeans use only a fitted sheet and a duvet with a down comforter, and many Americans are now following suit. However, you should use a top sheet to keep blankets and quilts clean because they are not laundered weekly like a duvet cover. Also, consider using a top sheet as an extra layer of warmth. If you become overheated during the night, you can lay aside a heavy comforter or quilt and stay warm enough under the sheet.

Do you need to use a matching set of sheets? No, you can create a unique look by either buying sheets and pillowcases separately or mixing multiple sets. For example, a solid fitted sheet contrasts nicely with a print or plaid flat sheet and pillowcases.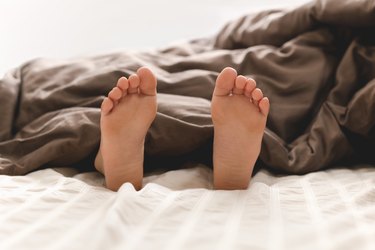 Make Your Bed: Blankets, Quilts, Comforters, and Pillows
Once the sheets are on your bed, add a light or medium-weight blanket. Arrange it so the sides are equally covered and the top edge lines up with the top of the sheet. Tuck the bottom edge under the mattress. Top off your bed with a comforter or quilt, centering it on the bed so an equal amount hangs over the sides and end. You do not need to tuck a comforter or quilt under the mattress. Grasp the top of the sheet, blanket, and comforter together and fold them back about 20 inches to reveal the decorative side of the top sheet.
If you like to sit up in bed to read or watch television, you'll appreciate the extra cushioning of Euro sham pillows placed against the headboard or wall. Some comforters include sham covers to make coordinating fabrics and colors easy. Next, slide your pillows into the pillowcases and stand them in front of the Euro pillows. Finally, add one or more smaller accent pillows. Choose a shape that either increases your comfort or supports a book or laptop. If you love all the pillows, go for it and layer them on!
Finally, add a light or medium weight throw blanket. Fold it in thirds and hang it over the footboard or drape it across the mattress. Not only will it add a touch of color or texture, but it will come in handy if you need to pull on an extra layer during the night.
Make Your Bed: Optional Hospital Corners
Before fitted sheets were invented in 1959, hospital and military personnel covered mattresses with flat sheets that were tightly tucked under the mattress with excess fabric neatly folded over to form a crisp corner. The technique, referred to as hospital corners, was meant to hold the sheet in place while moving patients. In homes today, people who like a sleek modern look use the technique to tuck in their top sheet, blanket, and even the comforter.
As described above, layer a flat sheet over the fitted sheet and tuck the bottom end under the foot of the mattress, leaving the sides hanging freely. Pick up one bottom corner of the sheet and lay it on the top of the bed, forming a 45-degree angle. Tuck the excess corner of the sheet under the mattress. Fold back the piece resting on top of the bed and tuck it in, adjusting the fold as necessary so that it lies flat. Tuck under the rest of the sheet along the side of the mattress. Repeat on the opposite side. Once you've watched someone make hospital corners, it's a snap.