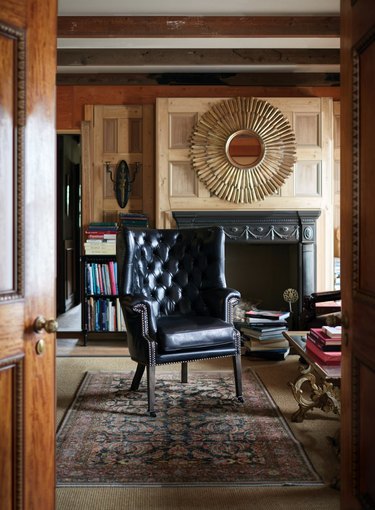 While I've never had the impulse to, say, "retire to the study for a glass of brandy and a cigar," I've always enjoyed the look of a classic gentleman's study. From Henry Higgins' library in My Fair Lady to Richard Gilmore's study on Gilmore Girls to any movie about a secret society set at Harvard or in England, the decor of these rooms, though masculine, has always seemed warm, timeless, and intimate.
So yeah, I would like to live in an old man's study. But, here's the thing: I am not, nor will I ever be an old man. Meaning, I'd like to bring in some youthful female energy into my "man cave." Thankfully, that's very possible, and here's how you can do it:
Furniture
Comfort and classic style work in tandem to create the warm allure of a gentleman's study. Furniture pieces are investment items you intend to have for years to come. They're meant to age with you and get more comfortable as you become more comfortable with yourself. Try the following: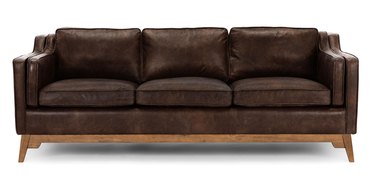 In a man's study, bigger is always better — a hefty, comfy couch is key.
Add a cashmere throw, a glass of wine, and a good book, and this type of wingback chair is the prefect spot to relax.
This desk says "power" without being bulky or overwhelming. Think of it as a sleek suit.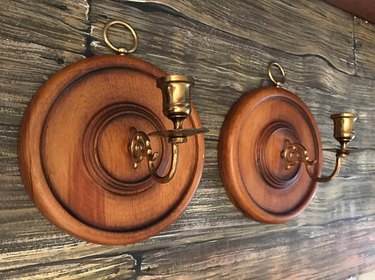 Part of what makes a study so inviting is its dim yet not too dark lighting. Sconces and table lamps instead of overhead lighting give off a relaxing vibe.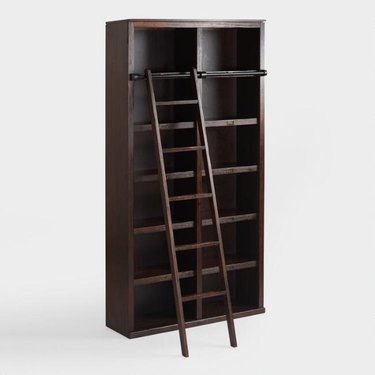 A home library that needs a ladder says "well-read genius." And that's all any of us really want to be seen as, right?
On screen, a man's study is always portrayed as a place he can use to escape, to get things done, to truly be himself. Therefore: It's always filled with items that say, "This is who I am. This is where I've been. This is where I'm going." The trinkets and knickknacks you put in your home should tell your story in the same way.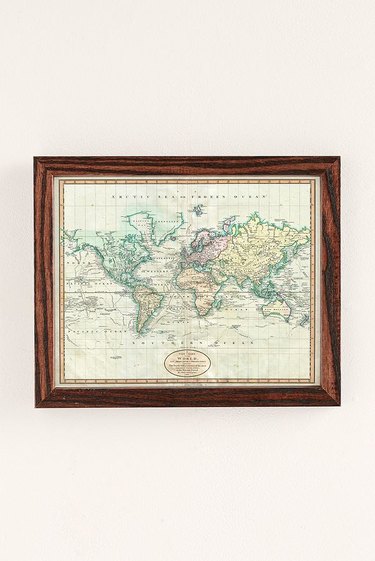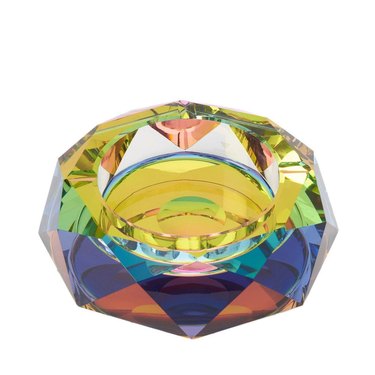 The mere thought of a study will make many people think of the smell of cigars. So, a good ashtray is paramount regardless of if you actually use it as a jewelry dish.
Sure, you could learn to play polo to win a trophy like this, but who has time for that? Buy yourself a good trophy urn and if anyone asks, you got it for being the best study decorator ever.
All the wood and leather in there needs to be softened up a bit. A great rug can do that.
The old school cuckoo clock gets a modern upgrade with this nifty (and understated) version.
---
Sara Nachlis is a multimedia writer and editor living in Los Angeles by way of Long Beach, CA. Did you know Sublime is from there?
View Work