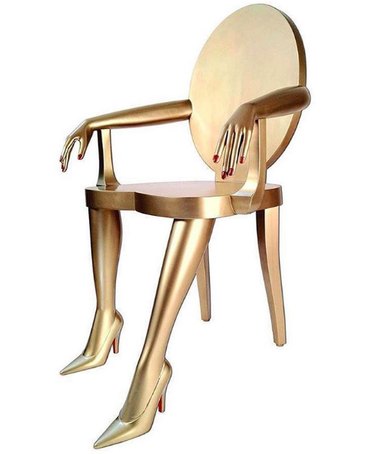 Instagram is where you go to see the world at its finest: gorgeous meals, perfect sunsets, amazing rooms and spaces. But let's be real for a minute here: Life is not that pretty. Which is why, as much as we love our feed of boho bathrooms, we also adore posts that speak to the uglier side of things. Check out the following accounts for photos of unfathomably ugly homes and reprehensible decor. After all, there's a lot to learn from what not to do.
@decorhardcore
The account @decorhardcore proclaims "Hardcore Is Not For Everybody" and we guess that's because some of the rooms posted require an appreciation of decor in general to understand why something is just so bad. There's a lot of loud stuff in there that looks very '70s or '80s; or rooms that scream New Money and they're so enjoyable because a lot of it feels bad in a way that's almost ... cool?
@thriftstoreart
@thriftstore art is exactly what it sounds like — hilarious, insane, and borderline inexcusable finds from thrift stores around the country. Think bad unicorn paintings, amateur art, and a plethora of nostalgic Hollywood memorabilia (with a special fondness for Reba McEntire products) that should have never seen the light of day. (Warning: Can get fairly raunchy.)
@uglydesign
@uglydesign doesn't limit itself to furniture — it's the bad, idiotic, and downright disturbing in all areas of design. And we'll warn you that the disturbing might give you nightmares.
@ebayshopofhorrors
"Shopping the uncanny valley," @ebayshopofhorrors posts all the odd things you can find in the dark corners of eBay.
@greatartinuglyrooms
Created by artist Paul Kremer, @greatartinuglyrooms shows what happens when people put amazing art (okay, mostly reproductions) in awful spaces.
@ebaybae
Another brilliant eBay-focused account? @ebaybae, who posts a mix of hilarious fashion and decor — often from the world of pricey designers.
@uglybelgianhouses
---
Leonora Epstein is Hunker's Senior Director of Content. She has previously served as Executive Editor at HelloGiggles and as BuzzFeed's Deputy Editorial Director. She is the co-author of "X vs. Y: A Culture War, a Love Story" (Abrams, 2014). Feel free to reach out at leonora@hunker.com.
View Work