Tractors are versatile machines that are primarily used for agricultural tasks. They pull a variety of attachments that do anything from harvesting crops to cultivating the land. Tractors have allowed farmers to dramatically increase the productivity of the farm, which has allowed food prices to be much lower and has allowed farmers to run much larger farms.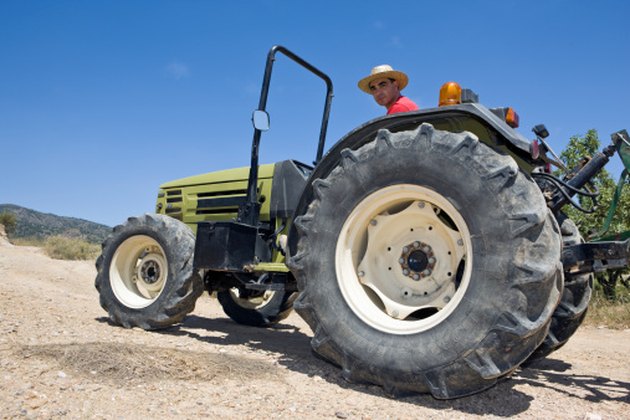 One factor to take into consideration when purchasing a small tractor is the nearby mechanical shops. These shops should have the parts that the small tractor will need to make quick repairs, according to "Mother Earth News." So a small tractor that might seem like a good deal could turn out poorly if the tractor turns out to not have parts that are easily available.
Utility tractors are designed for pulling implements such as mowers, balers and trailers. These implements are attached by hitches or lifting mechanisms, according to "Mother Earth News." The utility tractor is not good for working with row crops. Instead, the general purpose tractor is usually used for row crops. These tractors have the operator higher off the ground so that the operator can see more when performing agricultural tasks, according to Buyer Zone.
Those who want to get the cheapest small tractor can get a gray market tractor. These are tractors that were either manufactured outside of the country or are used tractors. However, the parts found in these gray market tractors are not found in repair shops because many of the models were not released in the United States, according to Carnegie Mellon University. Also, when selling these gray market tractors, they are not worth as much. However, given how inexpensive they are, they might be the best small tractors for those with a minimal budget.
The best tractors have a live power take-off feature, according to Buyer Zone. Tractors with live power take-off features, the tractor attachments can be operated even when the tractor is sitting still, which provides the farmer with more versatility than the standard power take-off feature.
Some tractors are good for certain types of farming and the best small tractor will be the one that best fits the farming job, according to the University of Missouri. Because of this, many farmers will purchase a variety of small tractors to carry out many different agricultural tasks. However, if a farmer chooses to use only one small tractor, a tractor must be purchased that can use the widest range of attachments possible.