Trampolines are a fun addition to a home and provide exercise and entertainment for both kids and adults. But over time, they can get worn down and become dangerous – and sometimes they're just outgrown by the children that once loved them. Fortunately, you don't have to just throw your old trampoline out. There are plenty of ways to reuse your trampoline.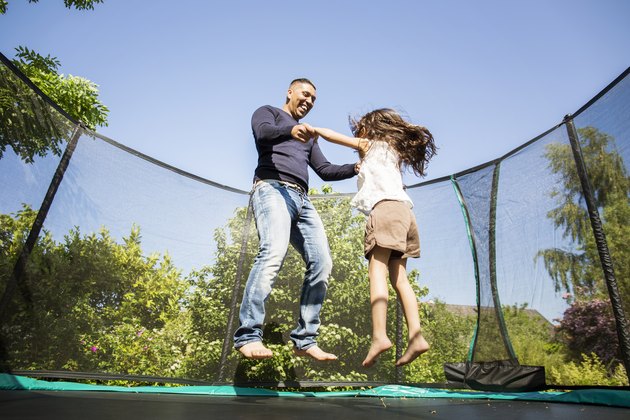 Create a Rocking Hammock
You'll need to be able to weld – and your trampoline will need to be round and in good condition – in order to take advantage of this idea. So if you can weld and your round trampoline isn't too worn out, what better way to rock the days away than with a totally weatherproof rocking hammock?
To make this one, you basically need to take apart the trampoline, then cut off the legs and the frame in half. Then, cut a little more off the top of each end so you can make sure there's enough space to lay down. Next, weld a long piece of metal pipe from one end of each semi-circle to its other end. Weld a piece of the legs to connect the two semi-circles at 90-degree angles, leaving about the amount of distance you cut off from the frame ends for your "bed." Finally, reattach the springs and the mat so it stretches across the frame and you can now lay in the middle.
Build a DIY Trampoline Daybed
Want even more space to stretch out? Then you might want to recycle your trampoline frame into a daybed. Like the hammock, this one requires your trampoline to be in good condition, but in this case, it can be round or square and you don't have to do any welding.
First, remove the legs, then wrap the edges of the frame in a soft material. Next, find a good support beam, whether a strong tree branch or a sturdy beam in your home and use strong rope or wire to hoist the trampoline off the ground, suspending it from multiple points along the side of the frame. Finally, lay large cushions or a similarly-sized mattress on top.
As an option, you can put a canopy over the daybed by attaching a blanket or other piece of cloth along the edge of the frame, then securing it where you attached the bed to the support used to suspend it.
Put Together a Sunshade
This one also requires a little welding, but essentially, you can make your own DIY trampoline sunshade by extending the legs to make the trampoline around 7 or 8 feet tall. If the matting was waterproof and in good condition, this could even work as an umbrella in the rain, too. But if not, you can always put a waterproof tarp or other waterproof materials on the top of the trampoline.
This idea is easy to customize to decorate your yard, too. You can paint the frame and mat, hang plants from the frame, grow vines up the legs, wrap lights around the legs and frame or spruce it up any number of other ways.
Make Reusable Shopping Bags
This is one of the best uses for old trampoline mats that can no longer be used safely, whether because they wore out or the frame is now broken. Just cut the mat into pieces of fabric a little bigger than you want your bag to be, then sew them together and sew on a handle. You can even repurpose the mat to make the handles on the bag.
---
Jill Harness is a blogger with experience covering architecture, design and decor trends from around the globe. As she lives in what would politely be called a "fixer upper," she is particularly interested in writing about DIY projects and repairs. Most of her home design writing can be found at www.homesandhues.com. You can find out more about Jill's experience and learn how to contact her through her website, www.jillharness.com.
View Work