An outdoor bar makes a great place for friends and family to gather for conversation and celebration. A patio, deck or outbuilding are ideal settings for an outdoor bar. Construct a bar yourself, hire a contractor or purchase a self-contained bar unit with coordinating bar stools. Running water and a sink are convenient aspects of an outdoor bar, but not a requirement.
Set an outdoor bar in a location away from your house. An old garden shed can be renovated by retrofitting a bar after the front wall is removed. Leave a generous overhang to screen bar guests from the sun and protect them from the rain. Leave one side of the bar open to access the area behind the bar. Or for a pub shed, leave the structure intact and extend the front facade roof far enough to accommodate the bar and stools and leave enough room behind the bar for serving. Extend the flooring out front as well, pouring additional concrete slab or building out a raised deck. Include lighting for nighttime bar gatherings.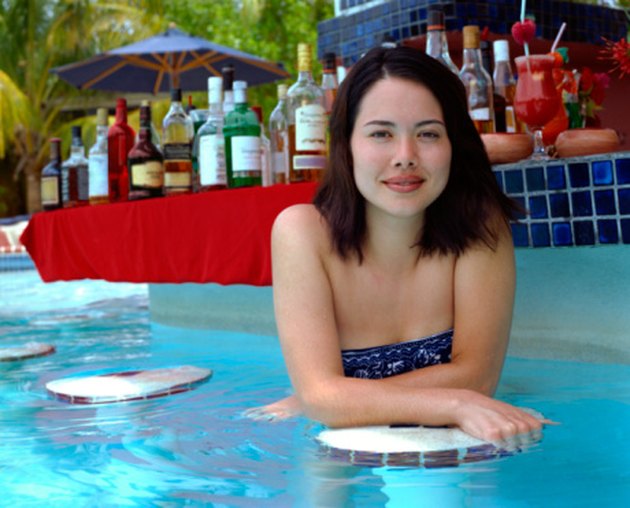 Just like those at Caribbean resorts, a swim-up bar is a refreshing and unique addition to your back yard. Chose a section of your in-ground pool where the water is approximately 30-inches deep. Your bar stools must be installed when the pool is drained. Many stools are concrete pillars with tile-covered seats. Add a raised shelf to poolside and cover with matching tile for your bar. A miniature canopy of sailcloth or thatch provides shade for guests. Add light strings inside the canopy for nighttime atmosphere.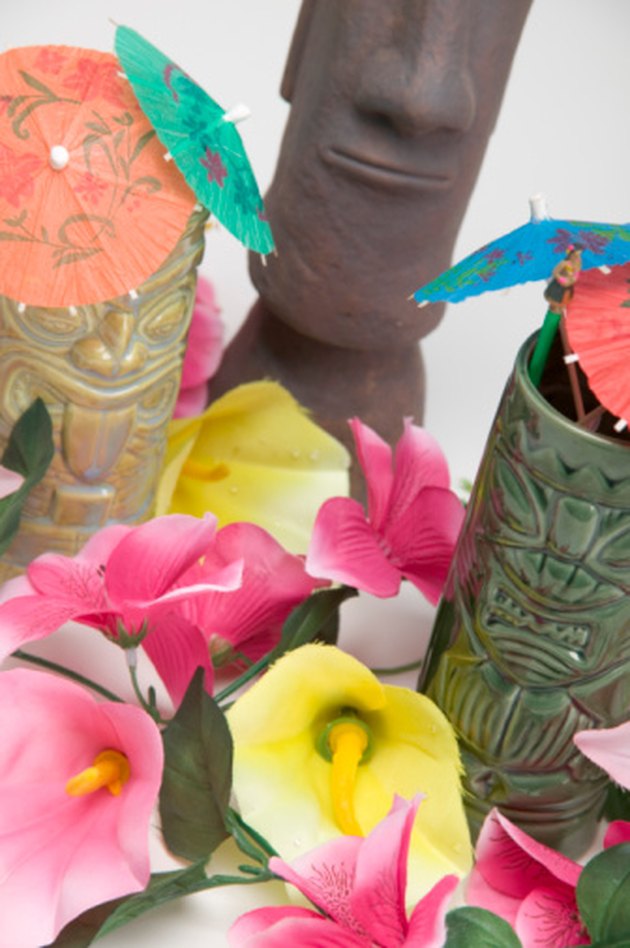 Add a thatch-roof, teakwood tiki hut to your deck or patio for a tropical touch. Miniature tiki-face string lights, rattan bar stools, a miniature wicker ceiling fan, colorful tiki bar ware and a few palm trees and hibiscus shrubs will set the stage to enjoy your mai tai or pina colada.
Build a wooden bar underneath a grapevine-covered pergola for an appealing al fresco wine bar. Train the vine Vitis vinefera 'Purpurea' on your arbor to create color contrast that will last through summer and fall and produce large, deep purple grape bunches for an added aesthetic. If you have enough room, add a small seating area of wrought-iron to allow extra guests to sit and sip. Benches built into either side of the pergola invite guests to linger.
Like a tiki bar, an Asian pavilion can be crafted from bamboo. Another popular construction material for an Asian-style pavilion is teakwood. A torii – Japanese gateway – is traditionally painted red and makes an appropriate entrance to your Asian pavilion. A concave-curved gable roof overhead, shoji screen – traditional paper wall panels – a low rosewood table, floor cushions and orchids add to the Asian flair of your outdoor bar. Install a koi pond with a fountain nearby for visual interest and the relaxing sound of running water.