Floating decks are slightly different from traditional decks in that floating decks aren't physically connected to a house or other structure. Instead floating decks are fastened to concrete pillars that are secured into the ground. Since floating decks don't attach to the side of your house, you have a little freedom to customize the deck to your preferences.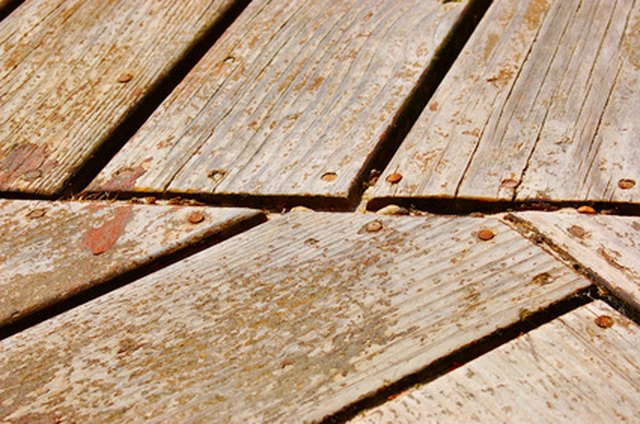 Instead of building one large floating deck, build a number of smaller floating modules and piece them together to create a deck. These types of decks are generally built low to the ground, so you can easily hide the edges. Modules also let you start with a small deck that looks finished, but you can add modules to expand the deck at any time. The modules usually extend just a few feet on each side and sit on wood sleepers, which are secured to a concrete base.
Most decks sit on the side of your house right outside your door; but since a floating deck isn't secured to your house, you are free to place it anywhere in the yard you want. This type of deck is especially useful in yards that have a lot of plant life as the deck acts as an oasis in the middle of your garden. You can also construct a raised wood path that matches the design of the deck leading from your home to the deck.
You can turn your floating deck into an outdoor room by adding an open roof or walls. A pergola, or arbor, made with the same type of wood as the deck can help define the space and make it seem more permanent than a deck traditionally looks. Add decorative columns to achieve a classy look, or add trellises to one or two sides of the deck and let climbing plants like ivy or sweet peas grow up them.
Some of the best looking decks are those that span several elevations over an entire side of a house. Most building codes will only allow a floating deck to stand about 3 feet high, but there is still plenty of room to include elevation changes in your deck design. Each different level becomes its own space, and you can design them differently to further accentuate the separate areas. You can also incorporate several other floating deck ideas, like installing a deck with an enclosure slightly off of the main deck, or creating a path from the main deck leading to a detached island deck.
Even decks that are next to water are generally still anchored to the ground, but if you have a body of water that is big enough, you can make a real floating deck. Simply make a deck that has a hollow underside where you can attach Styrofoam. The Styrofoam will make the deck buoyant, and the deck will float on water. A deck that acts as a raft does mean that the wood will decay faster, and you will probably need to replace the deck every few years. In the meantime you can cruise your deck across the lake.