Things You'll Need
Microfiber cloths

Vacuum

Soft brush attachment

Liquid dish soap

Water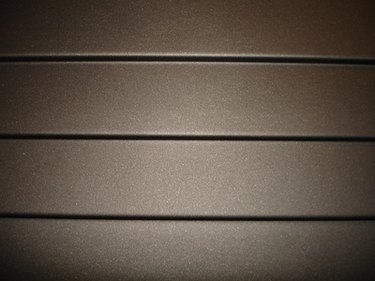 Faux wood blinds have the look of real wood but require less upkeep. With real wood, the slats can warp when exposed to water and also fade from sun exposure. Because the blinds are made of faux wood, you can use water and mild soap to clean the slats if your blinds are especially dirty. Avoid using any abrasive cleaners and sponges that may scratch and damage the faux wood. Weekly dusting will make cleaning your faux wood blinds easier and prevent the blinds from getting too grungy.
Step 1
Dust the blinds with a dry cloth or use a soft brush attachment with your vacuum. Tilt the blinds at a 45-degree angle and wipe or vacuum each slat starting from the top. When you reach the bottom slat, tilt the blinds the other way and repeat. If the blinds hang vertical, do the same starting from one side to the other wiping or vacuuming from top to bottom.
Step 2
Make a solution of liquid dish soap and warm water in a bowl. Dip a microfiber cloth in the solution and wring it out.
Step 3
Wipe each slat with the damp cloth. Use the same method to clean the blinds as you did in Step 1, working from top to bottom. If the blinds are especially grungy, you may need more than one cloth.
Step 4
Use a clean, dry cloth to wipe each slat dry.
---
After accidentally stumbling into a journalism class at University of North Texas, Abby Vaun has been writing ever since. She honed her skills writing for "The Dallas Morning News" and as a copy editor for Earle Palmer Brown in New York City. From Dallas to New York to L.A., she has enjoyed freelancing for 10 years and expanding her knowledge through her profession.