The advantage of a spiral cut ham is that each slice is uniform in size, making a perfect presentation on the plate or serving platter. While you can purchase unbaked spiral cut hams, most spiral cuts are fully baked and only require warming, making them simple and easy for holiday meals or other occasions. Choosing the right spiral ham will depend on your own tastes and preferences for cooking.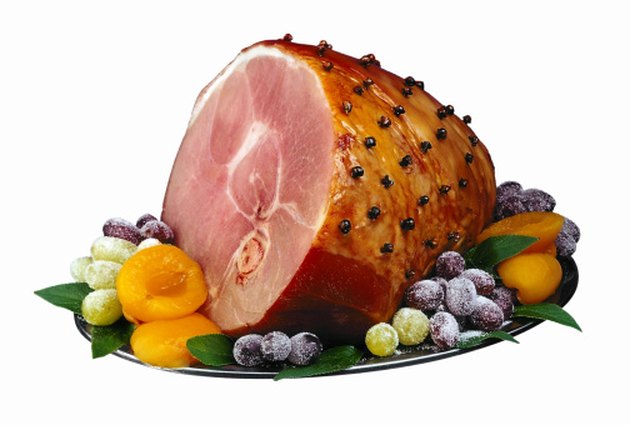 Step 1
Browse the spiral ham selections at several grocery stores. Different stores will carry different types of spiral hams, from simple smoked shanks ham to full, honey-baked butt hams. Look at prices carefully to know how much to budget for the ham.
Step 2
Calculate how much ham you will need for the number of people you are serving. Plan on needing at least 1/2-lb. per person, as the bone in the spiral ham adds to the weight of the ham. If serving 10 people you would need at least a 5-pound ham.
Step 3
Select between unglazed, pre-glazed or glazing packets. This is a personal preference, depending on how easy you want the spiral cut ham to cook. Pre-glazed hams are simply heated up, while the glazing packets must be applied to the ham during the cooking process. An unglazed ham can be served as is, or you can make your own glaze.
Step 4
Read the package label carefully to determine if the ham is pre-cooked. Overcooking a pre-cooked ham leads to dry meat.