Things You'll Need
2 plastic tarps

Paper towels

Iron

Spray bottle

Clothing wrinkle remover spray

Brown wrapping paper

Heavy objects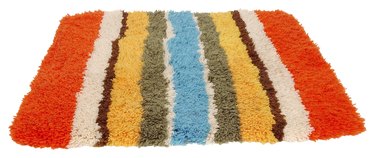 An accent rug is subjected to the humidity in the air as well as countless feet walking on it. As a result, a wrinkle bump can form in the rug and become a hazard. However, you can flatten the bump to restore the rug's look and safety. The procedure does not require special equipment, just tools and supplies found around the house. Repeatedly performing this application on a regular basis will keep the rug flattened and safe to walk on.
Step 1
Place a plastic tarp on the floor. Place the accent rug face down on the tarp. Wipe the surface clean with water-moistened paper towels. Set an iron to the "Medium" setting. Let the iron heat up for 10 minutes. Fill a spray bottle with tap water. Spray the upper half of the rug with the mist from the spray bottle.
Step 2
Iron the upper half of the rug for 10 minutes, using a circular motion as you go across from one side to the other. Spray the bottom half of the rug. Iron this section of the rug in the same manner.
Step 3
Set the iron to the "Off" setting. Unplug the iron after a minute has passed. Let the rug sit for an hour.
Step 4
Place the tarp outside or in some other well-ventilated area. Turn the rug over. Place the rug on the tarp. Shake the can of clothing wrinkle remover spray.
Step 5
Spray the entire rug, from one side to the other, with a continuous spray from the clothing wrinkle remover spray can. Let the rug dry for three or four hours.
Step 6
Place a second tarp on the floor inside the house. Place the rug on the tarp. Cover the rug with sheets of brown wrapping paper.
Step 7
Place heavy objects, such as dumbbells, telephone books or an exercise stepper on the paper. Leave the rug alone for two days then remove everything from on top of the rug. Place the rug back in its original position on the floor.
---
Alice Godfrey is a marketing analyst with more than 15 years of experience in her field. She holds a Ph.D. in social and personality psychology. Past positions include market research analyst at various advertising agencies and corporations. Her articles on a wide variety of issues relating to entertainment have appeared in numerous trade publications.