An awning is suitable as a simple decoration for an inside or outside wall. A striped awning draws attention to a carnival booth, or add a small colorful awning over the window of a playhouse and paint the door to match. This lightweight awning has a simple frame made from store-bought curtain rods. The fabric on the awning is displayed flat, so it is an excellent style for striped or patterned fabric.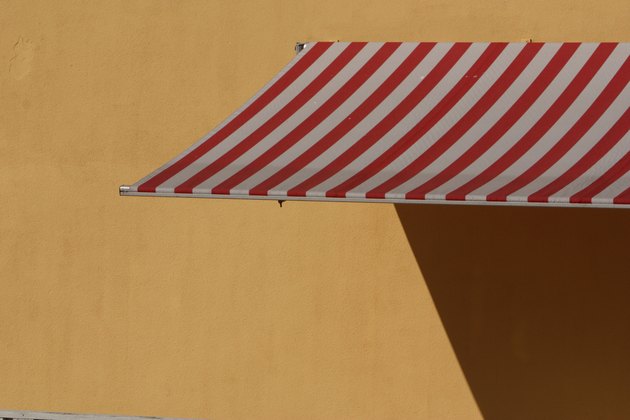 credit:
Hemera Technologies/AbleStock.com/Getty Images
Step 1
Install both sets of curtain rod brackets on the wall, one set directly above the other, so that when the rods are on the brackets the top of the top rod is 4 inches above the top of the bottom rod. Place the brackets the desired distance apart to create the length of awning you desire. Place each bracket against the wall and mark the position of the holes with a pencil. Drill a hole the size of the screw anchor at each mark and pound the anchor into the hole with a hammer. Place the bracket over the anchors and turn the screws through the holes into the anchors to hold the bracket in place.
Step 2
Cut a strip of sturdy fabric 14 inches wide and 1 inch longer than the length of the front of the curtain rods.
Step 3
Set a sewing machine to sew a medium zigzag stitch with a standard stitch length. Sew along all four sides of the strip to finish the raw edges before you hem the canopy and sew in the casings.
Step 4
Place the fabric on an ironing board with the right side down and iron a 1/2-inch hem on both of the 14-inch edges. Set the sewing machine to sew a straight stitch with a standard stitch length. Sew 1/4 inch from the folds to hem the sides of the canopy.
Step 5
Iron a 1 1/2-inch casing on the two remaining edges of the canopy. Sew 1 1/4 inches from the fold to hold the casing in place. These are the casings for the curtain rods.
Step 6
Thread a 3/4-inch-wide curtain rod with a 1 1/4-inch return into the top casing. Thread a 3/4-inch-wide curtain rod with a 8 1/2-inch return into the bottom casing. Hang the top rod on the top set of brackets and the bottom rod on the bottom set of brackets. Smooth the fabric along the rods until it is flat. The canopy is a flat rectangle of fabric with its top hung on a curtain rod close to the wall and its bottom held further away from the wall by a rod with longer sides. It looks like an awning over a window.